Two days after the country chose Donald Trump to be president, the GOP's senior adviser to the chairman presided over a conference call for a group of black Republicans.

The message from Elroy Sailor was clear: Black conservatives were back. Then the senior adviser to RNC Chairman Reince Priebus, Sailor hurried excitedly through the basics of how they should navigate the transition. Where to be for meetings. How to apply for jobs. And he explained how, after eight long years in the wilderness, it was time to turn up and celebrate.
"Campaigning is actually easy, but governing is hard," he said — before being interrupted. There was a message from the president-elect that couldn't wait.
"Hey, Omarosa," said Sailor, ceding the floor. "How are you?" Omarosa Manigault — gracious on the call, according to two people close to her — told black Republican leaders that the president-elect appreciated what black Republicans had done to help him win. Manigault said the president-elect had committed to creating the "most diverse" staff.
Sailor and Manigault hadn't spoken in a while. Three black Republican sources familiar with the Trump campaign's black outreach efforts and the RNC's own program, which was a longstanding project, described the relationship as doomed from the start. Manigault was privately frustrated with what she believed to be the RNC's inability to reach black voters, and contended that any success the campaign had was theirs, not the party's. She bristled at the idea of an obligation to black Republicans who she believed never took Trump seriously. Little during the campaign animated Manigault more than her desire to bring Trump to Howard University, a prestigious historically black university in the heart of Washington, D.C. When the plan fizzled amid a lack of interest and anti-Trump activism, she believed the Republicans held it up. "After that," a source close to her said, "it was a wrap."

Black conservatives have to wonder: Will that future, the thing they've been working toward for a long time, include them?
So when the bookish, bespectacled operative, one of the most respected black Republicans in the country, deferred to Manigault, a personally affable longtime Trump protégé catapulted into fame in the mid-2000s, it seemed to symbolize a new era: that black conservatives would likely be outsiders in a Republican administration.
Trump's advisers brag that they envision more black, working-class voters supporting the president in 2020 on the strength of the economy (how race, criminal justice, and other issues factor into that vision remain to be seen). Even if the seemingly unlikely does happen, though, black conservatives have to wonder: Will that future, the thing they've been working toward for a long time, include them?
All of this — the people Trump already has around him, his deep trust of his own people, and their distrust of black Republicans — is limiting the black conservatives' plan to be a part of Trump's movement and to grow their own.
"It's insulting to black Republicans that someone like Donald Trump would get people off the street [to associate with]," said Donald Scoggins, a longtime Republican activist who likes to say his conservative bona fides go back to volunteering for Eisenhower. "These jackleg ministers don't have any standing in the Republican Party. These are folks Trump has gotten to say, 'We spoke to the black Republicans.'"
Black conservatives are hesitant to talk specifically about Manigault — who declined an interview for this story — or about how the changes in Washington affect them. Few endorsed Trump publicly during the campaign, with many choosing to stay out of the race or keep quiet for fear of reprisal — though some did support the Republican nominee.

Now that Trump's president, black Republicans hope to put their stamp on policy, fixing black communities by implementing long-championed conservative policies on issues like school choice, localized economic empowerment, and criminal justice. A plan to do this during a retreat at the Gloucester Institute in Central Virginia was postponed, but when it's complete, it will be sent to Manigault. She also oversaw a convening of HBCU presidents, who participated in a listening session with Vice President Mike Pence, capped by a quick visit with Trump in the Oval Office.
At one juncture, he pointed his thumbs outward — one at Trump loyalist Lynne Patton, and the other at Manigault. "You talk to them," the president said.
The reality is that if you are black, or concerned with issues affecting black America, with black politics, policy, or culture, Manigault is the person standing between you and the president of the United States.

Trump, in fact, said it himself. Last month at the White House's African-American listening session, he listened to one person after another speak about their priorities. According to a source in the room, Trump twice asked people to follow up with Manigault. At one juncture, he pointed his thumbs outward — one at Trump loyalist Lynne Patton, and the other at Manigault. "You talk to them," he said.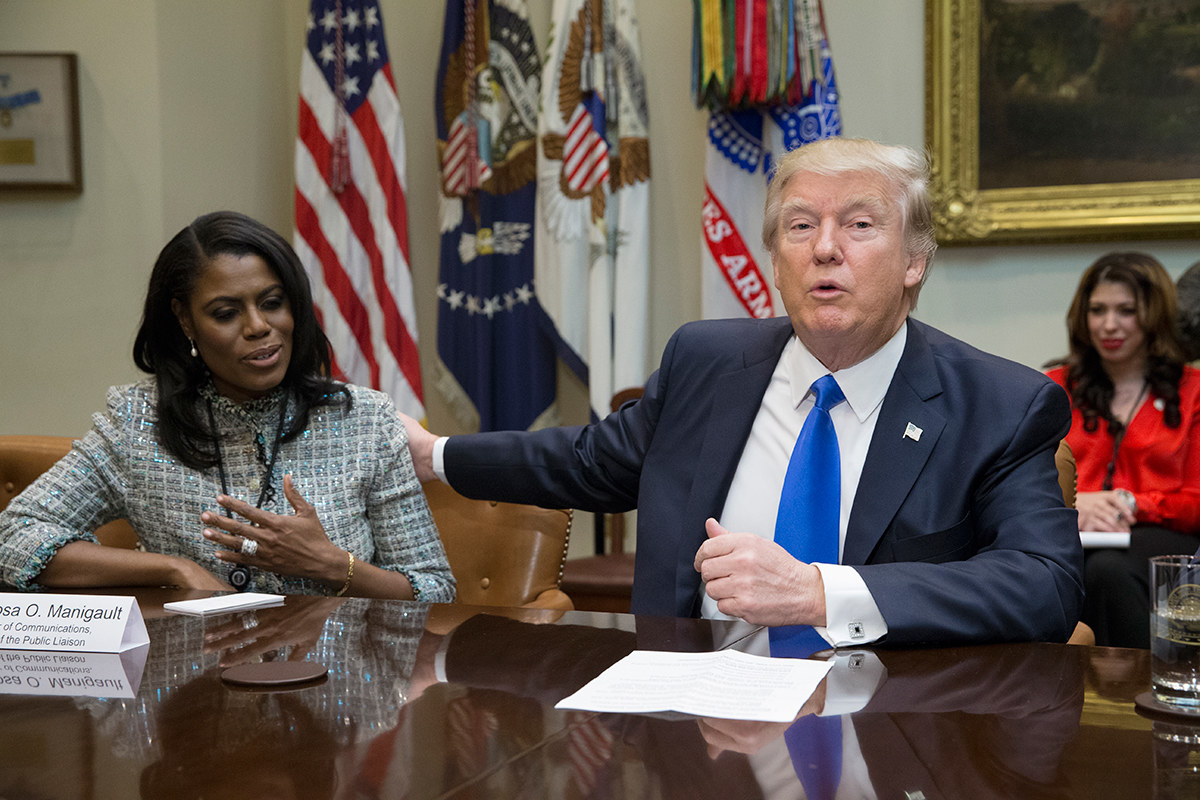 It's not that black Republicans didn't make an effort, exactly, to get a seat at the table.

After eight years of the party out of power, black Republicans wanted to celebrate the new administration, to show that they at least were happy with the idea of President Trump, that they'd worked for his election — or at least for didn't stand in its way.
Two nights before the inauguration, Armstrong Williams, a close adviser to Dr. Ben Carson and a prominent black conservative, served as the emcee of a black-tie gala honoring several black Republicans. Amid crab cakes and Patrón and Grey Goose cocktails, a cover band played classic reggae tunes.
The applause came and went. Resplendent in his tuxedo, Carson spoke in proverbial terms flanked by his wife, Candy. "I spent my entire professional career fixing people, working very hard to give them a quality of life, and then you put them back into an environment that is not conducive to good health," said Carson.
We need to think in a different way, said Carson, preaching now. "Success is not how many people we can put into public housing — it's how many we can get out." He drew loud cheers. Candy nudged him: She reminded him to tell everyone that he was going to embark on a listening tour. Carson lit up and dutifully obliged, starting his next statement as the adoring crowd yelled at cities to visit.
"Baltimore!"
"Detroit!"
"Chicago!"
"I know they want to shake your hand and get a photo," Williams said after Carson finished. Off mic, Carson said, "No problem." Williams repeated that, and a woman shrieked. Carson was mobbed walking into another room.
But the inauguration week revelry wasn't quite the harbinger of greater things that some black Republicans had hoped. For one thing, Manigault didn't attend. Another party with boxer Floyd Mayweather, whose appearance some black Republicans had bragged about, was a flop. And Carson, though he is a cabinet secretary, isn't central to the White House's strategy.
The retired neurosurgeon's popularity is often held up as a signal of political potency and appeal of black conservatism, a movement that exists in a tough spot, between a party that often relegates black Republicans to the edges and sharp criticism from the other side. Black Americans are the most partisan group of voters in the country, with 94% voting for Barack Obama in the 2012 election. Black Republicans are a smaller group. Beginning most notably with the creation of the National Negro Republican Assembly, black Republicans have been openly critical of discrimination in their own party, including mounting public opposition to figures like Barry Goldwater, who voted against the Civil Rights Act, and Richard Nixon, who some contend ran on a "Southern strategy" of capitalizing on Southern white voters alienated by civil rights laws and desegregation efforts. On the other side, black Republicans are faced with being labeled as a peculiar political species: as racial apologists making way for assimilationist policies that ignore the struggle for racial justice. Obama's election only threw the black Republican narrative into sharper relief, with many notable black conservatives like Colin Powell breaking with the party to support Obama.
Then came Donald Trump.
From the start of his scorched-earth path to the presidency, Trump had no interest in running a conventional campaign. The campaign's black outreach annoyed black Republicans — mostly because Manigault did it her way, and was proud to.
The campaign looked past popular conservative black pastors with ties to the party when it was time to visit a black church, choosing instead a nonpolitical Detroit pastor who owned a fledgling media company for a well-executed visit and interview (privately, the execution earned praise from counterparts on the Clinton campaign). When Hillary Clinton's campaign reached out to black civil rights groups and HBCUs, Trump viewed it as pandering; he hated it, preferring spontaneous, freewheeling mentions in his stump speeches ("Look at my African-American over here!") and rants about how black Americans wanted jobs.
Still, despite their reservations, Trump seemed black Republicans' best bet at taking back — and gaining influence in — the White House. In fact, they saw Trump's swashbuckling campaigning style and lack of policy experience as an opportunity; surely he'd need them. The GOP had launched the Republican Leadership Institute, which trained staffers to organize in battlegrounds. The GOP went to barbershops, seeking to establish relationships on the local level. But as Trump's campaign continued into the home stretch, some black GOP candidates equivocated on their party's candidate.
It's unclear what how deeply black Republicans' flip-flopping on Trump during the campaign has affected their fortunes with him now.
But that concern was the subtext of a black GOP leaders call last month, three party leaders said. Sources who requested anonymity in order to speak openly about a private communication that was at times critical of the Trump administration, said that black Republicans voiced their feeling that the people who had worked for the party weren't getting an opportunity to serve in the administration. One source said Dr. Alveda King, a stalwart conservative anti–abortion rights activist who is the niece of Dr. Martin Luther King, asked how she could get to know Trump officials. (Someone must have been listening: She got her wish, touring the National Museum of African American History with Trump in February.) Another party leader, Dr. Ada Fisher, reportedly took issue with the fact that people who supported Trump weren't being brought to the table. Meanwhile, frustrated operatives listened in as Sailor spoke about the importance of black Republicans creating their own agenda that they would then hand over to Manigault. "And there's your problem," one said.
Manigault is arguably — and unquestionably to her friends — one of the most memorable characters in American reality-television history. She has lived a life of reinvention. "I'm a moving target," she told People in 2004. "As soon as they think they've figured Omarosa out, I've already moved on to a whole different industry."

Born in Youngstown, Ohio, Manigault attended Central State University in the 1990s, and would eventually become Miss Central State University. In her first stint in the Clinton White House, Manigault was deputy associate director of presidential personnel. After leaving the White House, she struck out on her own — and shortly after learned about a casting for a show with Donald Trump. Second to only the current president of the United States, no one who appeared on the show became more of a household name — even to people who didn't watch The Apprentice — than Manigault.
But before and after her villainous turn on Season 1 of The Apprentice in 2004, Manigault moved from politics to television, from television to ministry, from ministry to television, and now back to politics.
She has lived a life of reinvention. "I'm a moving target," she told People in 2004.
She's said she received her call to ministry during a visit to West Africa, where she found herself alone with an orphan dying of AIDS. She was subsequently ordained as an assistant minister at the Weller Street Missionary Baptist Church in Los Angeles. She eventually met Oscar-nominated actor Michael Clarke Duncan, and the two were engaged before his death in 2012.
Manigault was a self-described "die-hard" Barack Obama supporter. "I don't really get involved in Donald Trump's politics," she said during a 2013 appearance on The Breakfast Club, pressed on whether her mentor's treatment of Obama had affected her. "If everybody who were employed by a CEO who disagreed with their politics quit their jobs, we'd all be on the unemployment line. That's not my form of protest."
Manigault got involved with Trump's politics, though — these days, she's a self-described "Trumplican." Adept at helping people in and around the Trump campaign navigate Washington, she was named the Trump campaign's black outreach director in July, on the eve of his nomination. Her name tended to be accompanied by discussion of one of two things: people's surprise at her ease with her role, and her loyal streak that can border on vindication. Trump respects Manigault, and in turn, she will defend him to the exclusion of all else — a trait on display in recent tense, borderline-explosive interactions with the press. "Every critic, every detractor, will have to bow down to President Trump," she explained last summer on a PBS Frontline documentary. "It's everyone who's ever doubted Donald, whoever disagreed, whoever challenged him. It is the ultimate revenge to become the most powerful man in the universe."
On the night of Trump's acceptance of the Republican nomination in Cleveland, with Christian Louboutin heels tucked away in favor of flat shoes, Manigault headed into a darkened bar in a shimmering dress and began dancing to cheers.
She had reinvented herself yet again.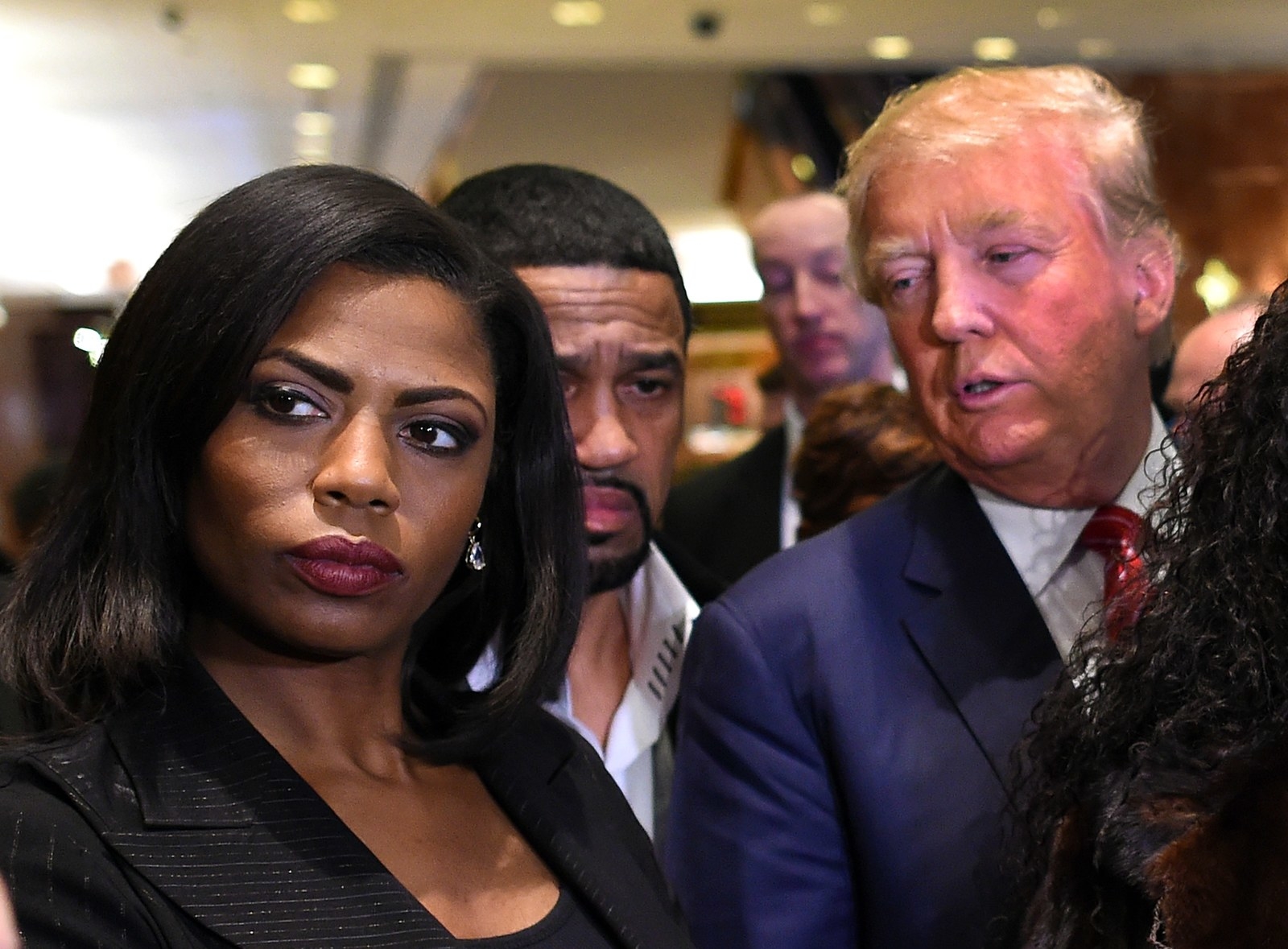 This month, Betsy DeVos met with Howard University President Wayne Frederick.

Two students from the school weren't there — and though they weren't invited to the event, they offer a window into the kind of challenge black Republicans currently face.
Daisha Martin and Alexis Hasty were behind an effort to relaunch Howard's College Republicans chapter last year. A Blavity story publicized their support of Trump, and backlash ensued. "I can see identifying with the Republican Party, but cannot imagine how any person of color, or how any woman can find a way to stand with Trump. Perhaps they should stay in college a little longer and learn that you can disassociate the two," one commenter said. The pair was mocked inside black communities on Twitter.
The DeVos meeting — and the fact they were not invited — angered black Republicans. "Not a single Republican was in the room other than the secretary," said Republican activist Ralph Chittams on his radio show. "What was taken into the room were a bunch of Democrats."
"See what's happening right now, ladies and gentlemen — and people need to understand this very clearly — is black Republicans and black conservatives are being frozen out of the Trump administration by Omarosa Manigault."
"See what's happening right now, ladies and gentlemen — and people need to understand this very clearly — is black Republicans and black conservatives are being frozen out of the Trump administration by Omarosa Manigault," said Chittams. "I'm saying it. I'm going on record. It's going to cause me some problems, but this nonsense needs to stop and it needs to stop yesterday."
No one had seemed to ask Chittams, but he had his own thoughts on how to make America great again. "We just need to figure out how to work around, work through, work over… get rid of this blockage so that this administration can keep the promises that it made, not just to America, but to black America. Because it's not going to happen unless black conservatives and black Republicans are at the table."
At least one prominent black conservative — Armstrong Williams, the longtime Carson adviser — has a theory of why Manigault has caused some of the ire. "If she were a man it would be entirely different," he said. "It's chauvinism. Because she's a tough woman and she pushes back. That's all it is: male chauvinism and we've got to defeat it."
"Omarosa did not come through the black conservative movement, and if she did she probably wouldn't be in her position," Williams said. "She was formed differently, and you've got to accept that."
As far as the relationship between Manigault and black conservatives, Williams said he's optimistic things will improve over time. "We'll change it — it's [already] getting better."
The president is said to be deeply concerned about black communities struggling with poverty or gun violence and entrusts them to do what they need to do to fix problems, all while vowing his support, according to black Trump allies. He believes that struggling communities can fix most problems by creating better economic opportunity, better jobs, and better living conditions — and that when they're fixed, black people will love him. "He said to me, 'That's what I do,'" said Darrell Scott, the minister who told Trump Wednesday that he was going speak to "gang thugs" in Chicago on behalf of the administration. "He says, 'If you cut me, I bleed jobs.'"

His allies aren't convinced that he needs more black friends. Trump's pension for hobnobbing with black celebrities has lasted into his time as president-elect. He was perfectly fine speaking with celebrities like Kanye West, Steve Harvey, Jim Brown, and Ray Lewis, enlisting their help to accomplish some goals. Long after a campaign rally ended in South Carolina in 2015, Trump was autographing his signature hat for fans when he looked up at the tall, dark gentleman trying to get his attention. "AJ!" Trump yelled, still signing. It was the popular former TV host of 106 and Park, AJ Calloway. "What are you, working?"
"The black Republicans did not embrace Donald Trump," Scott said in an interview. "They have an opportunity to work with Mr. Trump through Omarosa, and they need to embrace her. The problem is they want the relationship that she has with him, and they're not going to get that. They need to date first before they can get married. Try buying him a drink before you try to sleep with him."
Scott's analysis is anathema to black Republicans, who would have preferred the Trump administration embrace their movement.
"The unique challenge [black Republicans] face is appreciation and a recognition of the value that could be added to this administration," said Michael Steele, the former chair of the RNC. "That's just the way it is in politics. It's unfortunate. But it's something that's a unique opportunity for President Trump and his team."
The idea of working with Manigault is to prominent black Republicans an unlikely proposition at best, and a dreadful idea at worst — but maybe a necessary one. The attitude of most black Republicans is Well, so what?
Going elsewhere with their agenda elsewhere is an idea that seems to be taking hold, if only privately. "The president isn't dogmatic and isn't ideological on anything except on issues of money, loyalty, and nationalism," said Leah Wright Rigueur, the leading scholar on black conservatism and author of The Loneliness of the Black Republican: Pragmatic Politics and the Pursuit of Power. "It throws their movement into chaos, because the ideas and principles that normally unify black conservatives are out the window because of Trump.
"It forces them to defend a man that many of them don't actually like, in the hopes that he picks up one of their causes."
"I think people need to stay away from trying to personalize it, and work with her."
In recent weeks, frustrated black Republicans have run their frustrations all the way up to Priebus, and have even sought to work with the vice president. After the black Republicans expressed frustration about the listening session consisting only of Trump administration and campaign people, Manigault said in response that her team had simply wanted to honor people who were serving in the administration or had worked on the campaign. Sources said that Manigault told them not to worry; they will be engaged by the administration. When is anyone's guess.
Even if not all black Republicans see Manigault as an ally, Steele said they need to get over it.
"I think people need to step back and appreciate that he brought in an African-American liberal to work with black liberal groups," said Steele. "She's got a relationship with the [Congressional Black Caucus], with Democratic organizations — I appreciate that. That's not something you'd see Hillary Clinton do. I think people need to stay away from trying to personalize it, and work with her."
Other black Republicans aren't so sure. Fear of losing influence is at the core of what it means to be a black Republican. "I mean, we either are going to be Justin Amash, Jack Kemp, J.C. Watts Republicans — or Omarosa Manigault Democrats," said Eugene Craig, a conservative activist who served in the leadership of the Maryland Republican Party. "There is no in-between."
Raynard Jackson, founder of Black Americans for a Better Future, supported Trump during the campaign but identifies with black Republicans who can't get as much as a phone call. "I think people who have been in the vineyards toiling and tending the grapes should at least have a glass when it's time to pop the cork," he said. "Instead they're the ones who have not been invited to one meeting, haven't gotten one phone call, or an interview for one job. This is not about jealousy — it's about the rule of politics, and rewarding people who were on the scene before this and will be on the scene long after."
None of the uncertainty has stopped Sailor from trying to save the moment.
And amid rumors of various black Republicans being frozen out of the inaugural ceremony and the transition, an experienced Capitol Hill had volunteered to help usher Trump's cabinet nominations through the confirmation process.
Sailor was laying out his plan for a big Republican retreat, where they would plan a black governing agenda, when a woman came on the line in mid-conversation. Once again it was Manigault on the line, this time from inside the White House, two people familiar with the call said.
This time, Sailor simply trailed off. ●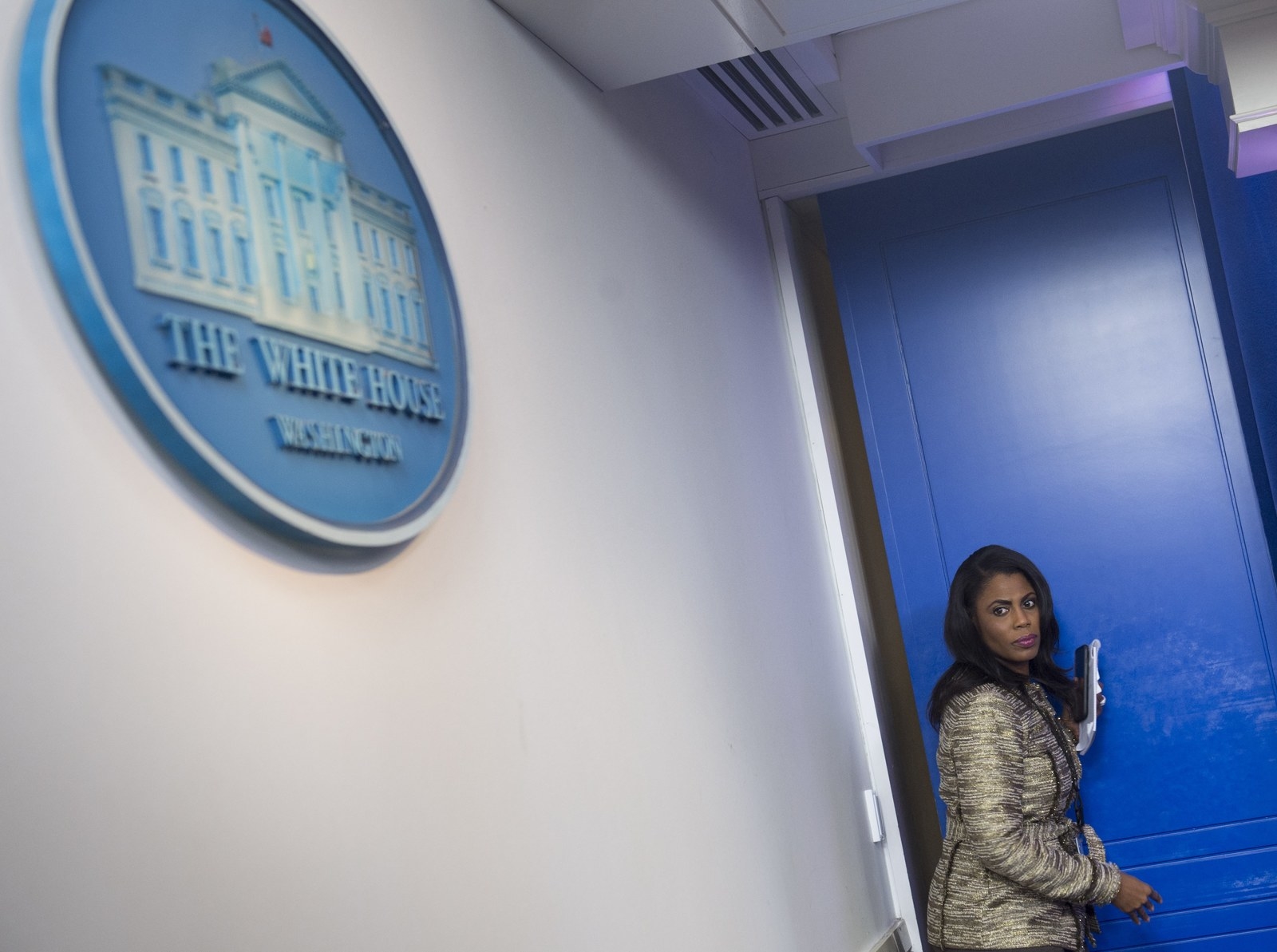 Outside Your Bubble is a BuzzFeed News effort to bring you a diversity of thought and opinion from around the internet. If you don't see your viewpoint represented, contact the curator at bubble@buzzfeed.com. Click here for more on Outside Your Bubble.