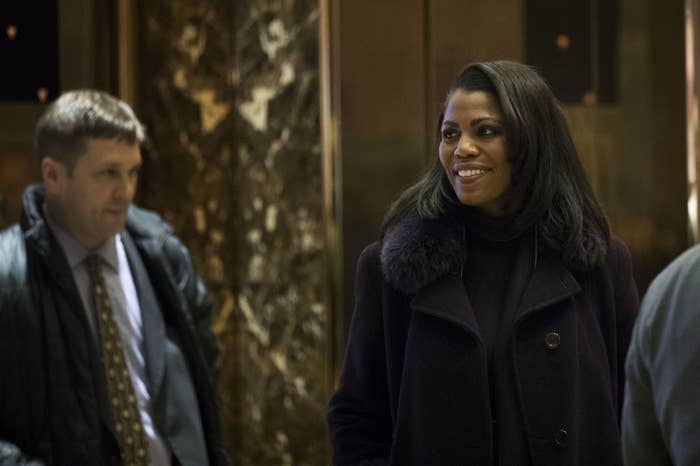 WASHINGTON — Black Republicans are figuring out how to respond to an invite-only meeting taking place Wednesday between senior staff of President-elect Donald Trump's transition and mostly Democratic-leaning civil rights groups and clergy.

The meeting, first reported by ABC News, which began late Wednesday morning, sent black Republicans scrambling for answers well into the night Tuesday into Wednesday morning, setting off fears that the Trump transition team does not intend on having black Republicans who helped Trump get elected be involved with influencing the team on policy.
Many of the black Republicans not invited view it as a snub; after all, they are longtime party loyalists who stuck with Trump through a tough — and, at times, embarrassing — campaign.
It's not clear which representatives from different groups are attending, but names left off the list alarmed black Republicans who feel that they should have gotten access.
An invitation provided to BuzzFeed News described the meeting as an "African-American Listening Session."
"You are invited to an African-American Listening Session with Omarosa Manigault and senior members from the Trump Transition Team," the invite from the transition team's office of national engagement reads. "This meeting will allow for an opportunity to briefly share your priority issues with the official Transition Team. To the extent that you would like to share brief policy papers on issues of importance to your organization, please do so either in advance of or immediately following the meeting."
Two well-placed sources said the meeting is Manigault's undertaking. Multiple outlets reported Tuesday that she would have a role in the White House as a public engagement liaison, but details are vague.
One notable absence on Wednesday, multiple sources in the room said, was strategist Elroy Sailor, who served as an adviser to Reince Priebus over the course of the campaign. Sailor did not return messages seeking comment.
The lack of well-known black conservatives or lawmakers alarmed one invitee, Bishop Harry Jackson of the Hope Christian Church in Beltsville, Maryland.
Jackson said Manigault was impressive in her presentation, saying the team would be listening to the invitees — about 80 in total, he estimated — and prioritizing issues for the administration to address.
"I have to say I was a little put off in the beginning because I'm looking around going, 'Where are all the black conservatives?' But then I thought that since Ken Blackwell was there, they can easily get that perspective."
Jackson also said that Manigault specifically addressed people in the room who did not vote for the President-elect, saying that the transition team had wanted to hear from them, too.
She did not return an email message seeking comment.
Conference calls among top black Republicans who had hoped to set their own black agenda to the transition team left them scrambling and, according to one source, disagreeing over the right course of action.
Black Republicans are hyper-aware of Trump's penchant for singling out people who make inflammatory statements. None of the black Republicans reached for this story would speak on the record about the situation for fear of reprisal from Trump or the transition team — but mostly Manigault, who has handled most of the transition team's outreach to black groups.
Anxious black Republicans have been hammering out policy platforms and ideas for the administration to pursue. They focus on conservative approaches to national issues facing black Americans they say have been failed by the Democratic Party.
But in turning to mostly Democratic-leaning groups like the CBC, 100 Black Men, and the NAACP (all reported by ABC News), the meeting is in line with the president-elect's break with traditional partisan norms. Some fear it's a harbinger that the Trump administration may not conduct business as the last George W. Bush administration did.
Two sources that spoke with BuzzFeed News on the condition of anonymity said that they had been deeply concerned with Manigault's past as a Democratic operative in the Clinton White House in the days that followed Trump's win. At different points throughout the campaign, it was clear that Manigault didn't understand their approach to politics, one said.
Others are more optimistic that there's no break, saying the current tension between party insiders and the transition team is part of longstanding problems that predate Trump.
"The root issue is black Republicans have no leverage in the party outside of personal relationships," Charles Badger, a former Jeb Bush campaign staffer with ties to prominent black Republicans, who supported Hillary Clinton during the campaign, said in an email to BuzzFeed News. "It's because everyone knows black Republicans aren't representative of most black folks. So the assumption — often true, but sometimes not — is that there's not the depth of relationships there. So if you want to talk to black folks, are you going to go to black Republicans or through the NAACP, Urban League, black Greek letter organizations, clergy, etc., groups with wider reach?"
But that is now almost certainly unlikely to assuage black Republicans' frustration on the eve of Trump's inauguration, who want see Republicans like former RNC Chair Michael Steele, Kay Coles James, a former senior Bush administration official, or Bob Woodson, the founder and Center for Neighborhood Enterprise be given a seat at the table.
Trump has continued to pledge to "drain the swamp" in Washington, keeping the theme alive during transition. But people that spoke with BuzzFeed News said they don't think it's a descriptor that applies to them.
"I would say black Republicans aren't the swamp that needs draining," one black Hill Republican said. "We are just getting the perfect opportunity to put solutions forward to help our communities and we need to make sure these solutions have a voice at the table."