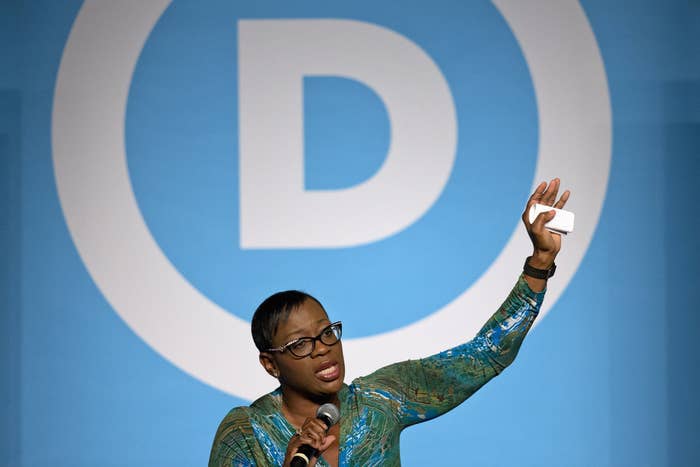 BALTIMORE — Former Ohio state senator Nina Turner's job is to get black voters to take a closer look at Democratic presidential candidate Bernie Sanders, but to do that, she first has to combat the narrative that Clinton's victory in the primary is inevitable — a narrative she says takes away choices from everyday voters.
Turner, a prominent Ohio Democrat, had been a vocal Clinton supporter and was involved with the Ready for Hillary super PAC, which raised millions of dollars for Clinton in the lead up to her candidacy. Bill Clinton sent an email soliciting donations for Turner's unsuccessful run for secretary of state last year.
But now Turner is criss-crossing the country as a surrogate for Sanders, who she introduced last month at a rally at her alma mater, Cleveland State.
Turner is talking to voters about having a choice in the primary — an attempt, in part, to close the gap with black voters leading up to Super Tuesday. The Sanders campaign hopes the story of her choice to endorse Sanders will encourage black voters to step out on faith.
That was Turner's pitch to a group of pastors following a press conference in Baltimore Tuesday. She exhibited a warm, familiar rapport with the ministers, who came from all over the country to meet with Sanders.
"I think the biggest travesty in all of this is to take away choice," Turner told BuzzFeed News in an interview. "And the same way that folks wanted to take away my choice, that is happening with everyday voters."
Turner's endorsement of Sanders in November surprised, and in some cases stung, her fellow Democrats. Former Ready for Hillary communications director Seth Bringman criticized Turner in November:

However, many other Democrats, many of them black, came to Turner's defense, calling her a staunch defender of the black communities she represented in Greater Cleveland.
Turner said she was still drawing conclusions about the Democratic primary before her endorsement of Sanders, and she made her choice because she believed he was the best candidate to lift up the black community.
Turner called the backlash "insulting" and said she is still incredulous that "in the 21st century a black woman can't make up her mind or change her mind."
"As long as I'm doing what folks want me to do or expect me to do, I'm okay, but the minute that I grow a brain I'm not?" Turner said.
"I'm not here to hold up a mantle just because I'm a Democrat," she continued "I'm here to fight for the things that we say we believe in. My ancestors died so that I could have a choice. And we're not on the plantation anymore."
Turner said the narrative of Clinton's inevitability is affecting the way voters in the Democratic party think about the race. If voters keep saying that the race is over, "then what does that say about your voice? It means your voice is being taken away," she said.

Turner said the support she heard for Sanders in Baltimore, much of it from random people who happened upon the senator early Tuesday morning, belied the notion that the Democratic primary was wrapped up.
"The mainstream media is perpetuating this inevitability, which I think is wrong," Turner said, without naming Clinton. "It does a disservice to the voters in this country, too. Basically what the mainstream media is saying is, 'Nothing to see here on the Democratic side. Everything is all wrapped up.' And it's wrong. We saw people in that neighborhood saying, 'Senator Sanders, we need jobs.' Or people saying that he's the only candidate not taking super PAC money. A brother yelled that out!"