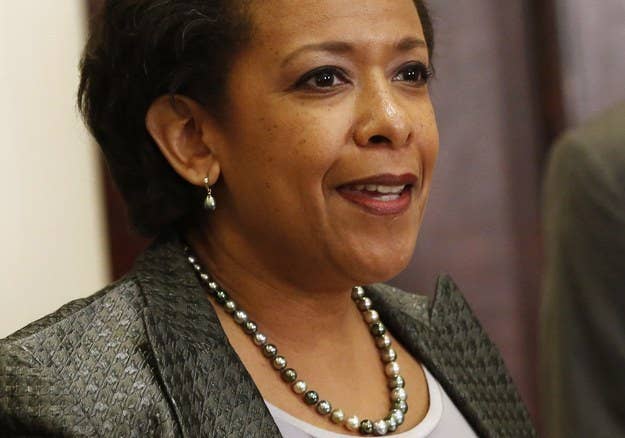 WASHINGTON — Even as all attention on Capitol Hill focused on an eleventh hour continuing resolution to avoid a government shutdown, Attorney General nominee Loretta Lynch was meeting with Senators from both parties in a charm offensive ahead of her confirmation proceedings in the next session.
A senior Justice Department official told BuzzFeed News Lynch has held nearly 30 meetings with various Senators, including almost every member of the Judiciary Committee, in an attempt to put a smiling face to the tales of the no-nonsense prosecutor who placed cops and would-be terrorists in jail.
The official added the meetings serve as a precursor for a more aggressive campaign in the weeks to come.
According to this official, who spoke to BuzzFeed News on background, Lynch will tout her background on national security cases as U.S. Attorney, framing her office — the Eastern District of New York — as one of the nation's most prominent for the handling of cases related to the national security of the United States, including against Al Qaeda. Manhattan had long been the chief office to which these issues got referred.
Lynch is also prepared to tout her public corruption cases against Democratic and Republican legislators. Most recently, her office brought corruption charges against Republican Rep. Michael Grimm.
Senate Democrats remain confident she will get confirmed in a bipartisan fashion and that her confirmation hearings will be fair, but there is little doubt on their end that Lynch will face tough questioning about how the president's executive order on immigration falls within his enforcement authority under the Constitution.
Republican Senator David Vitter from Louisiana has been especially clear on this issue, addressing Lynch's nomination in a speech on the Senate floor Wednesday.
"She would be actively giving him legal cover, if you will — bad legal reasoning used for PR purposes to further that illegal executive order," Vitter said.
In addition to immigration, two Democratic Congressional staffers familiar with the incoming majority's process told BuzzFeed News they expect to be peppered Lynch with questions regarding her interpretation of online gaming laws, her prosecution against cyber security, and how she might prioritize the enforcement of marijuana laws.
According to an official at DOJ, the department expects her to be asked to give her opinion on the reauthorizing of a provision that allowed the federal government to collect bulk data. A bill sponsored by Sen. Patrick Leahy to water down the NSA's surveillance capabilities was voted down this year, but the original provision is up in June.
A spokesperson for Republican Sen. Chuck Grassley, the incoming chair of the Senate Judiciary Committee, said while he hasn't given any indication as to the line of questioning he'll take in his first critical task as committee chair, he will not limit the number of questions member have for the nominee.
"He has said that he'll allow for as many questions as members want to ask, so I'd expect a broad range of topics to be discussed," said Beth Levine, communications director for Sen. Grassley's office.
"U.S. Attorneys are rarely elevated directly to this position, so I look forward to learning more about her, how she will interact with Congress, and how she proposes to lead the department," Sen. Grassley said in a statement.
Michelle D. Schwartz, director of Justice Programs at the Alliance for Justice, an organization that monitors judicial nominations nationwide, said there is "pretty wide consensus that she is a very strong choice for attorney general."
"She is somebody who has strong support across the political spectrum including law enforcement," she said.