Obama Will Back Clinton, But He May Not Make Her Campaign Easy
The delicate dance between the candidate and the president has been, so far, surprisingly smooth. But Clinton will have to hang on through Obama's YOLO period.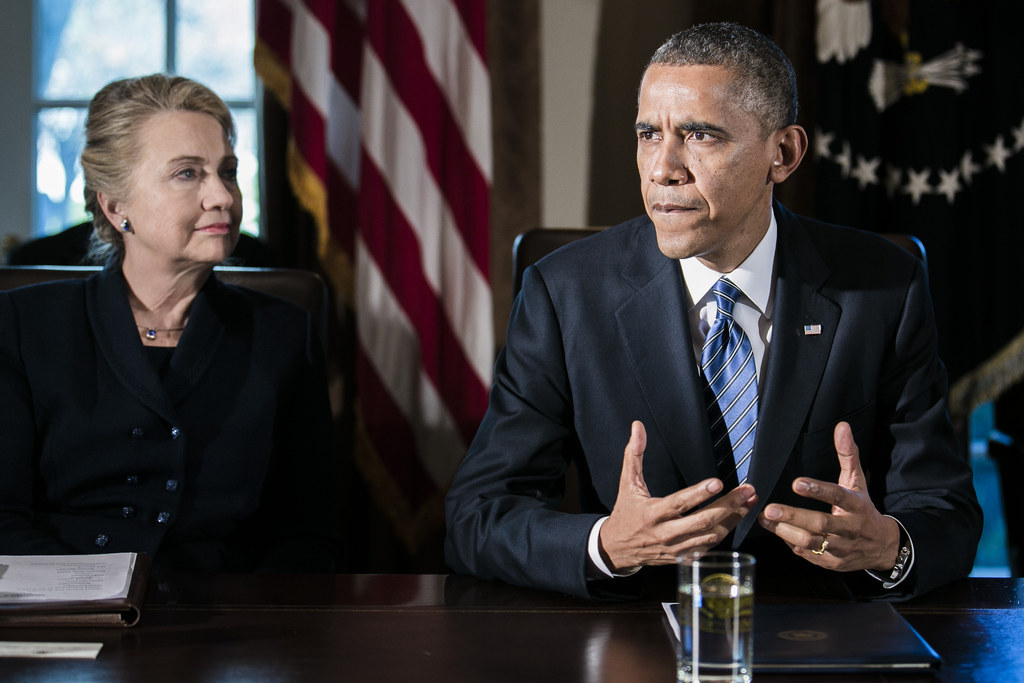 Hillary Clinton has signaled that she will run a campaign rooted in embracing President Barack Obama, and muting any differences in policy and style between them because she needs his unstinting support to rally Democrats behind her.
But what about Obama? Will he hug her back?
Current and former top Obama's advisers say that there's no question he will do what he can to elect a Democrat, knowing that any Democratic nominee will be far more likely to lock in his core accomplishments, from the health care law to Iran, than any Republican. But they say he's also much less preoccupied with the campaign, and with Clinton's tactics, than might be convenient for the candidate. The relationship, in other words, is good — but Clinton may be in for a bumpy 2015.
"His goal is to have the next president be a Democrat," former Obama senior adviser Dan Pfeiffer said in an email BuzzFeed News. "That is important personally and politically and he believes it is best for the country. This is much less complicated than I think people think it is."
Obama's 2015, too, has been relatively uncomplicated. He is focused intensely on large-scale policy commitments, and ignoring criticism both from Republicans and the Democratic left. Those key priorities include detente with Iran, a climate-change agreement with China, and a broad new Pacific trade deal. There is an obvious tension between the priorities of a liberated president and of a careful candidate, and for now, Clinton's priorities have no visible bearing on Obama's actions.
"For a while his strategy is going to continue to be the I-have-no-fucks-to-give, I-will-do-whatever-I-want-to-complete-my-legacy," said a former senior Obama aide. "And then you have to start coordinating."
The two allies are smoothing over differences when they can, however. On "Morning Joe" Wednesday, for instance, White House Communications Director Jennifer Psaki smoothly avoided a direct question on whether she, and Obama, agreed with Clinton's comment that the economy had "stalled out."
And Clinton has hired a staff whose relationships with the White House are extremely close. Her communications director, Jennifer Palmieri, is Psaki's immediate predecessor. Another spokesman, Brian Fallon, is married to Obama's legislative director, Katie Beirne Fallon. Teddy Goff, the Obama campaign's digital director, is now running Clinton's digital operation. And most important is John Podesta, a veteran of both the Obama and Clinton White Houses, who is her campaign chair. Stylistically, the influence was already visible in the roll-out of the campaign — dubbed Hillary for America, in an echo of Obama's.
This day-to-day harmony has been a bit of a disappointment to the press covering them, and a shock even to those involved.
"The tales about battles between White Houses and candidates of their party to succeed them are legendary in politics," a Clinton aide told BuzzFeed News. "If the start of this campaign is any indication, the legends may die here."
Obama is expected, the New York Times reported, to aide Clinton in fundraising and targeted campaign appeals in parts of swing states with large black populations and other places, as Clinton follows a roadmap similar to that of George H.W. Bush campaigning after Ronald Reagan. But that coordination — particularly as it relates to Obama's legacy — poses some unknown questions.
When the moment comes, will Obama be satisfied to forsake the large rallies for targeted, digital appeals? The president was reportedly resigned to his more diminished role in 2014, but not especially pleased by it. And despite his talent for it, Obama notoriously dislikes the mechanics of fundraising — one of the top priorities for a Clinton campaign hoping to match the $1.1 billion he raised in 2012. Will he call donors on her behalf and schmooze at dinners?
And if Clinton breaks sharply, or even softly, with the administration on one of the prized components of his legacy — the prospective Iran nuclear deal, the trade deal, almost any aspect of the Affordable Care Act — how will Obama express his frustration?
The question is in the background now, and will grow steadily more urgent over the next 19 months. Clinton will rely on Obama's support broadly to rally Democrats — but most intensely in urging black Democrats to vote for her in the numbers that they turned out for the first black president.
Obama has sent no public signal on where he expects a Democratic nominee to stand on questions that have galvanized black Americans, and she hasn't spent a great deal of her career directly engaged in, in particular, the issues of police shootings that have been a central national story over the past year. She has signaled her support, however, for protesters, telling an audience last December that "black lives matter."
And some black Democrats have begun to push her to rely on more than an October presidential visit to Cleveland for the support of a vital share of the Democratic base.
"They have to earn it. Candidates understand this," said Donna Brazile, a veteran of the Clinton White House and Democratic commentator. "The old paradigm of waiting until the end to address these issues will also not work. Some issues that need to be addressed sooner rather than later is the chronic rate of unemployment. What will it take to bring it down to single digits? How can we rebuild our nation's infrastructure and can this become a bridge to strengthening communities of color?"
"To get young professionals of color donating at levels similar to what happened to the Obama campaign I think it will be important for her to talk about realistic plans to drive employment in urban areas, realistic plans to educate kids being left behind and meaningful criminal justice reform proposals," said Brian Benjamin, who raised more than $250,000 for Obama.
And potentially in the last weeks of a campaign, Obama's leverage will be powerful until Nov. 9, 2016.
"I don't think he wants or expects her to march in lockstep," longtime Obama adviser David Axelrod said. "They'll not agree on everything. But they obviously share values, particularly around the need to build an economy that honors work and gives people a fair chance to get ahead."