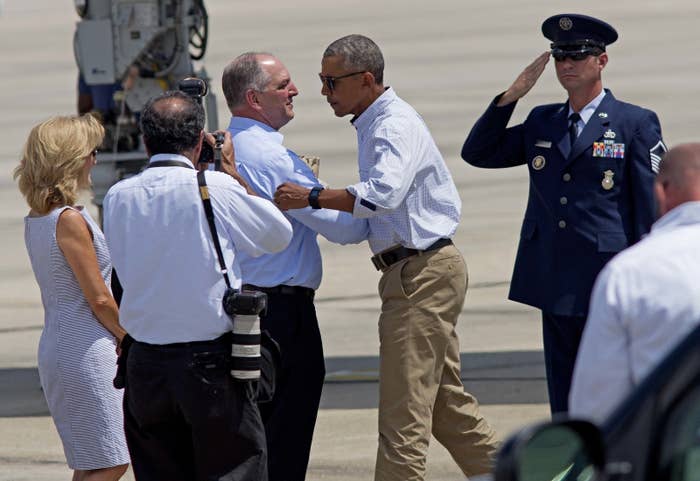 BATON ROUGE — President Obama on Tuesday praised the Federal Emergency Management Agency, Louisiana's governor, and state officials for what he said was a quick and sound response to the fatal floods in Baton Rouge.
Obama addressed the media during a tour the region days after Donald Trump slammed him for not arriving sooner.

"I just want to say thank you to the outstanding officials behind me who have been on the ground working 24/7 since this flood happened," he said.
"It begins with outstanding leadership from the top, John Bell Edwards," he added, noting that the Governor's Mansion also flooded.

Obama also called FEMA Director Crag Fugate "the best hire I've made as president."
He made a point to flood victims that the government would continue to issue aid regardless of the flood's place in the news cycle.
"Sometimes when these kinds of things happen, it can seem too much to bear, but what I want the people of Louisiana to know is that you're not alone in this, even after the TV cameras leave," he said.

"I was just speaking to a young woman whose husband died shortly after the birth of her second child, and she was talking about how her daughter was trying to gather all the keepsakes that she had in her bedroom, but reminded her of her father," Obama said. "And that gives you some sense that this is not just about property damage. This is about people's roots."

Obama was criticized last week for continuing his vacation at Martha's Vineyard rather than visiting Louisiana after flooding killed at least 13 people and displaced thousands.

After arriving at the airport, the president took a ride through a community rocked by the recent flooding. Debris — such as toys, mattresses, wooden furniture, a violin — was tossed outside several houses.
Obama hugged residents. "How y'all doing?" he repeated. "I know it's tough now," he added, and said, "I wish I was coming in better times."
When one person said the water rose to four feet, Obama said, "that's why you gotta listen when they tell you to get out."