Obama On Black Lives Matter: "African-American Community Is Not Just Making This Up"
"We as a society, particularly given our history, have to take this seriously," Obama said of the Black Lives Matter movement at the White House Thursday during a conversation on criminal justice in America.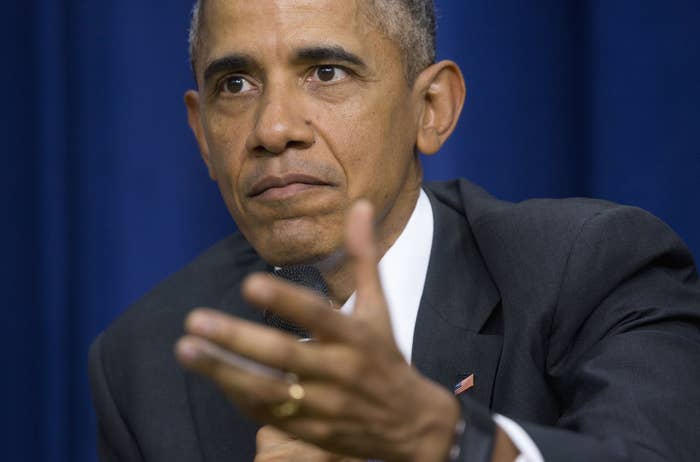 WASHINGTON — President Obama said the Black Lives Matter movement's response to police violence in minority communities is a real and "legitimate issue that we've got to address" in remarks at a panel discussion on criminal justice at the White House Thursday.
Obama's remarks are some of the strongest statements from the White House supporting the movement in recent weeks. They came at the close of a White House discussion on criminal justice attended by Attorney General Loretta Lynch, members of Congress, and police chiefs from around the country.
"Black Lives Matter is a social media movement, that is trying to gel around Ferguson, the Eric Garner case and some other cases. And very rapidly it was posited as being in opposition to the police," Obama said, alluding to attempts to frame the movement as anti-police, as well as those who had adopted the counter-slogan, "all lives matter."
"Whenever we got bogged down in that kind of discussion, we know where that goes," Obama said. "That's just down the old trap."
"So let me suggest this," Obama continued. "I think everybody understands all lives matter. Everybody wants strong, effective law enforcement. Everybody wants their kids to be safe when they're walking to school. Nobody wants to see police officers who are doing their job fairly hurt. Everybody understands it's a dangerous job."
"I think the reason that the organizers use the phrase "Black Lives Matter" was not because they were suggesting that nobody else's lives matter," Obama said. "Rather, what they were suggesting was, there was a specific problem that is happening in African American communities that is not happening in other communities. And that is a legitimate issue that we've got to address."
Obama also made reference to the activists, saying it's important that activists who say people of color they are not being treated fairly in certain jurisdictions, or are disproportionately subject to excessive force, should back up their grievances with data and not just anecdotes.
Obama reiterated, as he has in the past when talking about racial bias in policing, that activists should recognize that police have a tough job and that the "overwhelming majority" of law enforcement do — and want to do — the right thing.
"Having said all that, we as a society, particularly given our history, have to take this seriously," Obama said. "That the African American is not just making this up. It's real."
Attendees packed the South Court Auditorium of the White House for the afternoon event, which was moderated by former New York Times editor Bill Keller, now editor-in-chief of The Marshall Project, a nonpartisan organization covering America's criminal justice system.
The panel also featured Los Angeles Police Chief Charlie Beck and John Walsh, the U.S. Attorney for the District of Colorado.