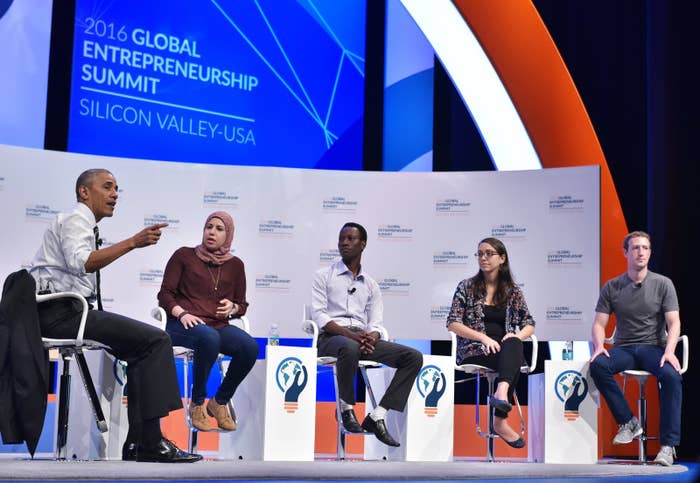 PALO ALTO, Calif. — Against the backdrop of Brexit, President Obama told entrepreneurs on Friday in California that they're upholding a globalist tradition.
"All of you represent that interconnection," he said in his public remarks at the Global Entrepreneurship Summit. "Many of you are catalyzing it and accelerating it. It promises to bring extraordinary benefits. But it also has challenges. And it also evokes concerns and fears."
"It is hard to foster and encourage an entrepreneurial culture if it's closed and if information flows are blocked," Obama continued. "What we are seeing around the world oftentimes is governments wanting the benefits of entrepreneurship and connectivity, but also thinking top-down control is compatible with that, and it's not."
In a private moment with the participants after the panel discussion, Obama said he was committed to events like the Global Entrepreneurship Summit and was intrigued by how a former president might encourage more young people and inspire them, according to Jean Bosco Nzeyimana, the founder of Habona, a company that produces renewable energy products from waste.
Panelists only had a few moments with the president, but he expressed that he wanted to figure out how to increase not just entrepreneurial spirit in young people around the world.
"He said that he wanted to create [a program in his] foundation that would focus on young people who are giving themselves to their entrepreneurial endeavors, whereby he would make sure that would have an opportunity to succeed. And that once he [leaves office] as president that he was going to visit some of those initiatives on the ground all around the world," Bosco Nzeyimana said. "It is a very huge promise."
Earlier this month at the White House, Obama met with India Prime Minister of Narendra Modi. The meeting focused in part on a renewed commitment to expanding innovation and empowering entrepreneurs. The leaders also announced that India would host the 2017 Global Entrepreneurship Summit.
Obama, who turns 55 in August, will be a relatively young man when he leaves office; he is the fifth youngest president to take office, and one of the youngest to complete two term terms. A person familiar with the president's plans said that it's likely stay engaged in a lot of issues discussed at the summit.
"I think you can tell by observing the president [Friday] that this is something that's very close to his heart," deputy press secretary Eric Schultz said during a press briefing aboard Air Force One. "He believes that entrepreneurship is an American value. It's one that demonstrates our strength. And that's what he's so proud to showcase this."
Schultz said the summit was born from one of the first major foreign policy speeches Obama made as president in Cairo in 2009. He added that the president sees it as an important opportunity because many of the young people involved are solving the world's problems.
"We talk a lot about challenges around the world," Schultz said, "and in some unstable places that aren't as on sure footing as we'd like. And the president believes that one of the ways to dig out of those holes is economic prosperity. When people have a life's work that is also benefiting the community that they're in, that's a good thing. I think that's why the president is so focused on it. This is something that the president is gratified [by]. He's not going to stop when he leaves office."
More than once on Friday, Obama encouraged the entrepreneurs not to be shy about networking with potential funders. At one point during the panel, Obama drew applause when he asked Bosco Nzeyimana if he had any thoughts on how people could help him out. "Make your pitch, man. Tell them how they can pull out their checkbook."