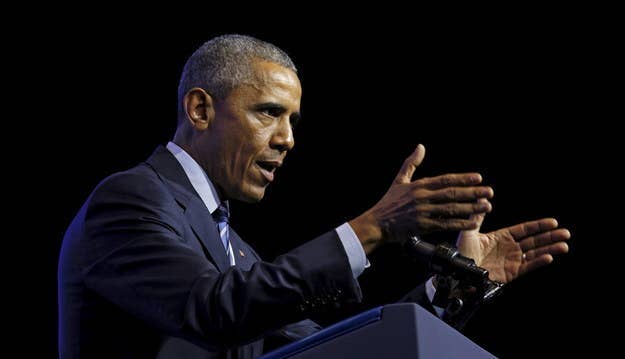 PHILADELPHIA — Speaking at the annual convention of the NAACP on Tuesday, President Barack Obama praised the bipartisan effort to change the criminal justice system, laying out a list of policy proposals that amounted to the most wide-reaching remarks of his presidency on criminal justice and the prison system.
Obama focused on early investment in communities, including proposals that the U.S. spend at least a portion of the $80 billion it costs to incarcerate 2.2 million Americans per year to expanding access to pre-K and summer jobs.
"We ask police to go in there and do the tough job of trying to contain the hopelessness when we are not willing to make the investments to help lift those communities out of hopelessness," Obama said. "That's not just a police problem, that's a societal problem."
He pushed for lower mandatory minimums — "or get rid of them entirely" — in hopes of a sentencing reform bill to reach his desk this year.
Obama's speech at the national convention of the NAACP came just one day after he announced he was commuting the sentences of dozens of nonviolent drug offenders, and he will soon become the first sitting U.S. president to visit a federal prison facility when he travels to the the El Reno Federal Correctional Institution outside of Oklahoma City.
"They are Americans, too," Obama said to a standing ovation from the audience.
Obama said people convicted of nonviolent drug crimes owe a debt to society, "but you don't owe 20 years. You don't owe a life sentence. That's disproportionate to the price that should be paid."
In too many cases, Obama said, "the punishment simply does not fit the crime."
Before Obama said he was ordering the Justice Department to review the overuse of solitary confinement in federal prisons, he used the occasion to touch on conditions some argue make rehabilitation and re-entrance into society for the formerly incarcerated a less certain proposition.
"We should not be tolerating overcrowding in prison," he said. "We should not be tolerating gang activity in prison. We should not be tolerating rape in prison. And we shouldn't be making jokes about it in our popular culture. That's no joke. These things are unacceptable."
Before his remarks, Obama heard the stories of four former prisoners — two were black, he said — with post-incarceration success stories, evidence the country needed to step up its efforts to create more opportunity.
Obama said this type of justice constituted "the American tradition and in the immigrant tradition of remaking ourselves ... in the Christian tradition that says none of us is without sin and all of us need redemption, justice and redemption go hand in hand."
Obama's speech was not without ceremony for the president, who has publicly eschewed the "lame duck" label and says his administration is committed to getting things done until the clock runs out. "Let's get something out of the way up front, I am not singing today," he joked with the audience, alluding to his singing of "Amazing Grace" at the funeral of state Sen. Rev. Clementa Pinckney.
Nor was the speech, despite its sensitive subject matter, void of the typical excitement that accompanies his remarks before majority black audiences. Placards of sketches were placed on the floor of the president and first lady next to sketches of Trayvon Martin and Mike Brown adjacent to the doors of the hall.
When the doors opened, audience members scurried down the aisles in hopes of a prime seat. Only standing room remained more than two hours before Obama took the stage.