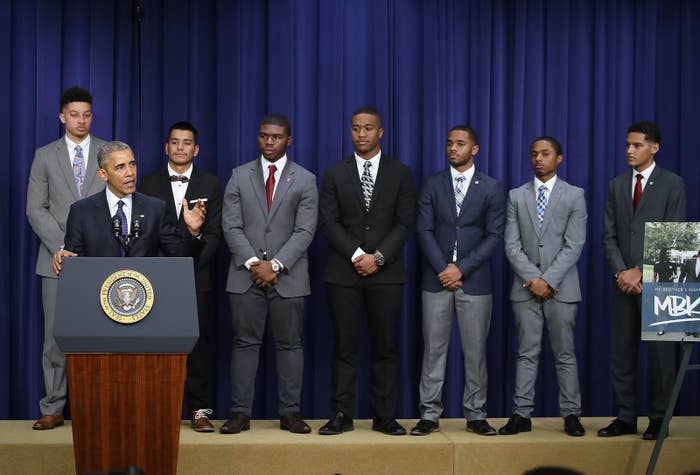 WASHINGTON — The day-long celebration of the My Brother's Keeper program with 35 days remaining in the Obama administration begged a question: Will the program that emphasizes mentorship and network support for black and Latino boys have a place in the next administration?
Broderick Johnson, the group's chair who also serves assistant to the president and White House cabinet secretary, said during a roundtable with reporters that while he's yet to speak with President-elect Donald Trump's transition team about continuing the initiative at the federal level, representatives from the Department of Education — out of which "a significant number" of MBK's programs are run — in fact have.
Johnson said the administration is "hopeful" the Trump administration sees the importance of making investments in supporting communities and cities. "We feel pretty confident [in] the degree to which it can be demonstrated to the next administration that these programs are effective based on the evidence and data."

On Wednesday the White House hosted leaders from its community challenge cities and locales to celebrate and reflect on the successes, including action in almost 250 MBK communities, policy victories in mentorship, Pell Grants for incarcerated individuals to obtain a degree, and a first-of-its-kind budget measure in New York committing $20 million to expanding MBK-related programs.
For the question of MBK's future in the next administration as a subtext of the summit, in his remarks Wednesday, Obama — who was introduced by Malachi Hernandez, a success story from Boston — did not address if it would continue, saying only he'd be involved with MBK for the rest of his life.
"My Brother's Keeper was not about me, it was not about my presidency," Obama said. "It's not even just about Malachi and all these amazing young men behind me. It's about all of us working together."
But already, Democrats are beginning to implore Trump to keep it.
Boston Mayor Marty J. Walsh said Wednesday said his city's commitment to MBK was one of reasons the Boston saw decreases in the number of arrests his police officers made. Major crime fell 9% between 2014 and 2015 and arrests went down 15% between 2014 and 2015 — results that buttress Walsh's belief that "one of the best things Trump could do is to continue supporting it."
"There's been an incredible foundation laid in this country for black and brown boys, and if you look at the numbers, it's showing progress in the right direction," Walsh told BuzzFeed News in an interview. "Knowing that there's infrastructure already set up across the country, it's a great thing to build off of."

Multiple reps with Trump's transition team declined to say whether it was something that Trump might consider. In recent days, a caravan of black athletes, entertainers and others paraded into Trump Tower where they discussed the needs of urban communities. Focusing on these communities is said to be one of major focuses the Dr. Ben Carson's Department of Housing and Urban Development.
But White House officials, buoyed by Obama — who said that their work on MBK while in control of the White House was "just the beginning" — are optimistic some of the slack can be picked up by the nonprofit foundation world and the private sector via the MBK Alliance.
"We were always prepared for the fact that when President Obama left office a lot of the MBK work of course would have to rest with local communities," Johnson said.