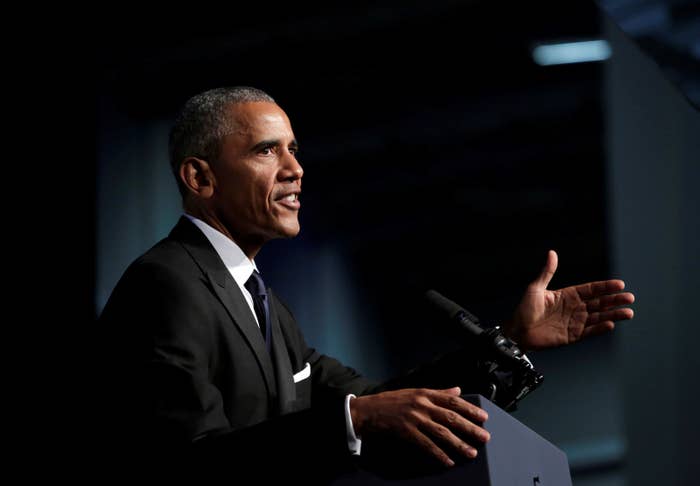 FARMVILLE, Va. — A new ad featuring President Obama urging voters to go to the polls to help protect his legacy has begun airing black radio in Ohio and Florida.
The ad features audio from the speech Obama delivered to the Congressional Black Caucus Foundation's Phoenix Awards dinner, his last as president. In the speech, a fired up Obama ridiculed Trump's black outreach and asked black voters to turn out if they wanted to give him "a good sendoff."
"And after we have achieved historic turnout in 2008 and 2012 especially in the African American community I will consider it a personal insult, an insult to my legacy, if this community lets down its guard and fails to activate itself in this election. You want to give me a good sendoff? Go vote," Obama said.
"You may have heard Hillary's opponent in this election say that there's never been a worse time to be a black person. I mean, he missed that whole civics lesson about slavery and Jim Crow — but we've got a museum for him to visit," Obama said during the speech, referring to the opening of the National Museum of African-American History and Culture.
In Ohio yesterday, Hillary Clinton urged turn out during a visit yesterday to Akron, and has received the endorsement of NBA star LeBron James, one of the state's favorite sons.
Clinton has between a 4% to 6% lead nationally, but is consistently behind in polls in Ohio. Florida, meanwhile, has been a virtual tie for much of the race. Although a Quinnipiac University Poll showed Clinton up 5% in Florida, low turn out there could have dire consequences for her.
Jeff Johnson, a Priorities USA strategists said Trump has "insulted and demeaned" the black community in this campaign and through his life. Obama's call to action, he said, is crucial to making sure Trump never becomes president. "This November we have to build on President Obama's legacy by turning out in force and electing Hillary Clinton."