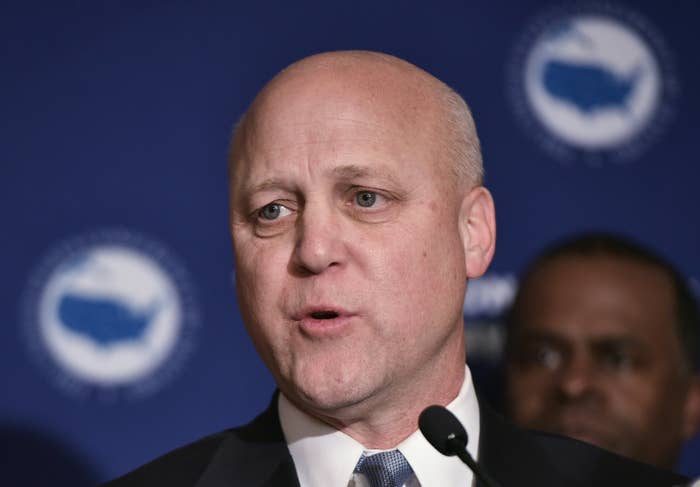 New Orleans Mayor Mitch Landrieu defended the city's recent removal of Confederate memorials from public property, promising that the city will make a "clear statement to the country" in the coming days about the need to take down war memorials like these.

Landrieu will give a speech addressing New Orleans and the nation, a spokesperson for the mayor said.
The city has began removing the four memorials, which has spurred violent clashes and reignited a debate over whether Confederate symbols belong on public property.
"These four monuments were put up well after the Civil War was over by an organization called the Cult of the Lost Cause for one purpose, which was to whitewash the Confederacy and intimidate everybody in New Orleans about who was still in control even after the Confederacy lost the war," he told BuzzFeed News. "That's not who New Orleans is or was, and it is not an accurate recitation of history."
One of the memorials literally included the words "white supremacy." Due to threats, the removal efforts have required the cover of night, police protection, and a high level of secrecy after the city council voted in favor of taking down the memorials. The matter has gone to court over the last few years, and private financing was secured to move the memorials from the public spaces into storage in "a museum or other facility."
"The people of New Orleans have the right to decide what goes on their public property," he said. "We should not be putting the Confederacy on a pedestal in places of reverence. We should remember so that we never repeat it."
During the swirl around the Confederate issue, Landrieu has been a heavy media presence — and was named in a New York Times report to be among a group of national leaders who may be a Democratic contender for president in 2020. Landrieu, the brother of a former senator and son of a former New Orleans mayor and longtime Democrat, previously served as lieutenant governor of Louisiana, but has not otherwise held higher office. Some believe, though, that President Trump's victory last year may remove traditional experience barriers for potential candidates.
Landrieu told BuzzFeed News he thought the mention "was hysterical," adding that the story said he was "one of the people that people thought about," meaning other people. (The story said he may consider the race.)
"I thought it was interesting," said Landrieu, pressed again on the article. "It's always nice to have your name mentioned, and it's nice when people recognize what the city of New Orleans has done. But I've got a year left. I'm focused on that work and I haven't really about what I'm going to do after that."
Asked if he had considered running for the presidency, he simply said, "I have not."