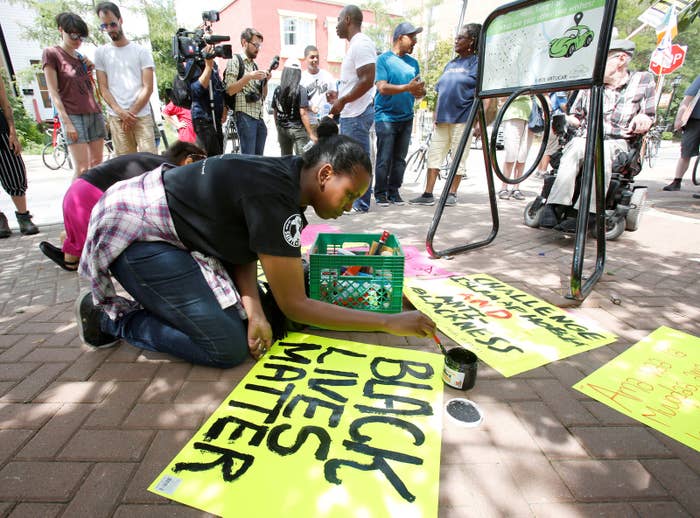 WASHINGTON — The Movement for Black Lives conglomerate will put forth a series of policy goals on Monday, framing the proposals as an end to the "war on black people."
The platform, which is titled "A Vision For Black Lives: Policy Demands For Black Power, Freedom, and Justice," outlines a series of very liberal proposals. The group will call for reparations; an end to the death penalty, mass incarceration, and deportations; and added rights for trans people under current civil rights protections in a new policy paper to be released Monday. Movement organizers also call for drastic changes to U.S. educational policy, including free tuition and retroactive forgiveness of federal student loans.
A website for the platform went live Monday, featuring action items for leaders at the local, state, and federal level, including guidance for groups to act on legislation and key messages.
In recent weeks, the movement has come under media scrutiny as a series of police deaths have posed questions about what goals activists have beyond police violence. Organizers said the policy platform offered 40 "comprehensive and visionary" policy demands beyond the subject of police killings of black people that had become the movement's calling card.

Organizers describe the policy paper as the result of a year-long process by the United Front of organizations and the Movement for Black Lives Policy Roundtable, that drew on the expertise of local and national organizations and hundreds of others "through research, surveys, convenings and national calls" a spokesperson said.
The groups include: Alliance for Educational Justice, Baltimore Bloc, BIG: Blacks in Green, Black Alliance for Just Immigration, Black Leadership Organizing Collaborative, Black Women's Blueprint, Black Youth Project 100 (BYP100), BlackBird, The BlackOut Collective, Center for Media Justice, Coleman Advocates for Children and Youth, Dignity and Power Now, Dream Defenders, Ella Baker Center for Human Rights, Environmental Justice Advocates of Minnesota, Freedom Inc., Highlander Research and Education Center, Million Hoodies Movement for Justice, National Black Food and Justice Alliance, Open Democracy Project at Crescent City Media Group, Organization for Black Struggle, Organization for Black Struggle, Philadelphia Student Union, Project South, Southerners On New Ground, SpiritHouse Inc., The Worker's Center for Racial Justice.

"In recent years we have taken to the streets, launched massive campaigns, and impacted elections, but our elected leaders have failed to address the legitimate demands of our Movement. We can no longer wait," a release reads.
Movement organizers are including six key demands are detailed in the platform. They include ending the "war" on black people; a reparations program; investments in education and health, changes to parts of the criminal justice system that adversely affect blacks, community control of neighborhoods and increased political power.
The platform has a list of endorsing organizations. They include Black Liberation Collective, , Million Women March Cleveland, National African American Reparations Commission, National Conference of Black Lawyers NYC; other organizations signing on to the platform are the National Economic & Social Rights Initiative, New York State Prisoner Justice Network, ONE DC, and The Truth Telling Project.

It is also a platform that nods to the global struggle for justice.
"We also stand with descendants of African people all over the world in an ongoing call and struggle for reparations for the historic and continuing harms of colonialism and slavery," the statement reads. "We also recognize and honor the rights and struggle of our Indigenous family for land and self-determination."

"We are dreamers and doers and this platform is meant to articulate some of our vision."