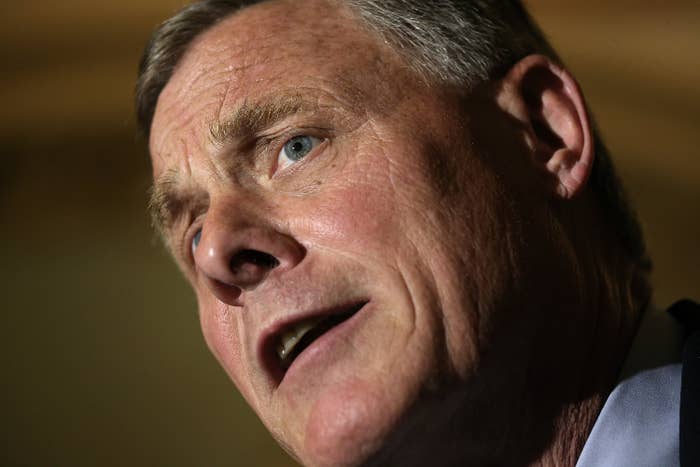 WASHINGTON — The chairman of the Senate Intelligence Committee said he was inconvenienced by his state's new voter ID law that imposed strict requirements on forms of photo identification necessary to vote.

Republican North Carolina Sen. Richard Burr made news when he had to cast a provisional ballot, used when a voter's eligibility is in question. Burr presented his Senate-issue ID but it wasn't valid under the state's new law, which Burr supported though it has drawn the ire of critics on the left who say it's a voter suppression tactic.
"I said that night when I gave a speech that I went through exactly what anybody would go through if they were challenged on their ID," Burr told BuzzFeed News shortly after receiving an award at the National Kidney Foundation's annual congressional dinner. "They let me cast a provisional ballot and they gave me the sheet of everything that was acceptable. I went out and found something that was acceptable and got back to the elections office that afternoon."
Burr took advantage of an exception in the law which allows voters to cast a provisional ballot because of a "reasonable impediment." Had he not returned, his provisional would have been counted with absentee ballots the final vote tally on March 22.
North Carolina's law also shortens the early voting period by a week, put a stop to same-day registration, and ended a voter pre-registration program for teenagers in addition to requiring stricter forms of photo ID.
On Tuesday, there were reports of college students in North Carolina not being able to vote.
"I don't think it's discriminatory at all," Burr said. "As a matter of fact, there were more ways to find an ID than one can imagine even using an expired driver's license that's up to four years old. I don't think anybody's disadvantaged. Inconvenienced? Sure, I was inconvenienced. But being inconvenienced to have the right to vote? I think we can put up with that in America."
Regarding accusations on the left that the law amounts to voter suppression, Burr told BuzzFeed News he predicted early voting would be up 50%.
"I had until the 21st even after the votes had been cast for tomorrow you had to be there by the time they canvassed. Even though they know who I was — I had a Senate ID — that wasn't good enough. And that's fine. At the end of the day, even though they knew me, they wanted to verify legally that I'm who I said I was. And there's nothing wrong with that."
Burr said he couldn't comment on the president election because of his role on the Intelligence Committee.
"It's the weirdest election I've seen in my lifetime."