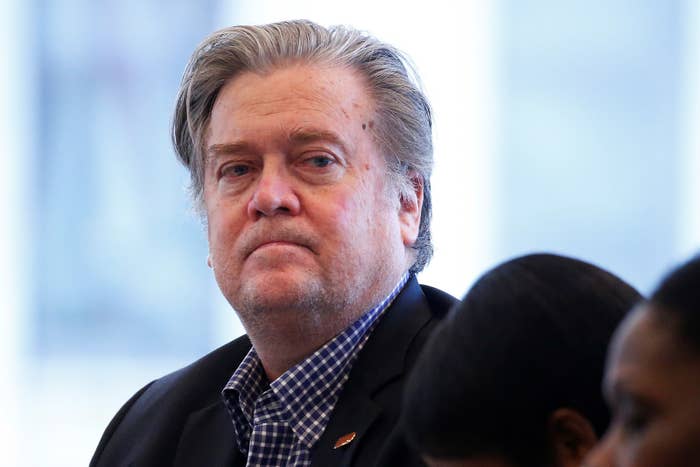 WASHINGTON — Black faith leaders are urging President-elect Donald Trump to reconsider the appointment of Steve Bannon as his chief strategist, citing the need for him to lead a nation "struggling to move past a deeply divisive campaign."
In an open letter to the President-elect, signees of the letter frame removing Bannon as a unifying step that helps him live up to a promise he made to the country in his victory speech.
"If the promise from your acceptance speech — 'I pledge to every citizen of our land that I will be president for all Americans, and this is so important to me' — should ring true, it is essential for White House staff to not become a barrier to that reconciliation process. The publicly reported information about Mr. Bannon makes reconciliation and unity extremely difficult."
The effort to reach out to Trump was led by Rev. Dr. Barbara Williams-Skinner, Rev. Dr. T. Dewitt Smith and Rev. Otis Moss Jr., along members of the National African American Clergy Network. The pastors overwhelmingly supported Hillary Clinton, but are part of a larger number of national faith and civil groups — with whom the President-elect mostly refused to engage during his campaign — unclear how to move forward with Trump set to take office.
The faith leaders in the letter take issue with the website Breitbart under Bannon's chairmanship, and are broadly concerned about reignited white nationalism in the country.

"It is alarming that a man who provides a home to a movement that in turn is a home to white supremacists will have a senior position in the White House," the letter states.
The letter also refers to racially-insensitive material, including an article about white pride in the Confederate flag in the immediate aftermath of the massacre at Mother Emanuel.
"Many of us were actively involved in the response to the massacre at Mother Emanuel," the signees write, calling the Breitbart post "a deeply insensitive and untimely statement."
The faith leaders also allude to controversial language on the site referring to so-called black-on-black violence. "We are troubled by this deeply misguided, unnuanced and divisive perspective and believe this a difficult starting point for conversations on race with a Trump White House."
The clergy leaders said they "stand with our Jewish brothers and sisters and against anti-Semitism", alluding to testimony made by Bannon's ex-wife during divorce proceedings that he didn't want their daughter to go to school with Jewish kids. (A spokesperson for Bannon denied he ever said that.)

"Even as a charge, this is deeply troubling to say the least."
Read the full letter here.