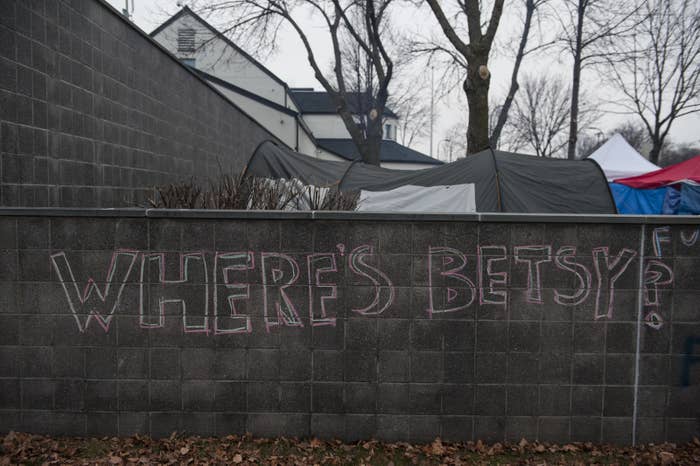 Reacting to criticism she's been more sympathetic after the killing of a white woman by a police officer than she was after a 2015 episode involving a black man, Minneapolis Mayor Betsy Hodges said she "listened to" her "community and learned" that her response "needed to be different this time."
In an interview on DeRay Mckesson's Pod Save the People podcast, which will be released on Tuesday, Hodges said that in 2015 she was working "day in and day out" responding to community needs In the aftermath of the shooting of Jamar Clark, whose death at the hand of an officer sparked outrage and protests from leaders who demanded accountability and the release of any video evidence.
But "what I wasn't doing was communicating clearly enough to people that that's what I was doing," she said. "And people wanted to know. They wanted to know how I was spending my time and people wanted to know how I felt."
Hodges was part of a coterie of political leaders and elected officials from whom protesters wanted more in 2015.
Minneapolis has again seen a lot of media attention after the shooting of Justine Damond, an Australian yoga instructor, shortly after she called 911 to report a possible crime.
Activists have argued that Hodges' more emotional reaction to this shooting signals that she's treating the Damond shooting as an isolated incident, as opposed to a symptom of a larger, systemic problem. Hodges' defense is that she's been gathering information and communicating more effectively with stakeholders so that people know how she's feeling and how she's spending her time.
"[My response] looks different this time because people told me they needed it to be different this time," Hodges said. "People wanted communication. They wanted to know how I felt."
Hodges said that she had lost confidence in Minneapolis police chief Janee Harteau and accepted her resignation on July 21. She defended her response, saying that community stakeholders had issues with Harteau before Damond's death and that the choice was the "sum total" of incidents and widespread concern over her leadership.
"Every single shooting death in Minneapolis is devastating, every single one of them. All of them," she said.
"Race has a role to play in all of this, I can't deny that," she said in the interview, asked about the assertions that she has responded more aggressively because Damond is white. "But in terms of my response, it's been about having learned the lessons from what people wanted me to learn from Jamar Clark's death and the occupation of the grounds of the 4th Precinct after that, and me deploying those lessons every chance I have, every way that I can to be responsive to what the community needs when we face a tragedy like this."

On pushing for Harteau's resignation, Hodges said people in the community had concern about Harteau's leadership for some time. "It became clear over the course of the week that in order for us to be able to continue the work and to move forward that she would need to step aside," said Hodges.

"I've spent the time since learning those lessons, getting the feedback, metabolizing that feedback, thinking about — what does a response need to look like? And I hope to never, ever ever to have to use that information again.

"But what I learned in the wake of Jamar Clark's death in 2015 was what Minneapolis needed from me as mayor in difficult times like that. I listened to my community and I learned."
Hodges, who is up for reelection in November, said she won't resign despite protesters calling on her to do so.