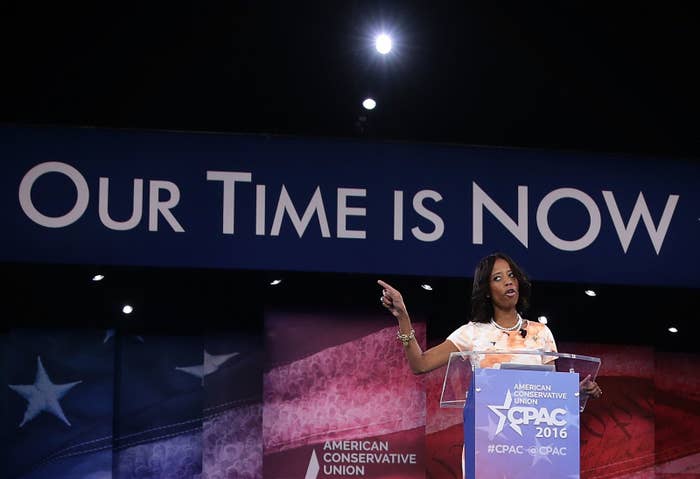 The race for Utah's 4th Congressional District looks in most ways like just one more moderate district where a Republican lawmaker, Rep. Mia Love, is fighting for her political life against a surging Blue Wave.
But it may be the only district where powerful Democratic members of Congress appear poised to help save a Republican seat.
That's because Love is the only black American Republican woman in the House. And over the last four years, she has transformed herself from a Tea Party stalwart — who in early 2015 said black people need to be released from a "different kind of slavery" that "comes from being dependent on people in power" — into a beloved member of the Congressional Black Caucus, a rare figure of bipartisanship in a bitterly divided country.
"I'm going to be completely straight here, because four years ago we probably would have had a completely different conversation," Love said in a wide-ranging phone interview with BuzzFeed News.
"I feel as if I'm supported [by Republicans]," she said. "But the same way, if my leadership asked me to go after a member of the Congressional Black Caucus, I won't do it."
"People generally do respect her, wish her well, and glad to have her as a colleague."
The two other black American Republicans in Congress — Sen. Tim Scott and Rep. Will Hurd — have spurned the CBC. Love, who joined the group soon after she was first elected, hasn't. The first black American woman ever elected to Congress as a Republican, Love has been a stable, if curious, presence within the CBC: attending meetings, receiving guidance as a younger member, and acting as a liaison between the CBC and House Republicans. Lauren Victoria Burke, a Democratic strategist with close ties to black lawmakers, said Love is a fixture at CBC's standing Wednesday meeting. Burke also noted Love's work with Rep. Emanuel Cleaver on poverty, adding that Love was Rep. Marcia Fudge's guest at a Washington reception for the Annual Legislative Conference of the Congressional Black Caucus Foundation when she was chair of the CBC a few years ago. (Love also introduced legislation with Rep. Karen Bass, seeking added protections for women incarcerated while pregnant.)
"It's rare to see any Democrats and Republicans laughing with each other at a time of Trump-driven hyperpartisanship," said Burke.
Under its guidelines, it appears the CBC's political action committee could choose to support Love for reelection: "The CBC PAC works to increase the number of African Americans in the U.S. Congress, support non-Black candidates that champion our interests, and promote African American participation in the political process — with an emphasis on young voters." At the same time, the group would very much like Democrats to take back the majority in the House of Representatives — on day one under a Democratic majority, CBC members Reps. Maxine Waters, Elijah Cummings, and Bennie Thompson would become three of the most powerful members of the House. Rep. Jim Clyburn, another member, could even become majority leader or speaker.
"People generally do respect her, wish her well, and glad to have her as a colleague," a top Capitol Hill staffer close to the CBC said of Love. Nearly a dozen CBC members either declined to be interviewed for this story or did not respond to a request. New York Rep. Gregory Meeks, the chair of the CBC's PAC, declined to comment, as did current CBC chair Rep. Cedric Richmond of Louisiana.
Approached in person, two members agreed they respected Love as a colleague but declined to elaborate. A third, when asked if they would prefer to win the congressional majority without Love having to lose her seat, said: "Of course." That member, insisting on anonymity, forcefully added that winning the majority is the CBC's main priority.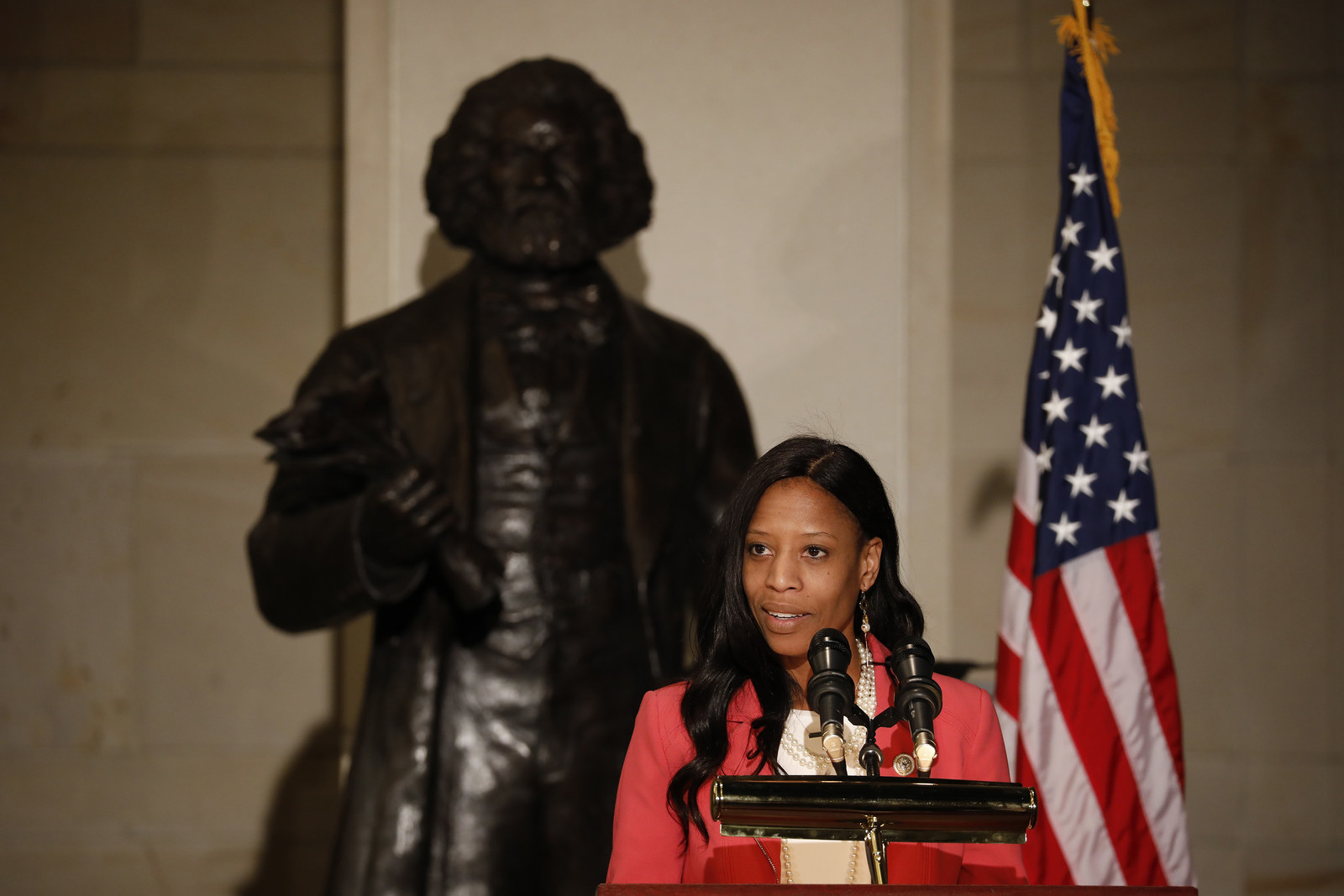 The CBC's openness to bipartisanship isn't exactly new. Republican Sen. Edward William Brooke III, the first black American politician popularly elected to serve in the Senate, commanded a similar level of respect from his CBC colleagues, even with his personal politics. "Despite his challenges, many believed that Brooke transcended the divisiveness of the Republican Party, ushering in a new era of politics," writes Leah Wright Rigueur in her book, The Loneliness of the Black Republican: Pragmatic Politics and the Pursuit of Power. Brooke's influence, she writes, "extended beyond the partisan boundaries of the GOP." In Brooke, who was in the Senate from 1967 to 1979, some black Democrats saw an opportunity for coalition and black political independence, she writes. While Brooke was not a "formal member" of the CBC, he and the group formed a "strong working relationship," he and was well-regarded by national figures like Jesse Jackson, who once declared, "There is no more qualified candidate in the Republican Party than Ed Brooke." Brooke also enjoyed the support of Shirley Chisholm and Charlie Rangel, according to Rigueur's research.
Brooke called himself a "creative Republican"; when he first won his seat, he said that he would "unite men who have not been united before." Brooke was a champion of civil rights, attaching important antidiscrimination provisions to the Civil Rights Act of 1968. He supported Richard Nixon's presidential campaigns, but grew "deeply concerned about the lack of communities for all people" — he even voted down three of Nixon's nominees to the Supreme Court, and was among the first to call for him resign.
Love's alliance with Democrats now comes — much as Brooke's did then — at an unlikely time. Democrats are fighting tooth and nail for the majority this year, and Love has a Nancy Pelosi–anointed Democratic opponent in Ben McAdams, the mayor of Salt Lake County. A September Utah Policy poll found Love up by only three points in the race.
It's not clear how much tension this is causing behind the scenes between the CBC and other Democrats. Democratic Congressional Campaign Committee Chair Rep. Ben Ray Luján, in an email to BuzzFeed News, said, "My colleagues are fully united behind taking back the House, and are traveling across the country, volunteering their time with candidates and contributing to their campaigns." After an inquiry for this story, a DCCC official alerted BuzzFeed News that Rep. John Lewis, one of the CBC's two most venerated members, was sending a fundraising email for McAdams the next morning. The email's subject line read: "John Lewis: We need people like Ben in Congress."
"For Ben, serving isn't about political wins, it's about uniting his community and getting results for the people he represents," the email reads. "In these troubling times, he's exactly the type of leader that we need in Congress." The message made no mention of Love.
Despite some initial reservations, Love joined the CBC under Fudge's leadership in 2015. Love's profile — young, black, and quite conservative — doesn't exactly recall the days of Rangel, Chisholm, and Ron Dellums. Indeed, in early 2012, months before she lost to Jim Matheson in her first run for Congress, Love spoke against the CBC's political brand as "demagoguery." Love softened her tone by 2014, though, referring to herself as "a better candidate" in an interview with CQ Roll Call: "I think that in order to affect change, you can't do it from the outside in. You have to do it from the inside out."
The CBC isn't a partisan group, even though it's comprised of almost entirely Democrats. Inasmuch as she embodies its nonpartisan agenda, Love's existence is also a glimpse at the political leverage that comes with treating black Americans as swing voters — a group the Democratic Party cannot take for granted. And though her closeness to the CBC is an eye-popping example of a tradition of bipartisan comity in Congress unusual in the Trump era, it was not a foregone conclusion given her past statements about the caucus.
Love now says she would "unequivocally, without a doubt" say people who warned her against joining the CBC were wrong, and that some CBC members are her personal mentors and "some of my best friends" on Capitol Hill.
"I'm a Republican. ... But there are too many times where we think about these false choices — that it's either one or the other, and that's not the case."
She said that Fudge is like "a big sister" to her, and that Reps. Robin Kelly of Illinois and Joyce Beatty of Ohio have looked after and "protected" her. She said she "couldn't believe" that Georgia Rep. David Scott donated to her again this year, despite a rumored sharp rebuke from some corners of his party's leadership. (Scott did not respond to repeated messages requesting an interview.) Love, who is a member of the Mormon church, revealed that members of the CBC even prayed with her after her brother was diagnosed with cancer.
When asked if she felt supported enough in her race by her own party leadership, Love let out a sigh, then demurred. "I tend to stay to myself — I do these things on my own. If I can do things on my own, I know that I can control the message and I can control everything." Outgoing House speaker Paul Ryan had been a "really good" friend as her assigned big brother on the Hill, with whom she said she's done "some really good things."
"I'm a Republican. I'm always going to be a Republican and my district is a Republican district. But there are too many times where we think about these false choices — that it's either one or the other, and that's not the case."
McAdams has tried to characterize Love as a do-nothing member of Congress, especially on immigration. "It's probably the wrong battle that he's picked with me, because I didn't need Ben to show up in a race to remind me that I am a daughter of immigrants," she told the Salt Lake Tribune in July.
In just that interview, Love's relationships inside the CBC paid dividends. Love suggested the reporter call Fudge to back her up in her squabble with McAdams over immigration, and the reporter obliged. Fudge told the Salt Lake Tribune in the interview that there was "no question" Love had been a leader on immigration "from the beginning" — especially in an effort to bring bipartisan immigration legislation to the floor. In response, McAdams' campaign manager told the paper Fudge is just another "do-nothing" member of Congress. (Fudge and Richmond both declined to comment on that reaction.)
Some people interviewed for this story who have observed Love don't know if her rare status indicates her transcendence from Trumpism, or if her joining the CBC was just a political move that's now benefiting her in a tough race. It also may not matter. "I got to the CBC before the president got there," said Love. "We've been building on this relationship before the president got there."
In an email to BuzzFeed News, McAdams' spokesperson Alyson Heyrend attacked Love for voting with Trump. "Ben McAdams is running for this seat to provide Utahns with a choice — as person who has a bipartisan record of balancing budgets, lowering the tax rate and getting things done, rather than someone who behaves like a Washington insider with a dubious ethical record," she said.
Love, even as she's quick to praise Democrats in the CBC, is less magnanimous about McAdams and the DCCC. "The CBC understands this, but the DCCC can't get that they're trying to recruit a middle-aged white man that doesn't even live in the district to replace one of their CBC members." She accused Pelosi of not caring about diversity. "They would prefer to diminish the numbers of the CBC so that Nancy Pelosi can stay in power rather than promote diversity."
McAdams, she says, would be Pelosi's puppet. (Love makes it a point to mention that if Democrats won back the majority she would not support Pelosi.) She argues that she can still be a conservative member of Congress and see how it's useful to preserve some ground to work with the other side. "We don't have to agree on everything, but I'm telling you, we have a common cause in the CBC. And if that's weird...if people think that relationship is weird, I think that that's off. That to me," said Love, "is American democracy at its best."