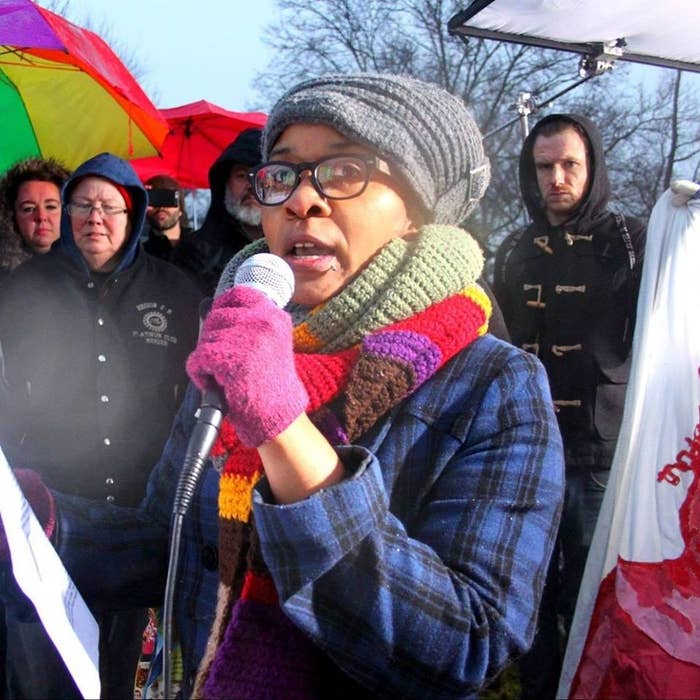 When Patrisse Cullors of Black Lives Matter wanted to know how the organization could help local organizers working on the Flint water crisis, one name came up: Nayyirah Shariff, a member of the Flint Democracy Defense League.
Cullors reached out to her longtime friend Invincible, real name Ill Weaver, a Detroit-based artist and organizer, who introduced her to Shariff. Since then, teams from Black Lives Matter network chapters in Grand Rapids and Kalamazoo have taken hundreds of gallons water to Flint, Mich., where lead has poisned the water supply of roughly 100,000 people, Cullors said.
The collaboration comes as Flint activists continue the arduous task of distributing clean water to people in public and Section 8 housing. "We're in the process of figuring out what's the best way to meet their needs," Shariff said in an interview with BuzzFeed News. "There are so many who don't have water or a filter. Unfortunately on a lot of this stuff we're in triage mode."
Shariff, 39, has been a grassroots organizer for a decade, including a stint working for Stand Up for Democracy in the 2012 fight to repeal Michigan's Emergency Manager Law. She is scheduled to speak on the water crisis at this year's Netroots Nation gathering in St. Louis.

The Flint water crisis has become a top priority for the Black Lives Matter movement.
"Our cities have water warriors who work in solidarity for clean and affordable water for all as well as to address all the other injustices caused by emergency managers who are given dictatorial powers by the state of Michigan to suspend democracy in almost all majority black cities in our state," Invincible told BuzzFeed News. "Black Lives Matter entered to uplift and amplify that work that Nayyirah and her team have been doing in that movement, as well as connect it to address the war on black lives throughout this country."

However, the movement's close monitoring of the Flint crisis has also been criticized by those who say it's too quick to frame the crisis as a black issue.
Shariff acknowledges the ways in which austerity measures under the state's emergency management laws affect black communities, but she views them as a symptom of larger problems in the state's financial system. This kind of analysis makes Shariff among the most sought after organizers to speak on the issue.
"We all know that the lead came out of the pipes of everybody's home whether you're black or white," she told BuzzFeed News, adding that the two people out in the forefront of the crisis are white women. "But if weren't a black, poor city we wouldn't have been taken over by an emergency manager. It was very racialized."
Flint has had an emergency manager since December 2011.
Shariff and others contend that, even as the Flint City Council wanted to return to the Detroit River as the source of Flint's water, management officials said it would be too costly.
On Sunday, The Daily Beast reported that city officials testified under oath in 2012 that Flint could not draw its water from the Flint River because it was deemed unsafe.
Activists are trying to figure out exactly who is responsible for the reversal of that decision 16 months later.
The reversal reflected a desire to "balance the books by any means necessary human life be damned," Shariff said. "If we were an all-white city, would it have taken over a year to declare state of emergency? Or to apologize?"
"There's a lot that we don't know," Shariff said, adding that her organization is tasked with educating people living under the state's emergency manager law, nearly half of whom are black.
Within a couple months of April 2014, when Flint switched its water supply to the Flint River, Shariff said she started hearing reports of people's hair falling out and skin breaking out. Others said that when they took showers their skin would itch.
"We were just hearing of these stories in the streets," she said. "Then we started seeing news stories about trailer parks and apartment complexes who were without water."
Shariff and others partnered with a local homeless shelter to create an emergency water relief site. Her involvement increased because the city's emergency management leadership wasn't responding to people's needs, she said.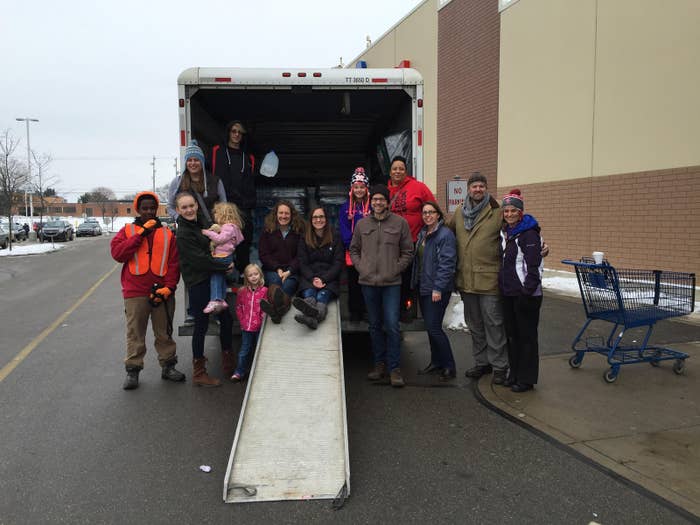 "When people were going down to them and complaining about the water and speaking [at public hearings], they did not make sure those people were taken care of. They didn't say, 'Let me get your name and number to schedule an appointment go to your house and see what's going on with your water.' At that time people just wanted to be helped. All they knew was their water wasn't coming out brown before they had Detroit [River] water."
"We wanted to really learn the truth," she continued. "And we felt we weren't getting it from the city of Flint, the emergency manager and the Department of Environmental Quality. As people were showing their water, [officials] kept on saying, 'The water may be discolored but it's safe to use.' 'Well it's just hard water,' or 'You can just boil the water and you'll be okay.' But that water has been [poisonous] that whole time."
Michigan's Department of Environmental Quality issued a Safe Water Drinking Act violation letter in January of 2015. The letter said Flint's water tested positive for unsafe levels for trihalomethanes (TTHM), a bond of chemicals formed by disinfecting water.
Shariff said she wants to work with residents on a list of demands on things like necessary nutrition and the possible legal ramifications of the city's mismanagement, "but it's like we can't even address that because people don't even have water. Why would they care about a lawsuit or nutrition to counter lead poisoning when they don't even have water to drink or bathe or cook it in?"
There are other challenges. Shariff said many people in a local neighborhood with a large population of undocumented residents only recently became aware that the water wasn't potable because their families outside of the country alerted them after seeing news reports. Undocumented people then began reporting they were being asked for government-issued identification, or in some cases water bills, to get water at fire stations.
"It was fucked up because this is water that has been donated by people from all around the world," she said. "Not only are they continuing to ration water, but requiring people to do things to get water [they] did not pay for."

On Saturday, Yahoo News reported officials who said identification "is not required, it's just requested."

This post has been updated.