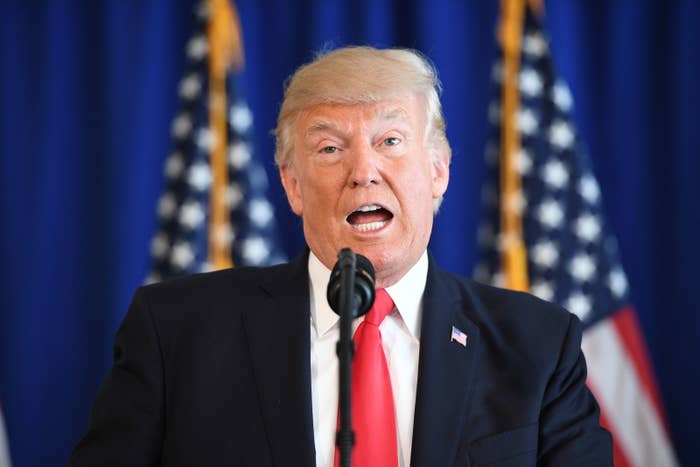 Virginia Gov. Terry McAuliffe spoke with President Donald Trump Saturday afternoon following the deadly clashes in Charlottesville, Virginia, and urged the White House to help state officials "bring people together" in the wake of the incidents, according to the Virginia Democrat's account of the conversation.
"He called and obviously he had heard what was going on, the issues, and I told him 'Mr. President' — at the beginning of the call and the end of the call — 'there's too much hatred and bigotry; there's too much horrible rhetoric coming out. We have got to work together,'" McAuliffe said, revealing details of the call in a new interview with activist DeRay Mckesson. "And I said at the end, 'Mr. President, I'll work with you. Let us work together to reconcile [and] bring people together."
The Virginia governor made the comments in an appearance on Mckesson's podcast, Pod Save the People, which has attracted numerous politicians, activists, and entertainers to speak on issues of race and justice. The interview, a preview of which was provided to BuzzFeed News, features McAuliffe speaking emotionally about the three lives lost in Charlottesville Saturday, including two state troopers who McAuliffe knew personally.

"Everybody should have an opportunity," McAuliffe continued, characterizing his remarks to Trump. "Nobody is superior to anyone else. We have got to work together."

Trump has faced mounting criticism this weekend for his vague response to the events in Charlottesville Saturday. Though the president issued a statement addressing the violence Saturday, he ignored reporters' questions asking if he directly condemned the white supremacist groups who had converged on the Virginia college town.

"The hate and division must stop. And must stop right now," Trump said in his statement, delivered at his private golf club in Bedminster, New Jersey. "We condemn in the strongest possible terms this egregious display of hatred, bigotry, and violence on many sides. On many sides. It's been going on for a long time in our country."
The White House scrambled to clarify the statement Sunday, amid growing calls for from activists and politicians for the president to issue a stronger rebuke to white supremacists. But Trump himself remained mostly silent Sunday, prompting some political observers to question whether his administration fears offending white supremacist groups that consider the president an ally.
Asked if he believed Trump's campaign contributed to the promulgation of hate speech, McAuliffe replied that the "rhetoric that has come out has created an environment today that we have in this country where people feel emboldened that they can spew their hatred." He said elected officials need to lead on the issue, and added that he told Trump, "Let us go forward today [to] change the discourse" and work together in "a positive way."
McAuliffe himself has faced criticism in the days following the violence in Charlottesville, as both liberal activists and Trump supporters questioned whether the police could have done more to prevent the clashes. In his interview with Mckesson, McAuliffe defended law enforcement's response, saying that police were concerned about inflaming a situation in which many of the protesters were armed.
He added that he believes there is no way that police could have prevented a driver from ramming into a crowd of counter-protesters in downtown Charlottesville Saturday, killing 32-year-old Heather Heyer and injuring at least 19 others.
The podcast episode featuring McAuliffe's interview is expected to be released early Monday.