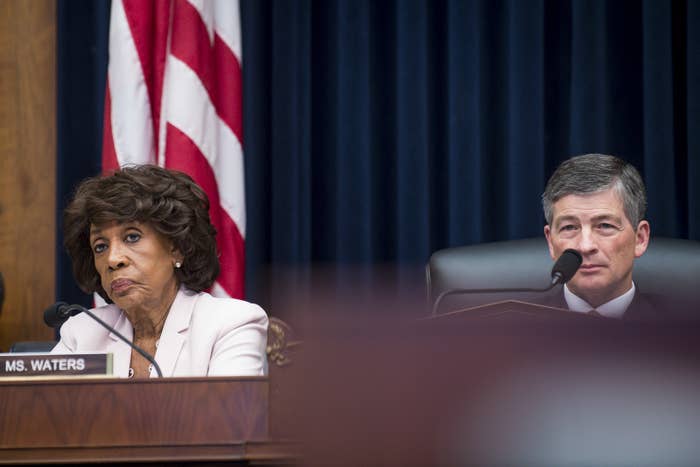 Rep. Maxine Waters last week declined an invitation from a Texas Republican to see Houston flood damage from the air.
Waters was annoyed with Rep. Jeb Hensarling's vote against a bill to provide $15 billion in disaster relief for victims after Hurricane Harvey and expressed differences with Hensarling over the future of the flood insurance program, according to a source familiar with the proposed trip. Hensarling is the chairman of the House Financial Services Committee.
A second source close to Waters, said there was a "more eloquent explanation" as to why Waters, the ranking member of the committee, told Hensarling that she could not make the trip, directing BuzzFeed News to a floor speech she made Sept. 7 opposing Hensarling's flood insurance proposals. In an email to BuzzFeed News, a spokesperson for the House Financial Services Committee said Hensarling wasn't given a reason.
"This is news to Chairman Hensarling. [Waters] told him on Thursday that she couldn't go to Houston. She did not give him a reason or make any comment to him about the vote," the spokesperson said.
Waters, the source with knowledge of the trip said, was slated to lead a group that included Financial Services Committee Democrats Reps. Emanuel Cleaver and Al Green, who is from Houston.
Hensarling's committee office said talks for a joint visit Houston started on Sept. 5. Waters has not hidden her annoyance at Hensarling's conservative vision for the program in pushing for long-term reauthorization.
Said Waters on the House floor: "He believes the federal government should not play a role in protecting Americans from the financial risk of flooding, but I find some comfort in the words of a House GOP leadership aide, who recently said to the press, 'Are we really going to have a philosophical debate about what role the federal government should play in flood insurance when people's homes are underwater? I think not.'"
Waters mentioned Hensarling again in the speech, arguing that an extension was insufficient. "To make matters worse," Waters said on Sept. 7, "Chairman Hensarling is now calling for a mere three-month extension of the NFIP, adding further controversy and opposition to his flailing plans. With 73,000 claims and counting rolling into the NFIP from Harvey alone, three months of certainty is just not good enough."
Congress recently approved that short-term renewal to the program, which is currently under massive debt. Hensarling had proposed legislation which would have extended the program another five years, but would reduce the size of the program, thereby making flood insurance more expensive for homeowners but also increase market competition.
House Speaker Paul Ryan is set to tour Houston-area flood damage on Thursday, ahead of a planned October vote on supplemental flood relief funding for people affected by Hurricanes Irma and Harvey.