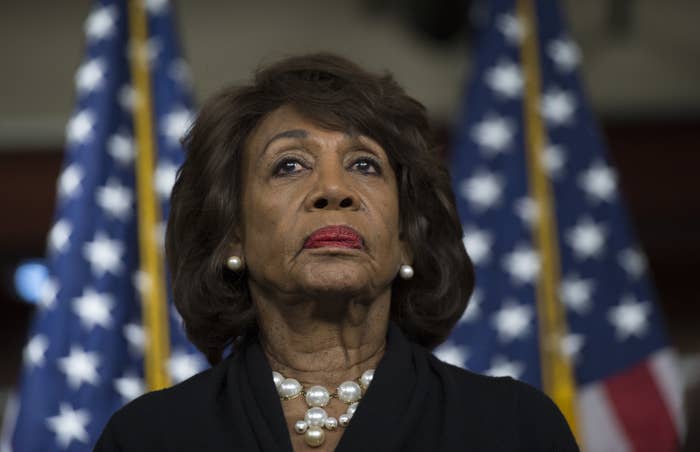 One of President Donald Trump's fiercest critics on Capitol Hill will address the country just after next Tuesday's State of the Union.
Rep. Maxine Waters, a California Democrat, will speak at the top of a BET News special after Trump delivers the State of the Union, a BET spokesperson told BuzzFeed News. The program, "Angela Rye's State of the Union," is part of a broader partnership announced just days ago between the network and the Democratic strategist and political commentator. Rye will executive produce news programs with a sharp focus on issues facing black Americans. The programs will run quarterly, BET said in a release.
The spokesperson said activists and some elected officials will analyze Trump's first year in office on the program, and will talk about "building black politics and the value of engagement across today's socio-political landscape."
BET News confirmed Friday that the special will air this Wednesday.
Trump has recently taken to highlighting how well he believes black Americans are doing under his presidency, tweeting earlier this month that he was "so happy" that black joblessness was plummeting. Earlier this month, the Bureau of Labor Statistics said the rate had fallen below 7%, but analysts disagree over how much credit, if any, Trump deserves for that drop. Black lawmakers certainly don't think he deserves that credit, and some plan to let him know that Tuesday by boycotting his speech.
Black Democrats are ramping up organizing efforts outside of the party's Washington apparatus in hopes of greater impact in this year's midterm elections and heading into 2020. Groups like The Collective PAC are recruiting and training candidates; BlackPAC played an integral role in turning out black voters in Virginia's elections last year; and a national group, Power Rising, is creating a black women's agenda at a conference next month in Atlanta. A black woman in that state, Stacey Abrams, is vying to become the first black woman ever elected governor in the US.
In some corners of Democratic politics, Waters was considered a potential dark horse to deliver the official Democratic rebuttal to the State of the Union. (The Boston Globe first reported Thursday that Massachusetts Rep. Joe Kennedy will deliver that address.) Waters, who is the ranking member of the Financial Services Committee, has reinvented her national profile and emerged as one of the leading faces of the anti-Trump movement — especially on the internet — and has called for Trump's impeachment, stating repeatedly that she believes special counsel Robert Mueller's investigation will find that Trump colluded with Russia in its meddling of the 2016 election.
Rye's on-air focus on Trump is something of a coup for national Democrats, whether they know it or not. BET caters to a black audience that skews younger, a segment of the electorate national Democrats cannot afford to lose in 2018 and 2020. Rye, in particular, is enormously popular with this group. And in Trump, Rye will have the chance to tap into one of the more effective motivating factors for young black voters, according to focus groups conducted last year by Priorities USA: getting Trump out of office.