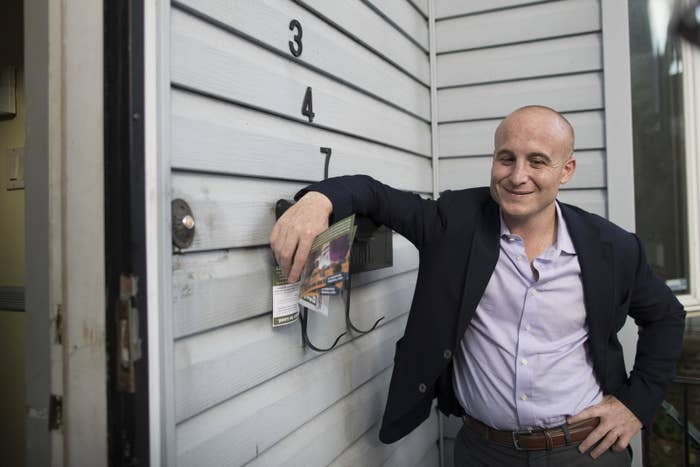 The voters of New York's 11th District have a question for Max Rose. A harmless, ordinary inquiry, one not unlike the hundreds that seem connected to people's decision to vote for or against him, but one he answers again and again. "I always get, this, you know, 'Max, you gonna work with Trump? You gonna work with him?'"
Trump, himself an outer-borough guy, remains wildly popular here on Staten Island, where Rose, a 31-year-old vet, is running as a Democrat in a district that extends into Brooklyn and leans Republican. Rose leaned in and sounded a little like one of those Democrats who say that even though Trump's vision for the country was flawed and dark and divisive, it was still a vision.
Rose wouldn't go to Washington with a "pitchfork," he said, and simply obstructing the administration couldn't help solve his future constituents' problems anyway. Trump ran on "good things" — xenophobia aside. "So if you think that I'm going to go to Washington and look at all this opportunity to start getting to work, but then sit back and wait because it might hurt our chances to win in 2020, you're crazy," he told BuzzFeed News.
Since his primary win, Rose has been asked that question a lot, as he's contorted himself into a political force: a gregarious but relatable policy wonk, a veteran for the forgotten man in the straight-talking, swashbuckling, swamp-draining mold of Donald Trump.
He's running explicitly as a reformer on a platform everybody can agree on — stemming gun violence, ending the opioid and heroin crisis, fixing health care, rebuilding infrastructure. His priorities don't necessarily contradict Trump's cultural ones like securing the border, funding the military, and honoring veterans and first responders. "This is not a Republican district," Rose told BuzzFeed News, "but this is a district that puts the person ahead of any party."
His is a shrewd approach to Trump-era politics, where open defiance of local party orthodoxies can still feel like a breath of fresh air for voters. Alexandria Ocasio-Cortez, Ayanna Pressley, and Katie Arrington dropped incumbents that way; Richard Ojeda in West Virginia and Conor Lamb, too, seemed to fit the moment in their district this year. Rose's effort to win voters regardless of their political affiliation or voting history is perhaps just as unlikely a winning strategy.
A talented retail politician, Rose swaggers more than he glad-hands (which is unlike a typical politician, such as, say, Republican Dan Donovan, the district's current congressional representative). When an older fellow veteran asked about how the summer's six-way primary went, Rose flattered him with a little banter before saying that it was "too easy" as he touched his shoulder. It was a little easy, though.
Rose won 63% of the vote, a big ol' number that gave him license to begin casting opponent Donovan as an untrustworthy, mealymouthed avatar of the establishment. He's not reserved that ire solely for Republicans. Rose led a coalition who sent a letter demanding that Mayor Bill de Blasio address problems like the need for a fast ferry for the South Shore residents, the opioid crisis, and high property tax rates. In September, he proclaimed in a campaign ad that de Blasio "acts like Staten Island doesn't even exist." (The most effective part: the slick glance you get of de Blasio winding up the window to his SUV, which has the visual effect of closing himself off to the outside world.) Rose has said he won't vote for Nancy Pelosi.
Rose's opinion is that the Democratic Party lost voters not because of policy, but rather the party's presumption that it didn't have to do the hard work of earning people's trust. "Policies are incredibly essential," he told BuzzFeed News. "But if winning an election and earning people's trust were as easy as just picking poll-tested policies and putting a couple million dollars into it, Democrats would win all the time because our policies are undeniably better than theirs."

His district is consistently described as conservative, but Rose, who doesn't think the district is very conservative at all, believes that government should serve an outsize role in fixing societal problems. And as most of the energy in the Democratic Party is explicitly liberal and anti-Trump, Rose doesn't favor trendy ideas like abolishing ICE and Medicare for All. Rose is executing the Trumpiest thing of all: eschewing a political equivalency to work to convince voters with an idiosyncratic style that he hears them, that he's the one who can solve their problems.
On Staten Island, Trump's singular effect was appealing, but some question what exactly people thought they'd be getting from Trump. Local voter Tom MacLeod, for instance, has a preexisting condition that causes arthritis of the spine and chronic pain. MacLeod, 43, was very worried that a repeal of the Affordable Care Act might make his pain medication too expensive to afford. He is like most Democrats who say they don't know why Trump, who made explicit threats to make cuts to health care, was Staten Island's choice.
"I wonder about the extent to which they were voting for him for that reason," he said. "I think a lot of people had a lot of different reasons, and I'd be a little surprised if a majority of the people voting for Trump were voting specifically for [an Obamacare repeal]. I think they were taken in by the idea of him claiming that he was going to be able to preserve things, and that's not where Congress went with it," MacLeod said. "It was kind of a bait and switch."
And this is the space — the government actually working for people on Staten Island — where some Democrats think Rose may be able to win this thing.
"This district has always been difficult for Democrats, but Rose is doing well by conveying that he'll be able to deliver the outcomes residents want without getting caught up in debates about process and rhetoric," said Basil Smikle, a Democratic strategist and former executive director of the New York state Democratic Committee. He added that Conor Lamb figured out how to win in a similar fashion in Pennsylvania. "Lamb didn't adhere to more left-leaning policies that guided say, Alexandria Ocasio-Cortez but, rather, he won based on that district's profile."
Michael Blake, a vice chair of the Democratic National Committee and a member of the New York State Assembly who is running for New York City public advocate, said voters are "slowly but surely" seeing that the economic vision Democrats are laying out, as well as Democrats' votes against American Health Care Act are better policy. "We must continue to show our positive economic vision and how we are better for people and not just say Trump is bad," said Blake. "We have an opportunity to show people how Democrats are helping them in their everyday lives, unlike the Republicans who will lie and take votes that would dramatically hurt people."
Rose has tried to add an idealistic touch where he can. (He has a philosophy degree and his political heroes include Daniel Patrick Moynihan, FDR, Teddy Roosevelt, and Bobby Kennedy.) After Trump addressed the Pittsburgh synagogue shooting with a resigned affect, Rose, who was shaken by the shooting and believes military assault rifles such as the AR-15 should be banned, asked people in a statement to "pray that we not lose faith in our ability to put an end to this cycle of gun violence and hatred that has gripped our politics and country."
Trump remains popular on Staten Island; Trump's rhetoric, though, is something Rose continues to push back on.

When a woman named wearing a hijab was harassed on a New York City bus by a woman named Ashley, Rose released a statement. "I and so many other veterans fought for rights Ashley claims this woman doesn't have. We defended the values of equality and tolerance that she clearly has no respect for. These actions do not represent Staten Island, Brooklyn or New York City." He critiqued Trump after the July press conference flap with Vladimir Putin. "Today's press conference was a moment to confront Vladimir Putin with the united resolve of the American people and our allies, but instead, President Trump equated our actions with those of an autocrat and denigrated the men and women who work to keep our country safe." He challenged Donovan to challenge the president, as well.
As one of the vets who are running with the backing of Rep. Seth Moulton's Serve America group, Rose was an active-duty officer in Afghanistan from 2012 to 2013, earning a Bronze Star, and a Purple Heart and Combat Infantryman Badge. The story of his vehicle getting hit with an IED in April 2013 is the subject of his first introductory campaign ad. He is often referred to as the first "post-9/11 combat veteran of the war in Afghanistan to seek office in New York City."
He talks about soldiers "getting the job done in an environment that is as complex and challenging as [he thinks] we've ever faced as a nation militarily speaking." It's why he thinks he and the other Serve America vets would make great lawmakers. "It's not just a matter of showing courage by taking that hill, it's also a matter of courageous restraint — not pulling the trigger. Really, it's about using a holistic tool kit from diplomacy to development to try to win the peace. That's a lot to ask of people for us then in the nation's capital to not be able to pass a budget on a consistent basis or not being able to confront automation, decaying infrastructure, the opioid epidemic. Each and every day, these soldiers have to accomplish the mission. They don't have a choice."
Donovan drew criticism from veterans groups when he ran negative ads against Rose when he was on two weeks' leave from the campaign for training with the National Guard, during which he was unable to do any political activity. Their battle came to a head with Donovan's criticism from a recent debate that Rose wasn't from the district. Rose fired back that he was sorry that he was too busy serving his country in Afghanistan. Donovan said nothing back.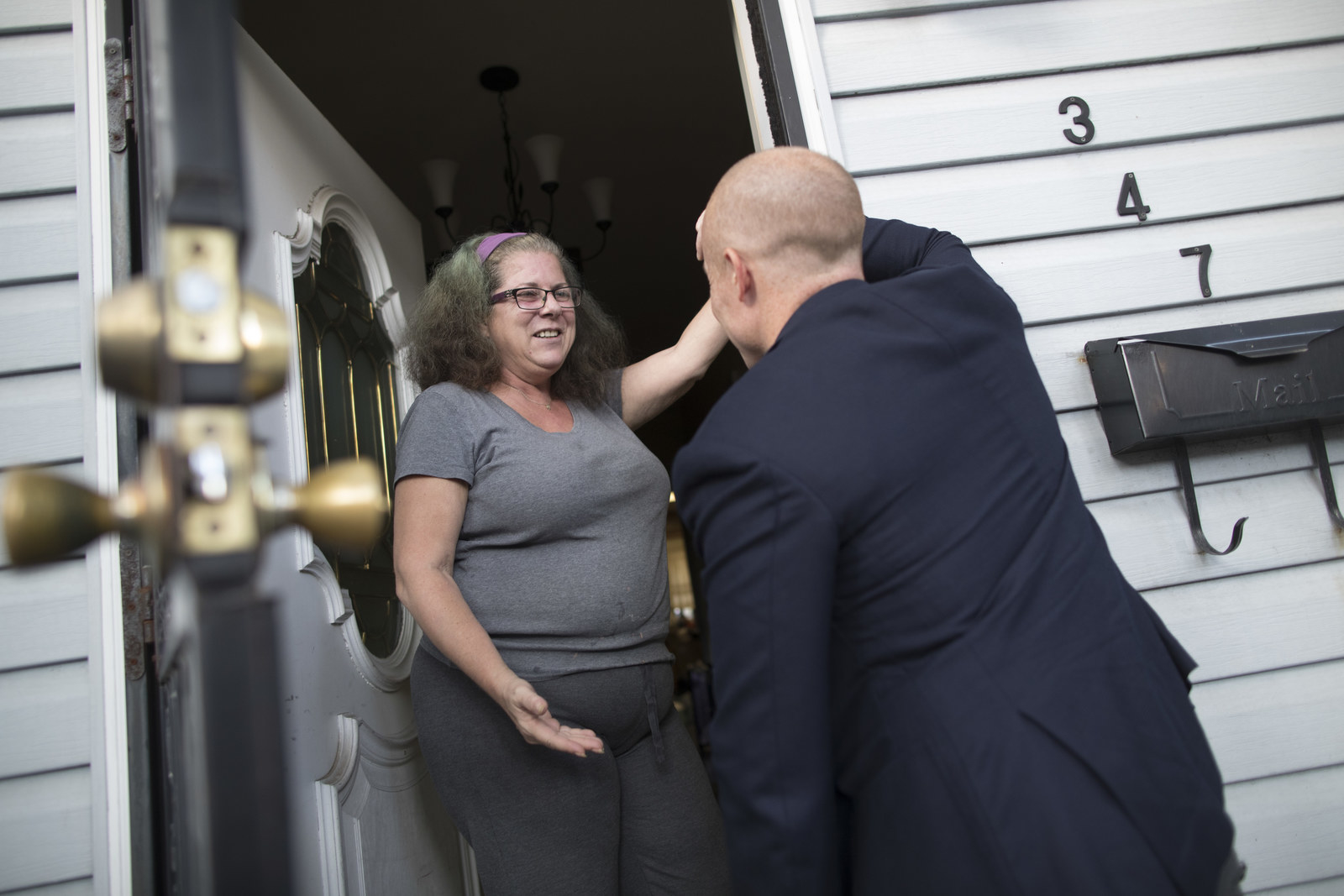 Should he get elected on Nov. 6, Rose will head to Washington with at least a partial mandate to get along with the Trump administration. Which he knows. After delivering an extended riff on ways to fix difficult problems with health care in America, Rose told BuzzFeed News, "It's very easy to say everything I just said. But if you don't back the plan up with actual resources then it doesn't mean shit."
That's what he wants voters to understand — that he's going to work for them to get the resources, from wherever is necessary, that the district needs to bounce back. That message is definitely getting across. Ken Johnson, a Staten Island resident and first responder, said he was voting for Rose, but that he hopes Rose's politics would evolve, because he's still young. Rose's willingness to be warm to the Trump administration was curious, Johnson thought, given that he's running on the idea that all of the leaders in Washington need to take a hike. "I get that he wants to appeal to both sides but as a Democratic voter, it's unsettling. I'm going to cast my vote because he's better than Dan Donovan, but he's new to politics. I hope he'll learn once he's in the system."