WASHINGTON — By the end of 2021, who will be the two senators from Massachusetts?
Currently standing on the sidelines: Rep. Ayanna Pressley, 45, less than a year removed from her own primary challenge to an incumbent Democrat — vaulting her into national politics and progressive heroism alongside Rep. Alexandria Ocasio-Cortez.
It could be a messy two years in one of the bluest states in the country, home to a strong class of young Democrats. Rep. Joe Kennedy III, 38, said this week he is considering challenging Sen. Ed Markey, 73, who's already announced his reelection campaign, which Sen. Elizabeth Warren has endorsed as she herself runs for president. Should Warren win the Democratic nomination and the presidency, Gov. Charlie Baker, a moderate Republican, would appoint a replacement — but only until the next special election.
Unlike the prospective primary challenges that animate intra-party debates, Kennedy isn't really talking about an outsider, lefty challenge to an establishment incumbent. It'd more of a generational campaign. "This isn't a decision I'm approaching lightly and — to be completely candid — I wasn't expecting to share my thoughts so soon," he wrote on Facebook on Monday, adding, "I hear the folks who say I should wait my turn, but with due respect — I'm not sure this is a moment for waiting."
Pressley herself ran for Congress last year on a nearly identical message: "Change Can't Wait."
She hasn't said anything about what the future holds for her in Massachusetts and whether she might endorse in the race, or even run herself — this time or if Warren's seat were to open up. (She declined an interview through a spokesperson.)
Multiple Democratic operatives who are Pressley fans and who spoke with BuzzFeed News repeated a similar refrain about Kennedy that depended on Warren's success in the 2020 primary.
In their telling of the narrative, Kennedy is now seeking to challenge Markey, because if Warren wins the nomination, her seat would ultimately become more competitive and possibly feature another very strong candidate like Pressley. (Of course, if Warren loses, the window for younger Democrats could close until she or Markey leave the Senate.)
Said one Democratic strategist who knows them both, "A lot of the people who love Ayanna love Joe, and the people who love Joe love Ayanna.

"That's just our reality."
Some Democrats, especially black Democrats, are a little frustrated that Pressley's name hasn't come up more as a primary challenger now, rather than later — or are even hopeful she could move herself into the mix.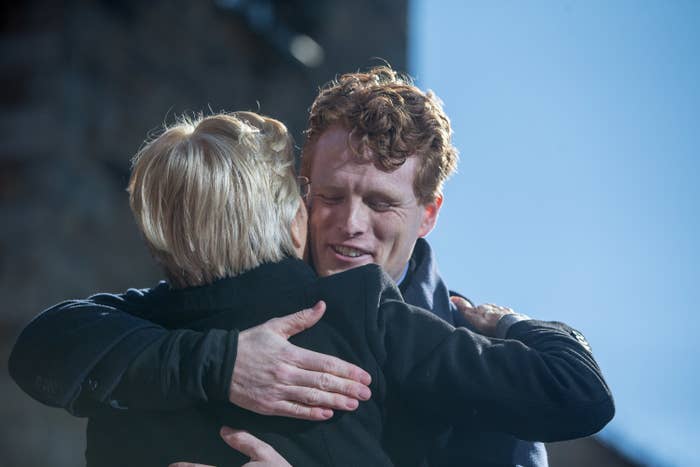 Collective PAC, a group that has fostered black candidates, has been involved in talks with Pressley to appear at its largest fundraiser next month in Washington, its cofounder, Quentin James, said in an interview. Andrew Gillum and Stacey Abrams, the Democratic nominees for governor in Florida and Georgia, respectively, both made appearances at the event lat year, and this year it's expected to include Jaime Harrison, a Democratic candidate for US Senate in South Carolina.

Making the case for a Democrat like Pressley, James said, "Our democracy is at stake, and black people aren't equally represented," adding that there are only three black senators. "If there's a chance [Pressley] runs, we're going to step up and advocate as much as we can and that's nothing against Joe Kennedy. It's just that right now white men already have the majority of the political power in our country." Black Americans make up about 14% of the US population, but there are only three in the Senate.
Reynolds Graves, a national political operative who met Pressley when she was thinking about running for city council, saw her speak last Wednesday and is among the Democrats who believe she should take a close look challenging Markey — if that's what she wants.
"The house was packed, hanging on her every word...and at one point I looked over at my fiancé and said, 'Look at this, this is crazy.' It wasn't her home district. They feel represented by her because of how she leads and what she stands for. She's reaching this diverse group of people who greeted her with almost this deep sense of gratitude, and they were very emotional about it," Graves said.
The way Pressley has styled herself has not shied away from her ambition. In 2018, she frequently identified a congressional seat in the region as a more national platform for leaders such as John F. Kennedy and Barney Frank. Pressley enthusiastically moved into the office that had once been occupied by Shirley Chisholm of New York, the first black woman ever to be elected to Congress and who also ran for president in 1972.
And she's quickly become one of the most vocal House Democrats and been the target of Trump's attacks as part of a larger effort to stoke his base with overt appeals to racism.
In interviews with a range of people who either worked on Pressley's insurgent campaign for Congress or spoken to her in recent days, one top Democrat called Pressley "the apex of our political conversation" in Massachusetts.
"She's above the fray and no one is going to turn around and all of a sudden see her connected to transactional politics in the speculation Olympics," one of them said.