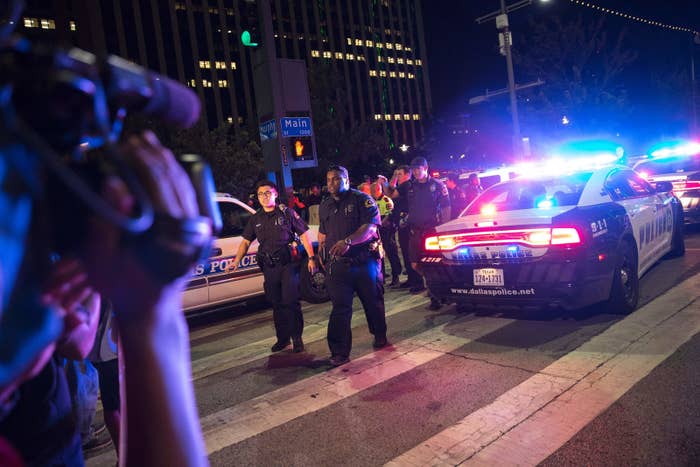 ST. PAUL, Minnesota — The Dallas shooting that left five police officers dead has rocked the Black Lives Matter movement, with many key activists expressing shock at the news, and concern that it will distract from the cause.

"This is a tragedy — both for those who have been impacted by yesterday's attack and for our democracy," the BLM organization, a network representing 26 chapters around the country said in a statement posted to its website. "There are some who would use these events to stifle a movement for change and quicken the demise of a vibrant discourse on the human rights of Black Americans. We should reject all of this."
The Dallas shooter, identified as Micah Xavier Johnson, is the sort of figure who has always haunted peaceful social and political movements: A fringe sympathizer with a propensity to violence and no known connection to the movement, but who invoked the movement's name before he was himself killed by police. He attacked as protesters peacefully demonstrated in the wake of more fatal shootings by police officers of black men.
Worry over the movement's legitimacy and standing in the national conversation was palpable in interviews with BuzzFeed News. One leader in the movement, who said their organization was not prepared to go forward with a public statement, nevertheless wanted to speak out because they believed they spoke for a broad swath of the movement. This leader worries at the prospect of the Dallas shooter provoking a shift toward the delegitimization of the movement.
"Ultimately thousands of folks protested peacefully again yesterday. Asking folks to entertain hollow calls for unity — and abandon a quest for justice that has rightfully put police departments under increased public scrutiny — is cowardly and unfair to the families of those who have lost their lives to the statistically proven epidemic of police violence," of the movement, the leader wrote in a text message. "Though yesterday's events were certainly tragic, no such epidemic exists in the case of police officers being killed."
The leader, who is well-known in the movement and is connected throughout the country, said they feared that the shooting will distract from an ongoing examination of extrajudicial killings by police officers.
Describing their initial reaction as "shock and sadness" the leader said they were worried about "blowback for a movement centered on the human rights of black Americans that is growing in scope and power" and worried that a growing discourse in the country was focused on good police work.
"I'm concerned that leaders have been quoted talking about 99% of cops are doing a 'good job,' so we lose focus on the fact that the law allows for the disparate treatment and abuse of black Americans — so what do those statistics even mean in that context?"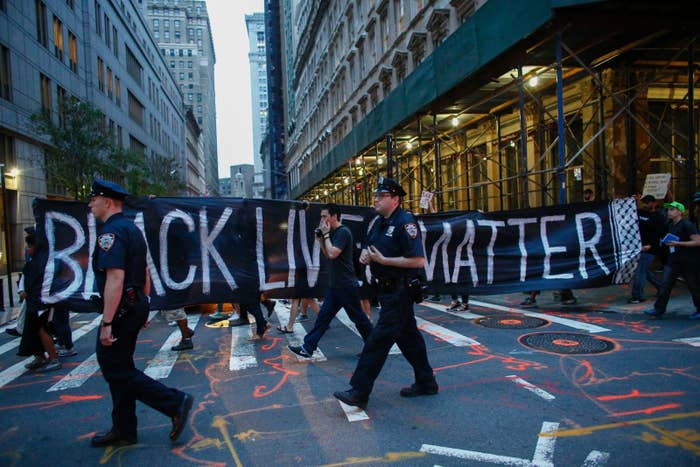 Two movement sources that spoke with BuzzFeed News said the starkest divide — between organizers exhibiting sympathy and those who have been neutral or more antagonistic — has played out privately and even on social media, if not in public statements.
"Their [the network's] response was the truth," Jessica Byrd, a political strategist whose organization, Three Point Strategies, connects grassroots movements with electoral politics. "BLM's strategic mission to fight against injustice against black people is not in conflict with the mourning of the lives lost in Dallas. Everyone attending the march in Dallas were put in danger. We can feel that police officers shouldn't be killed and black people shouldn't be killed at the same time."
Marissa Johnson, a Seattle organizer who infamously confronted Bernie Sanders during a rally in which she and a fellow activist demanded a moment of silence for victims of police brutality, said the Dallas ordeal represented an amalgamation of complicated circumstances. She said her immediate thought was that the tragedy was "a natural conclusion of the combination of historic white supremacy, increased public racial tensions that have never been dealt with, [all] occurring during the rise of Trump."
Another prominent organization, Black Youth Project 100, did not return messages seeking comment for this story. But this afternoon, the organization — in a statement titled, "BYP100 in Defense of Black Rage and Black Resistance" — described nonviolent resistance "as one tactic in long-term strategy to achieve Black liberation" and "not as an inherent value.
"In order to actualize an abolitionist future we will have to come into direct confrontation with the police state," the statement reads, adding that the Dallas community and our broader movement are now dealing with the aftermath of a type of violence well-known in America" and called the situation in Dallas "a direct response to violence in places like Baton Rouge.
"We understand that the state and the media will describe our resistance as violent, just like they will describe Black skin as such," the statement reads. "These strategies are meant to disband our movement and to tighten the state's grip on our lives and communities. In order to ensure the safety and security of our people in this moment, it is imperative that we move strategically and in ways that center our values."
The shooting in Dallas followed two high-profile deaths in Louisiana and in Minnesota, where a black man with a concealed carry permit was shot dead by a police officer during a traffic stop.
Last night here in St. Paul, organizers clutched their iPhones for even the faintest details of the shooting as darkness fell on an emotionally-charged rally in Philandro Castile's name outside of the governor's mansion — a mere five minute walk from the school where Castile worked.
Tony Williams, an organizer with Neighborhoods Organizing for Change, said the Castile ordeal made it apparent to other organizers that incremental change in police transparency isn't enough. "The time has come for us to dream a little bigger and stop looking for crumbs on police accountability."
That was a common refrain among the organizers, activists and community leaders; the people here are still raw from the tragedy of Castile's death and many have tuned out what's been going on around the country. "We have our fight to win here," Williams said. "When we're in times like this, it's hard for us to think about things that are happening outside of our direct experience, so if anything you just wonder if it's going to result in an increase of police presence that's militarized."
The activists nationally, however, are attuned to the potential reverberations of dead officers at an otherwise peaceful rally. Several activists related that they had watched cable news hoping the shooter was not black.
Under that category fell Umi Selah, the executive director of the Dream Defenders. It was his first reaction — "I hope he's not black!" — he told BuzzFeed News.
Umi, who tossed around a conspiracy theory about the federal government being somehow involved, has at times shunned media in an ongoing effort to build on the Dream Defenders' impact locally in Florida. But on Friday, he was open to discussing the shooting after BuzzFeed News inquired. But first, he had a question:
"Which one?"