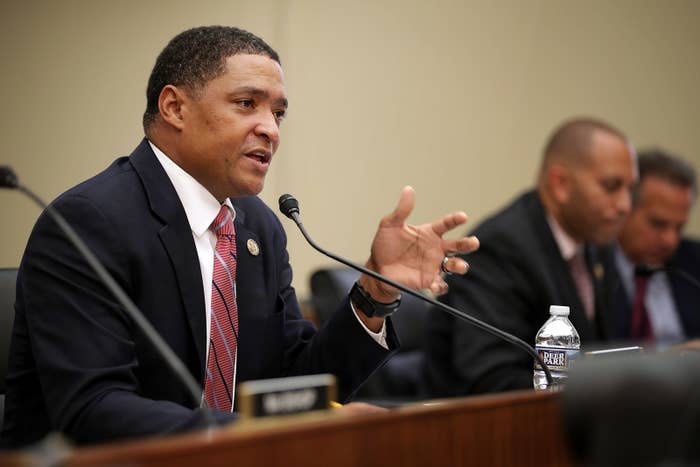 WASHINGTON —Rep. Cedric Richmond on Thursday was elected as the chair of the Congressional Black Caucus (CBC) for the 115th Congress.
The CBC, which will have a record 49 Democratic members, and the most black members serving at any time in history, faces an uncertain future. In addition to bread-and-butter issues like voting rights and criminal justice, black lawmakers are set to be on the frontline of a fight against President-elect Donald Trump. While some lawmakers see this as a proxy fight against racism, the rise of white nationalism and the alt-right movement — others are struggling with the idea of whether to work with Trump on big projects like jobs and infrastructure.
Richmond will also have to plan for the 2018 midterms — all while the party works on rebuilding broadening its base and getting more young people involved.

In addition to Richmond, Rep. Andre' Carson and Rep. Karen Baswill serve as 1st 2nd vice chair, respectively. Rep. Brenda Lawrence will be the CBC's secretary, and Gwen Moore was elected Whip.
Richmond is a member of the Judiciary Committee, and helped launch a bipartisan House caucus aimed at a criminal justice overhaul and policing. He's also been one of Congress' most outspoken voices on police shootings of unarmed black men in July, calling on the Justice Department to launch an investigation into the killing of Alton Sterling in his district.
In a statement Wednesday, the outgoing chair, G.K. Butterfield, commended Richmond on his election.
"We have much work ahead of us during the 115th Congress and I am confident Rep. Richmond will provide strong leadership on the issues we champion to ensure all Americans have an equal and equitable opportunity to achieve the American Dream," he said.