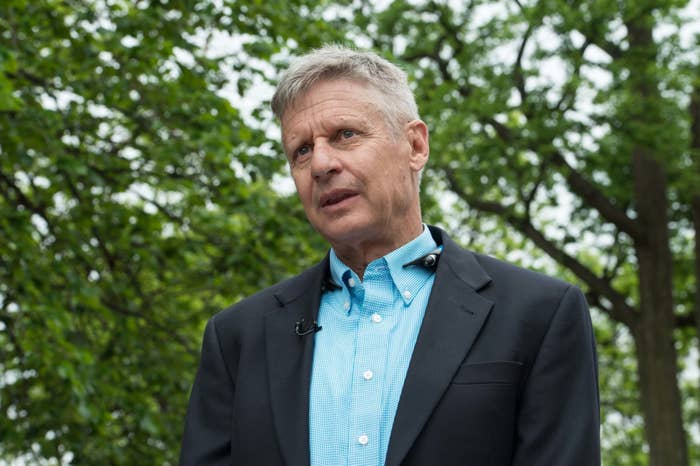 WASHINGTON — Libertarian presidential candidate and former New Mexico Gov. Gary Johnson said the cell phone video showing the killing of a Louisiana man was "very disturbing" and seemed to show an apparent murder.
In an interview with BuzzFeed News Wednesday, Johnson said he didn't understand the officer's provocation to shoot if the gun police say was on Sterling's person was not in his hand, adding that Sterling seemed to be constricted in his position on the ground.
Louisiana's governor announced a federal investigation into the death of 37-year-old Alton Sterling, who was shot and killed during an altercation with police officers, who Baton Rouge Police Department have identified as Blane Salamoni and Howie Lake II.
"I heard, 'He's got a gun.' Well, what does that mean?," Johnson told BuzzFeed News. "If there was no display of a gun, if he didn't have it in his hand...if his hand wasn't being suppressed, I don't get it. I mean, that's murder."

Johnson said he did not believe in a use-of-force standard across local, state, and federal agencies was the answer to decreasing police shootings. "That would be a one-size-fits-all and would be somehow me determining how police protocol should occur."
A better answer? More innovation.
"I'd be in the camp of highlighting a police force in a given city that has the least amount of shootings. What are they doing? This ought to be the model for everybody to be looking at."
Johnson said he couldn't recall, if as governor, he'd presided over any cases of a police officer administering lethal use of force when video evidence showed it was not necessary.
"We weren't into the egregious police shootings from '95 to 2002. It really wasn't happening. It certainly wasn't happening in New Mexico, as opposed to today."
Johnson, who is running on a third-party ticket with former Massachusetts Gov. Bill Weld, is facing an uphill battle for the presidency but is polling respectably — at an average of 7% in recent surveys.
Johnson said as president he'd work closely with grassroots organizers on strategies to stem police violence, saying interaction with organizers was one of the most gratifying aspects of his job as governor. "The information really doesn't get any better than at that level."