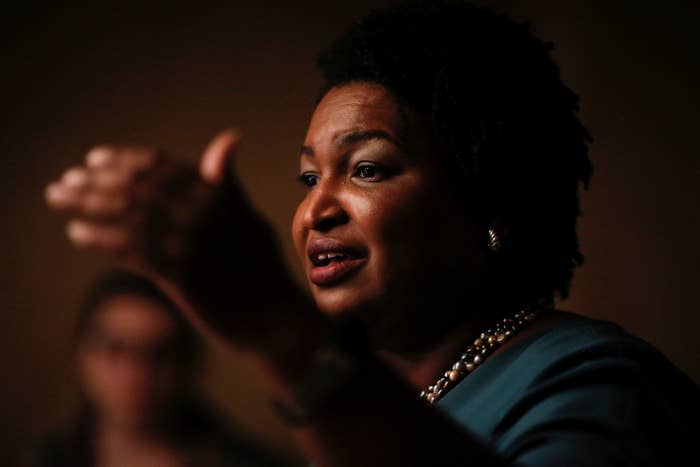 Atlanta Mayor Keisha Lance Bottoms endorsed Stacey Abrams on Sunday from the pulpit of Ebenezer Baptist Church, marking some of her strongest public statements in support of Abrams since she won the Democratic nomination for Georgia governor in May.
"There is a reason that Atlanta has a mayor named Keisha, and that reason is because we are called to be a voice to be those who don't have a voice," said Bottoms, quoting Audre Lorde about change. "So it's not enough that we have elected African American mayors across this country. But there's an opportunity to change this world with our election in November. And Rev. Warnock, I'm not going to get the church in trouble, because I know it's something about [getting political] from the pulpit. But what I will say is this: When you go and vote, remember there's a woman on the ballot named Stacey."
Bottoms, who was elected last December, connected the governor's race to the movement of black women, like herself, who have ascended to executive office, and also ostensibly to what effect the election of the country's first black woman governor would have on the 2020 presidential election. The Republican primary runoff takes place July 24. An Abrams campaign spokesperson noted that Bottoms congratulated Abrams on election night and gave an interview in which she expressed further support for her candidacy. The spokesperson said that Bottoms has also given to the Abrams campaign.
There was at first a pause, followed by audible surprise and then a lengthy standing applause from parishioners who had come to hear Bottoms deliver the sermonic address at Ebenezer's Women's Day Sunday Worship — even the Rev. Dr. Raphael G. Warnock seemed pleasantly surprised.
Bottoms preached about her own journey to becoming mayor, framing her campaign and policies, which her administration has implemented in just a few short months, as touchstones in keeping with public service as a higher calling. She also delivered a sharp rebuke of the Trump administration and the policy of separating families at the border, reiterating her administration's policy refusing to accept new ICE detainees into Atlanta's city jail.
Bottoms' popularity and increased visibility, matched with her apparent willingness to take executive, and not just abstract, policy stances against Trump could be a boon for Democrats eager to build its bench with leaders and voices that resonate with younger voters. Her statements Sunday should also serve to quell any tension over the primary election between Abrams and Stacey Evans — Bottoms was positive about Evans at the time of her endorsement but never made an official endorsement of Evans as mayor — and is another signal that politically connected black Georgians once skeptical of Abrams' chances are coming around, too.
"If you think about the changes that were made just in 2008 when we elected Barack Obama as president and you think about the changes that we have seen come when we stayed at home," said Bottoms, "don't let it happen again in these midterm elections... We have a chance to change the world."
CORRECTION
Audre Lorde's name was misspelled in an earlier version of this post.