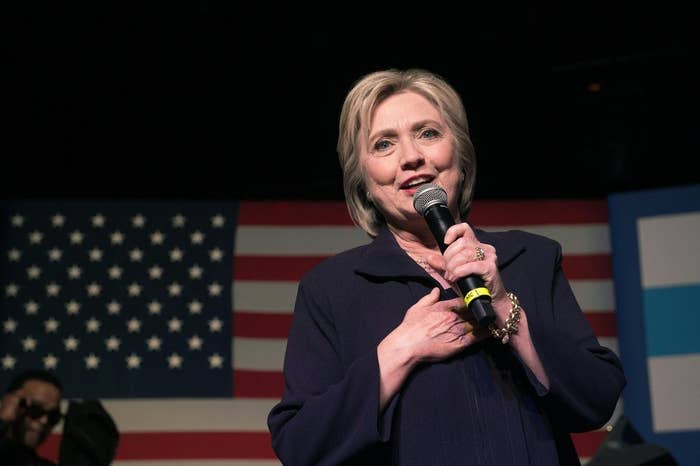 ORANGEBURG, South Carolina — Members of the South Carolina State's student chapter of Kappa Alpha Psi fraternity decided to boycott Hillary Clinton's rally, members of the organization told BuzzFeed News.

Both Clinton and Bernie Sanders have events in this college town on Friday. Sanders' event is at nearby Claflin University. The schools, the campaigns, and the student volunteers are trying to drum up support for each event — though many students were already on their way to Charlotte for the CIAA mens basketball tournament, an annual popular weekend destination in February.
On Thursday night, three students said, a representative from S.C. State's Student Life and Leadership contacted student activities like the cheer squad Greek letter organizations asking them to be involved in Clinton's rally. Prince O'Connor, a Sanders supporter and intern for his campaign, said he and other immediately objected to a request they stroll at the event.
Strolling is a traditional line dance. Each organization has their own dances and on Friday, several were in the building and had planned to stroll, including Alpha Phi Alpha, Inc.
"They wanted us to come out and stroll, but I told them I didn't want to do it," said O'Connor, a senior from Prince George's County, Maryland, told BuzzFeed News. "Kappa Alpha Psi is not strolling. This is not the time or place to be strolling. That would just be taking away from the time people should be asking her questions."
"People would be amped up and excited about the atmosphere but forget why you're supposed to be there," he said.
O'Connor and his fraternity brother, Derrick Woods, as Bernie supporters, said they are concerned about civil rights, education, and the economy. Earlier, they were nearby Clinton's rally trying to get more students over to Sanders' event but looked a little discouraged. They said they were concerned by the three strikes rule and how the Clintons had contributed to mass incarceration during the 1990s under Bill Clinton's presidency.
O'Connor said he'd been disillusioned by Clinton bringing celebrities to campus. But hadn't Sanders done the same thing? "Yes, but Killer Mike is an activist."
The Clinton campaign brought Karen Civil, K. Michel, Star Jones, and Mayor Andrew Gillum of Tallahassee to S.C. State.
Students inside the gym at the event — which is about three-quarters full — from the fraternity Phi Beta Sigma said they, too, had been asked to stroll but they weren't sure if they were still going to go forward with the plan.
James Coleman, a member of Alpha Phi Alpha, said the organization was contacted last night about strolling and intends to do so. "We have no problem doing it," said Coleman, a senior. "We're about service to our university and to anybody who asks us to do something that needs to be done."