John Lewis On Sanders' Involvement In Civil Rights Movement: "I Never Saw Him"
The civil rights icon blasted Sanders' role in the movement Thursday before going to South Carolina to stump for Hillary Clinton.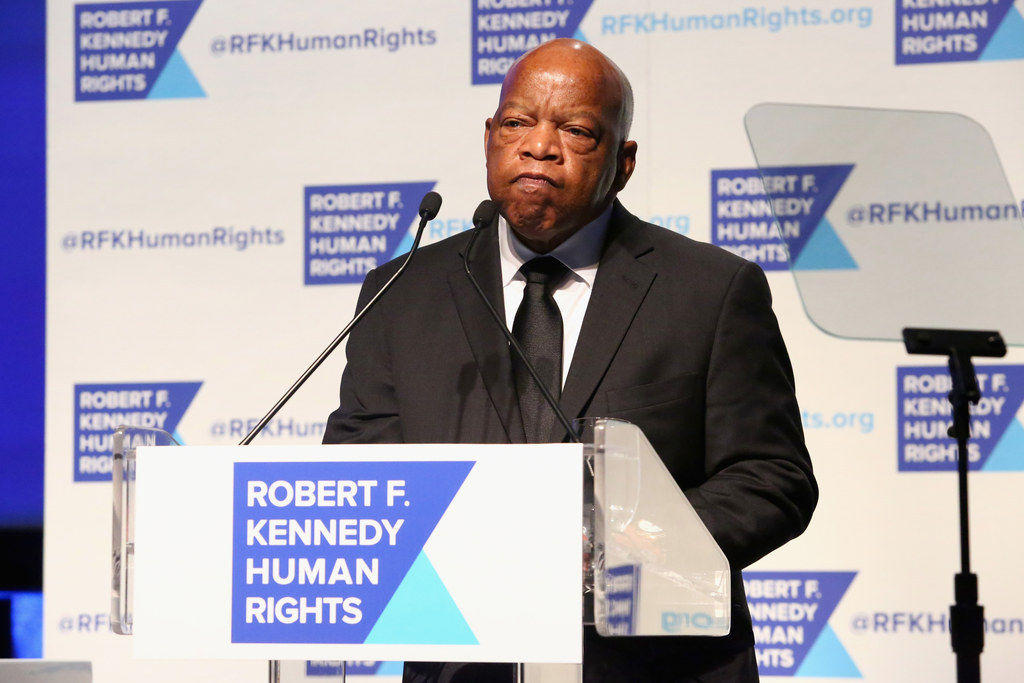 WASHINGTON — Defending Hillary Clinton Thursday, Rep. John Lewis downplayed Bernie Sanders' history as a participant in the civil rights movement, saying he never saw or met Bernie Sanders.
Lewis was among the members of the Congressional Black Caucus (CBC) who appeared at the Democratic National Committee headquarters Thursday (a DNC spokesperson reiterated to BuzzFeed News reiterated it was not a DNC sanctioned event), where the CBC's political action committee formally announced their endorsement of Clinton in the Democratic primary.
A reporter, noting Sanders' involvement with the Student Nonviolent Coordinating Committee in the 1960s, asked Lewis, about Sanders' record in the civil rights movement.

Sanders has made his history as a participant in the March on Washington and as a student organizer in SNCC a part of his campaign.

"Well, to be very frank, I don't want to cut you off, but I know where it's going," Lewis said.
As Lewis began to lean into his answer, the room tensed, and someone let out an "uh oh."
"I never saw him. I never met him," Lewis continued. "I was chair of the Student Nonviolent Coordinating Committee for 3 years, from 1963 to 1966. I was involved with the sit-ins, the Freedom Rides, the March on Washington, the march from Selma to Montgomery and directed to voter education project for six years. But I met Hillary Clinton. I met President Clinton."

Lewis, whose comments drew applause from some members of the audience, is expected to campaign for Clinton in South Carolina this weekend.
It's not the first time Lewis has come to the defense of Clinton, whom he calls his good friend.
Lewis introduced Clinton at an October rally last year in Atlanta to kick off the Clinton's campaign's efforts more formally court black voters, dubbed "African Americans for Hillary".
AUC Shut It Down, a group closely affiliated with Black Lives Matter that stages protests in Atlanta, interrupted Clinton's speech at Clark Atlanta University, chanting "Black lives matter!"
Lewis, flanked by Atlanta Mayor Kasim Reed, stood behind Clinton as the protesters continued. He then made his way into the crowd to try and reason with the protesters, and eventually joined Clinton onstage in a show of solidarity.
The student activists openly wondered in an exchange why Lewis, himself a protester, had not seemed to understand their position. Lewis told BuzzFeed News in an interview after the event that he did.
"Most of the things that we did back in the 1960s was good trouble, it was necessary trouble. And so what I try to say to young people is when you see something that is not right, not fair or not just, you have to speak up. You have to speak and and make some noise. So in some sense, [the protesters] were speaking up. They were speaking out."
"But we have to respect the right of everybody to be heard," he continued. "And you do that in a non-violent, orderly fashion."