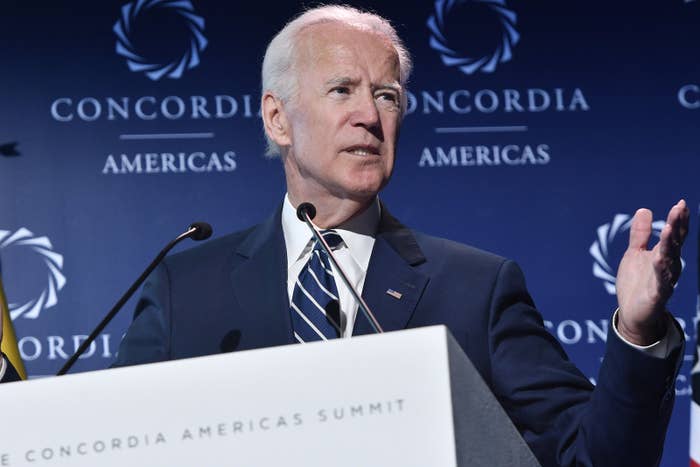 Former vice president Joe Biden is scheduled to appear at a fundraiser on Martha's Vineyard this month for Protecting Our Vote PAC, an organization close to South Carolina Rep. Jim Clyburn, two people briefed on the event told BuzzFeed News.

The reception will be held at a private residence on the Massachusetts isle, a frequent stop for national Democrats eager to schmooze in 2018 with a monied, politically frenzied donor class desperate to take back both chambers of Congress and the White House.
Tickets for the event range from $500 to $5,000 donations, which will go directly to Protecting Our Vote PAC. The event will also be attended by Congressional Black Caucus Chair Rep. Cedric Richmond, Reps. Marcia Fudge, Bennie Thompson, Gregory Meeks, and Lisa Blunt Rochester, according to an invitation seen by BuzzFeed News. The host committee includes Democratic strategist Symone D. Sanders, Reginald M. Browne, Lacy M. Johnson, Democratic operative Adjoa B. Asamoah, Calvin L. Butts Jr., Stephanie Rance, a cofounder of the Martha's Vineyard African American Film Festival happening this week, and Lisa Nkonoki.
Biden is currently considering another presidential run, and Clyburn a potential run to helm the Democratic caucus. Some allies like Richmond have already begun to push Clyburn's name forward, saying that Clyburn would be an obvious choice.
"To the extent that young people, or my generation would say, 'Oh, we need generation change,' Clyburn got to Congress at his age through no fault of his own," Richmond told BuzzFeed News earlier this month. "He couldn't get elected in South Carolina to the United States Congress when he was my age, so why would we hold that against him?"
A source familiar with the event said that Clyburn has been a big supporter of the group's mission and objectives and a strong backer of its leadership. The source added that he's traveled the country carrying a message that Democrats have to meet black voters where they are and not simply rely on television ads to turn them out.

Biden visited Richmond, an important figure in both Southern politics and inside the Democratic caucus, during a visit to New Orleans in June, the New York Times reported this month. The former vice president has also endorsed James Smith, South Carolina's Democratic nominee for governor. But his proximity to Clyburn, a kingmaker on Capitol Hill and in South Carolina politics, could make a difference for Biden. Last election cycle, Clyburn declined to stay neutral, endorsing Hillary Clinton, who went on to destroy Bernie Sanders in the state and broadly across the South.

A source who has spoken with both men said that even if Biden wasn't thinking about running for president, the two are close enough that he'd probably do the event anyway.

National Democrats say privately that Biden will pose a formidable challenge to the rest of the Democratic primary field in South Carolina, where he is well known and regarded as a loyalist to former president Barack Obama.
The PAC, which is remaking itself after a dormant period according to two Democrats with knowledge of its activity, had just under $10,000 on hand according to its latest FEC filing.