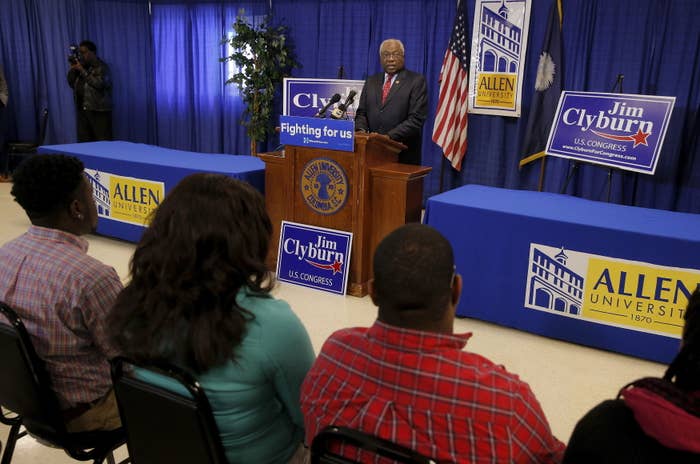 COLUMBIA, South Carolina — Two rows of students warmly greeted Rep. Jim Clyburn when he walked into Allen University's student center on Friday morning to endorse Hillary Clinton — perhaps the most significant endorsement of her campaign, delivered here on a historically black campus.

Clyburn didn't bother to be introduced by a student or constituent. It was just him, his speech, the cameras — and something about the occasion being as good as any to skip a class.
"And I believe," he said, launching into his central applause line, "that the future of the Democratic Party and the United States of America will be best served with the experiences and know how of Hillary Clinton as our 45th president."
But there wasn't any applause.
Many of the students in the room told BuzzFeed News that they are, in fact, supporting Bernie Sanders.
"The consensus here is that Bernie is for the people," said Joyce Haynes, a senior at Allen University who sang the national anthem for Sanders at a recent rally. "Like, literally for the people. Not just playing politics. And that's what I like about him."
Sanders has, for one thing, visited the campus. (Clinton has not, though her husband has.) His education platform (free public college) is popular. The argument, several students noted, that Clinton is more qualified doesn't do much for them.
And then there is the national reality in polling that younger Democratic voters, especially those voting in their first election, are overwhelmingly with him. That the gap in support among young voters between Clinton and Sanders extends to historically black schools (HCBUs) has become a source of concern among the Democratic Party's black elite in Washington, most of whom are supporting Clinton. It's not clear, at least in part because of a dearth of reliable polling, how much it will help Sanders in the Democratic primary here, which is on Saturday, Feb. 27. But several black lawmakers know well it's a key demographic where Clinton struggles.
Sanders's appeal at Allen — situated on a few sleepy blocks in a residential neighborhood — mirrors that of Sanders's appeal nationally. The cost of tuition was a big worry for Jonathan Clarke and Dexter Walker, Sanders supporters who, like most students, sat silently during Clyburn's address, clapped politely when he was done, and nodded their heads in approval when the congressman was asked about Sanders.
After the statement, a reporter had asked Clyburn what he thought about young voters' enthusiasm for Sanders. "I was once young," he said, adding that he wants the young getting involved in politics, whomever they support.
"I don't have any problem with anybody who's out working for Bernie Sanders," Clyburn added. "As I said in my statement, it was a pleasant experience working with him. We worked very closely together on the Affordable Care Act." He went on to talk about Clinton's qualifications.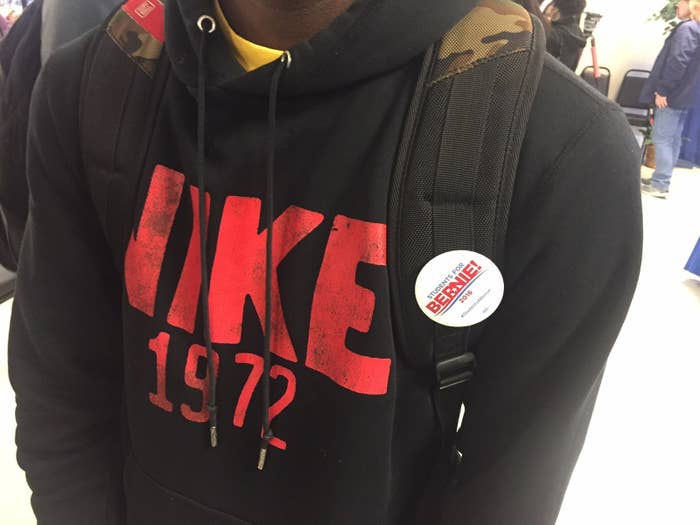 Clarke said he rejects the idea that his goals are unachievable — he's impressed that Sanders is running on the promise of an even more progressive agenda for America than the first black president. "You just gotta follow your heart," Clarke said, who had a "BERNIE!" button on the strap of his backpack. "Whatever is right in your heart and your mind that's who you go with and Bernie is who I feel is right for the country right now."
"It's clear that he's trying to relate to us," Walker said.
Though she sang the anthem at the Sanders event, Haynes is undecided. She's leaning toward Sanders, whom she feels is most genuine in his approach to HBCUs. But she came anyway to hear what Clyburn had to say about Clinton — and walked away mostly unimpressed. "While he said that his heart is with her, he didn't advocate for her in a definitive way that she was the one candidate that you had to vote for to get changes made," he said.
Haynes said she was also offended by Madeleine Albright's "special place in hell" comments. "That was a little extreme," she said. "I believe that no person has a heaven or hell to put anybody in."
Raven Bryant, a senior from Charleston, said that she's undecided but won't be making a decision to vote for Clinton because she's a woman. "It's so much more to it than that. The issues don't change just because there's a female president. It really doesn't mean anything. Like, okay, you're a woman president, what are you bringing to the table for America? Students in college are struggling. The people are who matter."
Bryant said she wants to hear from Clinton how she's going to lower tuition take the burden off of students to be able to afford tuition. "I'm a senior and my sister wants to go to college," she said. "I don't want it be to be difficult for her to go to college. I want for her to have a great experience."
Outside where Clyburn spoke, where some students had sat down for lunch, Jerry Wise, a student from the Germantown section of Philadelphia, opened the video of Obama addressing the audience at the White House's annual black history month celebration. Wise said that the fallout from the Charleston shooting, Black Lives Matter, and taking down the Confederate flag had dominated discussion among his peers, mostly on Facebook, and that Sanders was more aptly talking about what he plans to do — rather that how qualified he is.
Wise, who considers himself among the more politically engaged students on Allen's tiny campus, estimated there were only two Clinton supporters in the room with Clyburn.
"It seemed like [Clyburn] was talking more about the stuff Hillary did in the past," Wise said. "She's been a fighter and a senator all that — that's good and all, but what can she do for our futures is the main thing. Yeah, she knows the ins and outs of policy but I would say we need someone that's actually doing to do the hard work of helping us in the future."
"She does have experience," chimed in Makedric Funnie, looking up from a plate of roasted potatoes and fried tilapia. "She was secretary of state and is the wife of a former president and I actually like Hillary Clinton as a person — but the problem in the black community right now is the economy. So what's next? We know she's a woman! But what are you going to do and how are you going to do it? Too much has been made of her past."
But isn't her past what makes her more qualified?
"More qualified?" Funnie asked. "Yes. But right now I personally believe that things are too far out [of whack] in this country for anybody to assume the office with just qualifications."