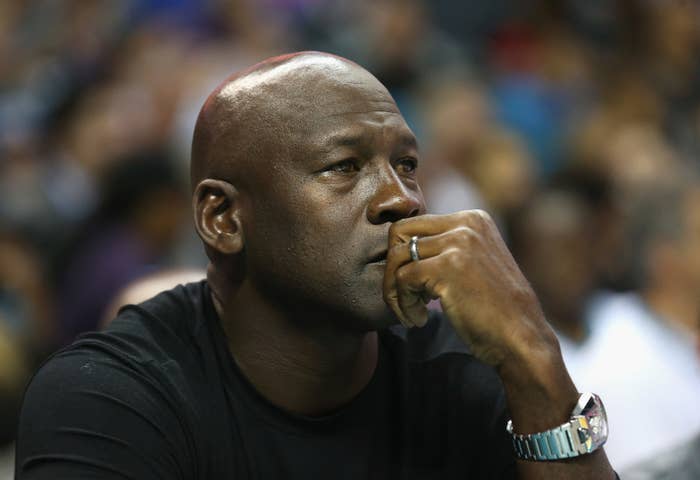 PHILADELPHIA — After the person many consider the greatest basketball player ever put his name and considerable fortune behind a social cause, Isiah Thomas has a message for Michael Jordan: "Welcome."
Thomas is a Hall of Famer, a two-time NBA champion, Finals MVP 1990 — and also has the distinction of being one of the most socially-conscious athletes of his era.
On Tuesday, he told BuzzFeed News that he was happy that Jordan finally "joined the party" in doing work he and other athletes have been doing their entire careers.
Jordan donated $2 million to causes and submitted a lengthy statement to ESPN's The Undefeated saying he could no longer stay silent about what was happening in the world.
"I thought it was great," Thomas said.
In 1986, at his prime, Thomas organized a walking tour through some of Detroit's poorest neighborhoods, urging young people to curb violence in their communities. "It makes no sense to have a situation where people are killing each other, taking each other's lives," Thomas said then, according to the Los Angeles Times. "If one less guy or girl gets shot, if one less mother has to cry, then it's the most successful program ever run in Detroit, because one less person died. I think we've convinced at least one person not to do anything."
"If you really want to be technical about it, I started in 1968 when my mother was marching in Chicago and she was walking me down the street with her," Thomas told BuzzFeed News.
Thomas said that on the NBA stage he'd organized a march to bring attention to — and spoken out against — poverty and violence in Detroit in the 1980s. In concert with then Detroit Mayor Coleman Young, he was a figure in organizing Nelson Mandela's visit to Detroit. Pistons players gifted Mandela with a hat and jacket that he donned in this iconic photo.
He also helped put on the Peace Basketball Tournament in Chicago and in New York.
As president of the New York Liberty, Thomas said he was proud of the WNBA players who stood up for justice in light of the killing of Philando Castile and Alton Sterling.
"Most of our women are four-year educated, multicultural, and have vastly different experiences than just the American experience," Thomas said of WNBA players. "Many of them are speaking two or three languages. So they speak with an international perspective and cultural understanding of the world which gives them a unique voice in this space."
Thomas applauded Knicks star Carmelo Anthony for lending his voice to the movement, saying he didn't think his good friend and Knicks owner James Dolan had a problem with players speaking out.
"I don't think our league has a problem with it. Who can argue with equality? That's all anyone's asking for is equality."