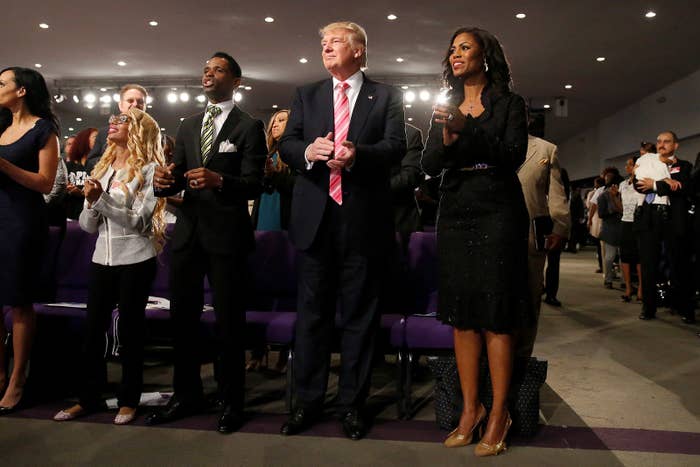 Last year, Omarosa Manigault-Newman wanted Howard University — the historically black school known as "The Mecca" — to welcome Donald J. Trump.

The prospect of President Trump visiting Howard turned into a persistent rumor on campus last year, and a source of quiet activity. Howard's student newspaper strongly opposed the idea. The RNC donated $2,000 to start a College Republican chapter at the school — but students couldn't gather enough signatures. One source briefed on talks told BuzzFeed News that someone had proposed a town hall event in which Trump would answer questions, maybe with TV personality A.J. Calloway.
By September, though, time was running out: As a last-ditch effort, Manigault-Newman invited a handful of Howard students to Trump International, the DC hotel where the candidate planned to speak that day, according to a senior campaign staffer at the time and others familiar with the event.
She introduced the students to a series of Trumpworld figures like Katrina Pierson, and Steve Bannon, who looked "super stoked," one person familiar with the meeting said, as Manigault-Newman explained that she was trying to bring Trump to Howard's campus. The students also got the chance to shake the hand of Donald Trump himself.
This all happened on the day Trump said, without apologizing, after years of his birther crusade, that President Obama was born in the United States.
The plan for a Howard visit never got off the ground.
The ill-fated efforts to bring Trump to the school, though, were just the beginning in the complicated and increasingly tense relationship between this White House and the country's historically black colleges and universities. The most pressing issue: a conference scheduled for September, just weeks after Trump seemed to defend a group of white supremacists who marched in Charlottesville by saying they had "very fine people" in their ranks.
After Trump's response to Charlottesville, two prominent groups — the Thurgood Marshall College Fund and the United Negro College Fund — have joined a black Democratic lawmaker in calling on the White House to postpone the annual conference put on every year by the White House Initiative on HBCUs.
The White House has refused to postpone the event. The conference is just one part of the traditional infrastructure between a White House and the schools. In recent days Manigault-Newman has "pushed hard" to name members to the president's board of advisers on HBCUs, according to a person familiar with the planning.
Manigault-Newman in particular wants to serve as an organized, front-facing liaison between Trump and HBCU leaders. Historically black colleges and universities face a much more delicate and difficult balance: The schools depend on federal funding, while serving students and alumni who largely can't stand the president. And that tension keeps intensifying.
School presidents reached for this story referred BuzzFeed News to a statement by Dr. Michael Lomax, president and CEO of the United Negro College Fund: "At a critical time in our nation, and in the spirit of unity among our HBCUs, we believe this postponement would allow us to work together to develop a common agenda that will serve the best interests of our HBCUs, and especially our students."
Based on a half-dozen interviews with HBCU administrators and their close associates, HBCU presidents are trying to strike a balance that sacrifices neither the needs of their institutions nor the concerns of students, faculty, board members, and alumni — many of whom believe the president has compromised his moral authority on race. Complicating this calculation, one stakeholder said, is that an increasing number of students have come to these institutions galvanized by protest movements like Black Lives Matter and radicalized to the point of bewilderment that their leaders would choose to associate, in any way, with Donald Trump.
"HBCU presidents are in a really delicate position," said Jarvis Stewart, a political strategist who has helped college presidents navigate Washington. "While many of them are in great need of financial and regulatory support from Washington, they are faced with the question of whether or not the president's commitment to racial and social justice is aligned with the purpose and mission of their institutions."
Stewart said he would advise HBCU presidents to be both united and clear about what their measurable outcomes are. "No more photo ops, no more delayed promises," he said. "HBCU presidents must demand meaningful legislative and regulatory action now to help sustain their universities, otherwise their visit to Washington for the conference next month isn't worth the trip."
In a lengthy interview with BuzzFeed News, Manigault-Newman said HBCU presidents concerned about what to expect from the conference could refer to language in the executive order Trump signed on Feb. 28: convening a meeting to promote "excellence, innovation and sustainability at historically black colleges and universities."

Calling the chair of the Congressional Black Caucus out by name, she said requests to delay or cancel the event "are continuations of the 'resist' narrative that Cedric Richmond and the Congressional Black Caucus has advanced toward this administration, including their decision not to meet with the president and the administration for the next four years."

Manigault-Newman, who declined to name the aide hired to run the White House Initiative on HBCUs from the White House, said officials want to make sure each institution "has a voice at the table" and are not left out of important decision making. "We've extended an invitation to all 106 presidents of HBCUs and members or chairs of their boards," she said. "We expect that each institution will be represented."

Manigault-Newman defended Trump's support for HBCUs, citing his proposed education budget, which slashed nearly $10 billion in funds for the Education Department — or 13.5% — while funding for HBCUs was untouched.
"The previous administration was hostile toward the HBCU community," said Manigault-Newman, citing cuts to year-round Pell grants and changes in the credit requirements for Parent PLUS loans that resulted in a decline of enrollment at HBCUs. "We're still feeling the impact of those decisions on the HBCU community today."

She continued, "Show us the photo of President Obama with all of the HBCU presidents. It does not exist. He never even tried in eight years to meet with every HBCU president at once."
Meanwhile, at schools like Howard, students have expressed frustration that the school's president, Wayne A.I. Frederick, met with Education Secretary Betsy DeVos.
"Trump has continuously shown where he stands on the issue of white supremacy, the most recent example being his egregious response to Charlottesville," said Jason Ajiake, a Howard student and organizer with HUResist, a student-led group that has fiercely opposed Frederick and more recently taken umbrage at the school's invitation of James Comey to speak at its convocation ceremony and be a guest lecturer. "There's really no reason to be there, and I think that if Frederick continues to work with the Trump administration in any capacity students will start to question both his principles and intentions, if they haven't already."
The current situation follows a series of mishaps. Trump questioned the constitutionality of the Historically Black College and University Capital Financing Program. There was a hastily planned photo op with Trump in the Oval Office (that "threw the day off" according to Dillard University President Walter M. Kimbrough, who declined an interview for this story). During that photo op, Trump referred to the school presidents as "you people" in the Oval Office. (The White House noted that the February photo op was optional and just one part of a two-day fly-in conducted in tandem with the UNCF and the Thurgood Marshall College Fund.)
Some school presidents attended on the belief that Trump was going to add funding for HBCUs in his budget. "What comes to mind is the saying, 'Fool me one time, shame on you. Fool me again, shame on me,'" according to a source who has spoken with board members and administrators about Trump. A president of a large HBCU in the Deep South confided to a Democratic source: "What do I have to lose if I don't go?"
"[The presidents] really do want to delay primarily because the pushback on campus will be great, particularly after Charlottesville," said Dr. Andre Perry, a Brookings Institute fellow who specializes in education policy. "They would like to delay the meeting until the smoke clears." But Perry said several are conflicted, also, because attending these types of meeting are "what they're supposed to do."
Perry said the presidents don't want to touch the White House meeting, which is "in peril because of how toxic the environment has become and because Trump has not delivered from that first meeting."
"So to go back in without any real indication that Trump can deliver is foolish," he continued. "You want to be at the table, but [it's not] what the clear agenda is," he offered, assuming the voice of a leader of a school with angry students that could be struggling financially and is having difficult, institution-wide conversations about race stoked by Trump: "Is it just to meet?"