In Wisconsin, Scott Walker Quietly Outshines Chris Christie
Off the heels of a colorful exchange in New Jersey, N.J. Gov. Chris Christie encounters measured optimism in central Wisconsin. On the road with potential 2016 candidates.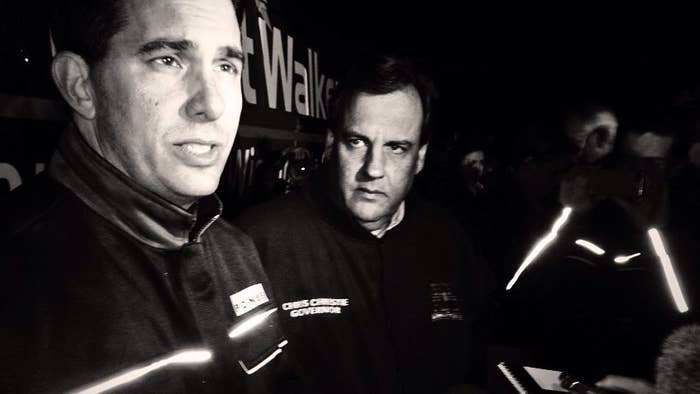 WAUSAU, Wisconsin – "Sit down and shut up!" the woman giggled to herself, asking to take a picture with the man whose words to a heckler during a speech 1,100 miles away were replayed over and over on television. She was talking to New Jersey Gov. Chris Christie.
Christie began to turn red.
"Listen," he told her, starting to crack a smile, "my mother taught me, you give what you get."
For a man loathe to apologize for his actions, Christie looked a little embarrassed; garnering national headlines for handling Ebola quarantines is one thing — people reciting back to you your own shout to a heckler is a little different.
Especially side-by-side with a potential rival.
Christie was in Wisconsin to help Gov. Scott Walker in the final days of an incredibly tight re-election bid, days after Walker criticized the organization Christie heads, the Republican Governors Association, for not delivering more money to his campaign.
On Friday, the pair was a study in the politics of presidential aspiration – and also in first impressions.
Walker, whose aides say he makes it a point to show his knowledge of even the most remote parts of the state, began by rattling off town after town in this part of the state. He spoke of personally signing metal beams made in Wisconsin for the rival Minnesota Vikings' new stadium.
He held his ringless right fist out for a line he likes to deliver — it goes over well.
"You know what this is: That's the Vikings showing off their Super Bowl rings."
"It's great to be back in north central Wisconsin," he continued with his voice rising, "because we've got a great story to tell!" Walker then fell into his pitch, a now rapt crowd behind him.
Christie, who will travel to four states on behalf of governors on Saturday, might have done well to poke some fun at himself. Instead, his address here at a home-building supplies distributor largely fell flat. "One of the things that I've learned over the last five years that I wanted to share with all of you is there are lots of things that are going to happen when you are governor that you can't predict," Christie said, alluding to Hurricane Sandy.
"I can tell you, they don't teach out how to deal with that stuff in new governor's school," he said to some laughter. "Elections are not a referendum. They are a choice."
About 100 people gathered at Wausau Supply Company for Walker's campaign stop Friday. Christie, whose wont is to sometimes check his phone with the cameras rolling, appeared to be in admiration of Walker's political style.
He wasn't alone.
"I think it's clear that he stands for businesses like ours, which is nice to see," Terry Lake said of Walker after the rally. "He was fired up. He wasn't, like, relaxed up there. He had it going."
Dave Schilling agreed. "The things he was saying were genuine like he himself believes it," he added. "I just like the way he carried himself. He didn't seem like a politician."
Walker's oratorical style – he is the son of a Baptist preacher – gave him an unmistakable preacher's cadence Friday. While Christie wore dress pants, a collared shirt and a fleece with his name on it, Walker was more Wisconsin everyman than a big-time Madison pol in a red plaid shirt with blue jeans and boots. At his second campaign stop with Christie, he donned the jacket of the company (Ponsse North America) and shook hands and hugged in frigid temperatures.
"We know the facts about him," said Josh Werner, 39, who added that he was unbothered by the negative ads that play all the time on local television. "We see what's actually happening since he's been in office. Property taxes went down. He's definitely added jobs and reduced the state deficit. And so I take pride in voting for someone that tells the truth."
Werner said he wasn't aware of whispers that Walker himself could be interested in running for president in 2016. He did know, however, that Christie could be a name that emerges next year. "I like the fact that he implemented the quarantine," Werner said, speaking of Christie's Ebola response. "I think it was the right thing to do. Our country is in a state of turmoil and someone who can make a decision like that I think is ready to be president.
"He and Scott Walker are people do what they say they're going to do."
But when the event was over, there were two people on the minds those who left: the surrogate and the candidate.
Asked which governor seemed more presidential, Lake and Schilling, both agreed it was the guy who they'll vote for on Nov. 4.