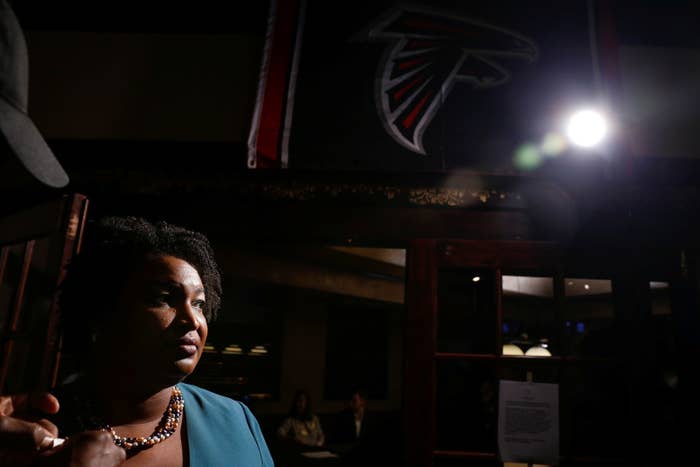 Stacey Abrams' campaign for governor this week issued a "time-sensitive" push to pick up endorsements of black lawmakers as the campaign weathered one of its tougher weeks.
Reports surfaced detailing Abrams' personal finances and business affairs, and BuzzFeed News reported Tuesday that an endorsement by Keisha Lance Bottoms, Atlanta's popular new mayor, was imminent and widely believed to be for her opponent.
The email was sent by Abrams' deputy campaign manager, Chris Smith, and was reportedly sent to top aides of the Congressional Black Caucus on Tuesday, two people briefed on the matter said.
Abrams wanted to "make sure you all know that we appreciate all of the help and the support" of the campaign, adding she was writing to "see if your member is willing to publicly endorse Minority Leader Stacey Abrams for Governor of Georgia and willing to let the campaign use their name as a public endorser?" The note also mentioned that Abrams was eager to hit the campaign trail with members of Congress.
Abrams is vying to make history by becoming the first black woman to win her state's Democratic nomination for governor. If successful, she would also become the first black woman to be governor in US history. Her opponent, Georgia-born Stacey Evans, an attorney and former fellow legislator, has the support of much of the state's Democratic establishment. Abrams enjoys support from the likes of Our Revolution Georgia and EMILY's List, looking to reverse a spate of Democratic statewide losses by expanding the electorate to include more infrequent, hard-to-reach voters.
It's not clear if this week's effort was a success, but Abrams has previously been a fixture in Washington and is already backed by Reps. Marcia Fudge, Barbara Lee, David Scott, and Hank Johnson. Rep. John Lewis endorsed Abrams last July, calling her candidacy "a model for our nation."
In a statement Friday night, LaDavia Drane, senior aide to New York Rep. Yvette Clarke, said there was an endorsement effort underway for Abrams. "Members of the CBC have been excited about Stacey Abrams since the launch of her campaign and have been working with her in various ways for months," she said, "including for an endorsement rollout."
"We're grateful for the growing support for this campaign," Abrams spokesperson Priyanka Mantha said in a statement to BuzzFeed News. "Since the beginning, we've been reaching out to Georgians to hear about the challenges they face. It is clear that Stacey Abrams is the only person in the race who both understands their struggles first-hand, and has a bold vision and real plans to find solutions that will help families thrive."
This week, amid the appeal for support from Washington, reports surfaced that Abrams owed more than $50,000 to the IRS, and almost $170,000 more in student loan and credit card debt.
She detailed some of her personal problems in a Medium post last month, saying that her lack of financial literacy led her to make poor decisions with credit cards as a college student. Later, after Hurricane Katrina hit her family's community, she said she had "rearranged my financial life and stretched every penny I had."

On Medium, Abrams said she was proposing policies to protect economically vulnerable Georgians. "For my family, for me, and for countless others across Georgia today, it's not simply lack of access to economic mobility, it's that we are rarely taught the tools to help us get there. Instead, we fumble our way through, making mistakes that haunt us, sometimes grappling with shame because we wish we could do better."