In Cleveland, Black Lives Matter Readies For Its Next Big Step
Hundreds of activists meet in Cleveland this weekend to prepare the groundwork for a more coordinated, centralized and transnational movement they hope will scale the movement for higher impact. So why are they so uneasy?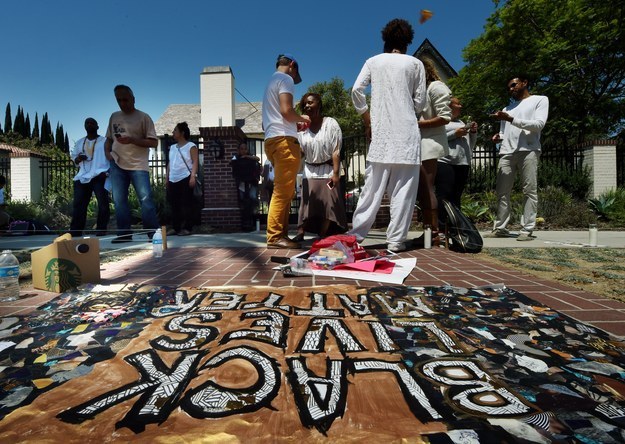 CLEVELAND — Last Friday night, more than a dozen Black Lives Matter activists and progressives attending the Netroots conference in Phoenix huddled around a table at Lolo's Chicken and Waffles, a black-owned local favorite.
The group that became known as 'Blackroots' saw an opportunity to make their presence known at Netroots — and to publicize the death of Sandra Bland, a woman found hanged in a prison cell after a routine traffic stop in Texas. Netroots, the activists believed, had marginalized their cause.
So they made a unanimous decision: During the main event, the forum with Bernie Sanders and Martin O'Malley, the group would stand and recite the names of women who died recently while in police custody including Bland, and others like Tanisha Anderson.
The protest worked, setting off days of national coverage. O'Malley and Sanders both responded unevenly, and have been responding since. Hillary Clinton answered a question on Facebook two days later, and spoke again on Thursday. Two leading progressive political organizations applauded Black Lives Matter for, as co-founder Patrisse Cullors put it, "shutting shit down." Politically, it was quite the haul.
But the activists want more.
And on Friday, that task begins. Hundreds of these activists will gather for the "Movement for Black Lives" national convening in Cleveland, a site organizers say was chosen intentionally.
The convention is the product of six months of work from groups like Million Hoodies Movement for Justice, Cleveland Action, the Black Youth Project, Ferguson Action, and the Ohio Student Association. Organizers estimate anywhere from 800 to 1,500 people will be in attendance. And they'll meet to do something critical: vote on a national agenda that clearly defines a broad, national mission going forward.
Activists say they have long craved a formal version of the informal meeting in the Phoenix chicken-and-waffles place — just to meet, face-to-face.
But the organizers recognize that their moment calls for something altogether more centralized than what Black Lives Matter is today: a disparate constellation of voices, groups, and methodologies. The Netroots Nation experience solidified the need for more organization even as it amplified their message.
"We wondered what it would look like to have a black debate and ask the candidates to address our issues in real time," said Ashley Yates, an activist who helped lead the action at Netroots Nation. "For everything else they have action points, plans and roadmaps that explain their vision for the country. But when it comes to us, those explanations get deferred to economic issues, urging people to get out the vote, or to decry black-on-black crime, and now they think simply saying 'black lives matter' is enough and that we'll be placated. But we are moving beyond talking points."
Black Lives Matter is facing several challenges. The movement does not have a single, centralized leader to serve as a kind of public face — something activists reject, anyway. Instead, almost every phase of the decision-making process for the convention, from big things like developing the priorities in the movement's national agenda to small things, like which workshops will actually take place at this weekend's conference, is group-centric.
"We like to think of it as we are not a movement that is not leaderless, but leader-full," said Dante Barry, the executive director of Million Hoodies for Justice.
This poses obvious challenges, none of which the movement is immune to, activists say. But Barry says that since Black Lives Matter is led by LGBT women who do not traditionally have access to power in "patriarchal spaces," that power is usually distributed evenly.
And activists are aware of problems that have felled other large, dispersed, progressive movements. Leaders within the movement have even adopted a set of refrains to address some of those problems:
"Turn up on the state, turn down on each other."
— leaders hope it reminds activists to quell spells of infighting or disagreement

"Find your lane and stay in it."
— a reminder that there is plenty of work to be done in varied settings requiring a range of skill sets and experience levels

"Low ego, high impact."
— a challenge to leaders within the movement to stay focused on "wins," or changes that come as a direct result of organizing
"There's so many" possible obstacles, Yates said. "We know a lot of folks with knowledge of what the freedom fighter that came before us went through, so we know what they face internally as well as externally. We can talk to them and rely on our own experience that tell us it's not going to be easy."
Tyrone Talbert, a New York-based minister and participant in Union Theological Seminary's Millennial Leaders Project, says Black Lives Matter is particularly vulnerable because in its infancy, there is far more for the movement to gain than lose. "While having at international vision for freedom, the movement is probably going be tempted to lose its potency," he said. "That's why the lives of black women and all black lives have to be at the forefront."
The activists also frame this week's convention with an emotional aspiration: healing. The activists say they mean this in two ways. The first, regarding the emotional trauma of constantly speaking and organizing around death; and, the second, of a different kind — giving organizers within the movement the opportunity to repair fractured relationships.
And that, the organizers believe, will happen as they take one of their main priorities: an action related to what happened to Sandra Bland.
"I think if we can come under tear gas and rubber bullets… and come out of that violence and trauma we can def come together in a safe space," said Yates. "We're optimistic. We have to be."