How Waka Flocka Flame Ended Up Endorsing A Republican Candidate
The Turn Up God supported...David Perdue for Senate?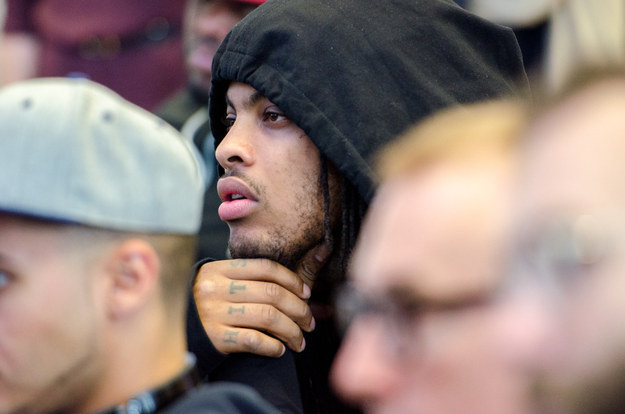 Georgia may be up for grabs in next year's presidential election. And with a key Senate 2016 race that will soon take shape, an unlikely figure looms: Waka Flocka Flame.
Waka, whose real name is Juaquin James Malphurs, declared himself a candidate for president last month, talking about jobs and education and legalizing marijuana, on the conspicuous date of 4/20. (He is 28.) But the rapper also became unusually linked to a real race last year, too — he supported now Georgia Sen. David Perdue, a Republican.
There is a reason for this. Waka's biggest booster in politics seems to be a young Atlanta-area businessman named Wilson Warren. A Republican with connections in nightlife, entertainment, and politics, Warren offers his "clients" a rare combination of access to Atlanta's insular entertainment and nightlife scene and, as a volunteer for Perdue last year, priceless access to the candidate. Asked to characterize his one-of-a-kind connection in Atlanta, he suggested his role was akin to the lead characters in the George Clooney film Michael Clayton or Showtime's Ray Donovan.
"In layman's terms, [I'm a] consultant," he told BuzzFeed News.
Warren and Waka met back on the set of Gucci Mane's "Wasted" video in 2009. They crossed paths over the years, and connected again a couple of years ago.
Waka endorsed Perdue via his Twitter the day of the July 22 runoff. Warren connected Waka and Perdue on FaceTime — a conversation then tweeted on Waka's Twitter account. (This actually happened.) And Waka was among the thousands of people who feted Perdue at his victory party at the Intercontinental in the Buckhead section of Atlanta. Aides to Perdue say the connection between their then-candidate and Waka happened organically.
"Waka Flocka Flame, much like several other thousands of Georgians coalesced around David Perdue because of his outsider message and his support for David's campaign was very organic because of the fresh perspective he brought to the campaign," Perdue spokesperson Mark Bednar said in an interview with BuzzFeed News, adding that Perdue was also endorsed by Republican stalwarts Sen. Ted Cruz, Sen. Rand Paul, and Mitt Romney.
Aides to the campaign, however, confirmed that it was Warren who made the connection. That intersection is typical for the "consultant." His Instagram feed features possibly the single-most unusual collection of people assembled: He has been photographed with Justin Bieber; he has made his admiration for Republican candidate Dr. Ben Carson no secret; he's cool with T.I..
The overlap is, in the bizarre world of Georgia politics, actually not unusual. Ludacris appeared at a campaign event with Republican Gov. Nathan Deal. Usher held a fundraiser at his house for Michelle Nunn, Perdue's opponent, where the guest of honor was none other than Bill Clinton.
That two well-known rappers would appear with Republican candidates in political settings feels pretty unusual — but perhaps it's not as much as you'd think.
"Many blacks with money and some clout are moving away from voting party and going towards issues and candidate by candidate," said Emile Washington, a D.C.-based Democratic political consultant. "No longer are blacks voting straight Democrat except for presidential [elections] and that was evident in 2014. The black vote didn't decline it was just focused. And candidates who shied away from the president and our issues didn't get our vote.
"So if he was serious with Perdue being a businessman and Waka being one, as well, one can see the endorsement, especially since Nunn did everything she could not to come out for Obama."
With many Democrats, however, the latest round of flirting with Atlanta's hip hop royalty has only inspired a brand new round of eye-rolling.
"Whether it's courting Waka Flocka Flame, Ludacris, and Pitbull or a professed love for Nicki Minaj, there is absolutely nothing the Republican Party can do to hide the fact that their policies disproportionately hurt black, brown, and young people," said Michael Tyler, a DNC spokesperson and director of African-American media.
Tyler said the leading Republicans nearly all oppose issues that matter to a majority young, black and brown constituency, increasing the minimum wage, comprehensive immigration reform, and oppose student loan refinancing or protecting Pell Grants.
"If tweeting an impromptu photo with Ludacris is the best Republicans can do to appeal to these communities, it speaks volumes to the current state of the Republican Party."
The RNC declined comment, saying it was not familiar with Warren or with Waka's politics.
For his part, Warren says that he will support former Florida Gov. Jeb Bush in 2016.
Could Waka be Team Jeb, too? Warren declined to answer if Waka is, in fact, a Republican. BuzzFeed News reached out to Waka's management for word on whether he'd be endorsing a candidate in the realm of actual candidates, like the Perdue race.
"Waka Flocka Flame hasn't endorsed another candidate in particular," Brick Bronson, president of 36BRICKHOUSE told BuzzFeed News in a statement. "However, Waka is endorsing himself! So I say to you today, what will be said tomorrow. Waka For President, Waka For America."