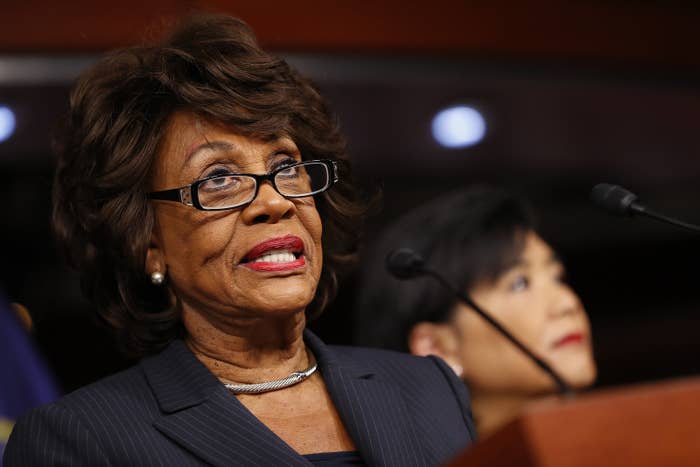 WASHINGTON — Maxine Waters has been in public office for 40 years, but she is now the unlikely, unchallenged new face of the Democratic Party and the "resistance" to President Donald Trump.

Waters, 78, a Los Angeles member of Congress, was until recently in the news mostly for a messy ethics investigation. Now she's an icon, and a meme. A single image of the woman now known on the internet as "Auntie Maxine" — righteous, furious, uncowed — and a bit of text seems to capture the moment of Democratic desperation, anger, and sheer exasperation. And Waters, more than perhaps any other Democrat, was made for the social media moment.
"We needed someone right now to shine the light of truth in a way that wakes us all up," said Brittany Packnett, a cofounder of Campaign Zero and one of the leading national voices in the current struggle for racial justice. "Congresswoman Waters is that light. She's shaking it up and telling the truth, and we all owe her for it. She's the Auntie Boss: As real as your Auntie and as powerful as only a black woman could be."
Waters' intensity, her vehemence, and her determination to communicate to her enemies that she really does not care have defined her since she was first elected to the California State Assembly in 1977. She's been an unabashed champion of federal spending on jobs, a critic of the Iraq War and other conflicts, a Los Angeles political insider, a leader of the Congressional Black Caucus, and a champion of the left of the national Democratic Party.

If there's a quote that's defined her, it's a comment from 1989: "I have a right to my anger."
But it would have been easy to think that, at 78, she was a politician of an early generation, entering the twilight of her career with a mixed legacy.
The decade did not begin so auspiciously for Waters. The Los Angeles Times had long suggested that her family benefited from her "clout." She was a target of conservative outlets eventually including Breitbart News, and was ranked among the "most corrupt" members of Congress by both the liberal watchdog group Citizens for Responsibility and Ethics in Washington and the conservative Judicial Watch. And she fell under a formal ethics investigation when, at the height of the financial crisis in 2008, she set up a meeting between the Treasury Department officials and the National Bankers Association (NBA), which represents minority-owned banks. The issue: A majority of the attendees were representatives of OneUnited, a bank in which her husband held stock and was a formerly a board member. OneUnited was the only bank that requested assistance, and eventually received $12 million in bailout funds.
Waters vigorously protested her innocence, but the ethics investigation dragged on for years, a notorious Washington mess that Politico described as a "chronicle of mistakes, partisan and intraparty squabbles, allegations of racism, bitter personal rivalries and failed attempts to bring the investigation to a close months and even years before it ended." It ended in 2012 after more than half of the committee's members recused themselves. Waters was cleared, and her top aide received a formal reprimand, the mildest punishment possible.
That resolution opened the door for Waters to serve as the top Democrat on the House Financial Services Committee.
But her views on financial regulation are not what's endearing her to a generation of social media–driven fans. Instead, it's the rhetorical style that has always defined her, and that made her a particular object of conservative dislike, as in Human Events' compilation of the "Top 10 Outrageous Maxine Waters Quotes." That style is remarkably well-suited to the media of 2017: the short, blunt video; the compact, blunt tweet; the simple image of an outraged black woman on the floor of Congress.
Waters' former press secretary Jermaine House started to notice his boss's image changing in January 2015, when President Obama noted during the State of the Union that he had "no more campaigns to run." Republicans began clapping. "I know," Obama said, not missing a beat, "because I won both of 'em."
Democrats went wild, but one of them stood out and caught her party's attention: Rep. Maxine Waters of California, raising her hands in adulation and standing up for a president who punched back. "There was a lot of attention when that happened," House told BuzzFeed News. "But it was nothing like it is now."
Since then Waters has been going increasingly viral, sometimes literally. Her Twitter following last week ballooned to more than 260,000 after she tweeted: "I am a strong black woman. I cannot be intimidated, and I'm not going anywhere. #BlackWomenAtWork" (68,000 retweets, 192,000 likes). There's a phrase to describe her probing, disbelieving gaze above her eyeglasses: "Looking Maxinely." Someone made a drawing of her in a superhero costume with an 'M' on her chest. Improbably, Waters — someone who's been in Washington for more than 25 years — is the face of the opposition against a president she says she does not respect.
Kimberly Woodard, 51, a public affairs consultant, came to know who Waters was way before she got to Capitol Hill and rubbed elbows with the woman her politically active mother revered. "Countless times I would hear my mother say, 'Well, Maxine said…' or something like, 'Maxine is on it.'"

Woodard and others marvel at her current popularity but not surprised by it. "To be clear, this isn't a 'new Maxine Waters,'" Woodard said. "This is who she's always been — a staunch advocate and passionate champion for fairness, truth, and justice. And it comes with a lot of fire."
"What you're seeing is not a performance," said House, Waters' former press secretary. "Working for her is like working for Napoleon I: She is the top general with the plan and expects nothing less than the best or she will kick your behind, figuratively.
"People are just now figuring out what we have always known about her."
It is obvious why Waters, who represents the 43rd district of California, is having her third, or maybe fourth, political moment – and the most defining of her career. The new political climate is defined by fake news, bombshell scoops are sourced anonymously, and colleagues in the legislative branch who crush Trump in private choose their public words carefully about a president who ran a winning campaign lining up his enemies one-by-one.
It's in this theatrical setting that Waters has emerged as a fully defined voice. She has encouraged investigations into the Trump campaign's ties to Russia, coining the phrase "#KremLINKlan." And ominously, she told Americans to get ready for Trump's impeachment.
She's an unapologetically black figure in American politics. Her tirades against Trump — and against Republicans over the years — have garnered their share of criticism, some of it racially tinged. In 2012, conservative commentator Eric Bolling told her to "step away from the crack pipe" in response to criticism of John Boehner, then the House speaker. After running footage of her excoriating Trump on the floor of the House, the Fox News host Bill O'Reilly said he had been too distracted by her "James Brown wig," a brazen attempt at humor widely panned as a racist attack (O'Reilly later apologized). Along with a testy exchange between White House correspondent April Ryan and press secretary Sean Spicer, the comment about Waters' hair sparked the hashtag #BlackWomenAtWork, highlighting indignities black professional women face in the workplace.
The internet's response has been to call her "Auntie Maxine." The term of endearment fits, activists and popular Twitter users observing Waters say, because she's an example of a figure in black familial culture whose strength isn't compromised in the face of opposition and who has built up enough gumption to tell you what your parents won't tell you — regardless of how it makes you feel.
Reggie Cunningham, an activist who started the hashtag #BlackWomenSave as a way of honoring black women during Women's History Month, wanted to acknowledge the women — mothers, sisters, aunts, grandmothers — who aren't always recognized: "I think we all see Rep. Maxine Waters in all of the black women that have impacted us on our daily walks. We see strength, power, intelligence, and grace. We see someone who unashamedly is fighting to save black people and others from this current administration."
Friends and colleagues note how energizing Waters' new fame has been, a process she's embraced in part by communicating directly to young people. Dante Barry, a Black Lives Matter organizer who runs the Million Hoodies Movement for Justice, recalled a recent panel on Capitol Hill where Waters appeared and offered remarks. Toward the end she appeared to be unable to recall her final statement, then she remembered to everyone's delight: "Oh, yes, stay woke." She walked out with the room on fire.
"I think it is great that a giant fighter for social justice over several decades has become an icon for a new generation of activists," Rep. Karen Bass, a fellow member of California's congressional delegation said in an email to BuzzFeed News. "Rep. Waters is serving as a bridge between the generations, which is critically important because it addresses a concern among many that younger people are not aware of our history, our past struggles, and leaders. Hopefully the young activists that are following Rep. Waters will study her contributions and continue her legacy of speaking truth to power."
Waters' office did not immediately make her available for an interview, but she has appeared frequently on cable news taking aim at Trump. Recently, she took a break to comment on the love she's getting from the people she affectionately calls "millennials."
"I'm so proud of this connection that I've made with these young people," she told Joy Ann Reid on MSNBC. "They do call me Auntie Maxine — I embrace that, I love that and I'm going to be their auntie. I'm going to keep telling the truth and I want them to get out there and register people to vote, get active, and bombard the Congress of the United States leadership with what they want them to do."