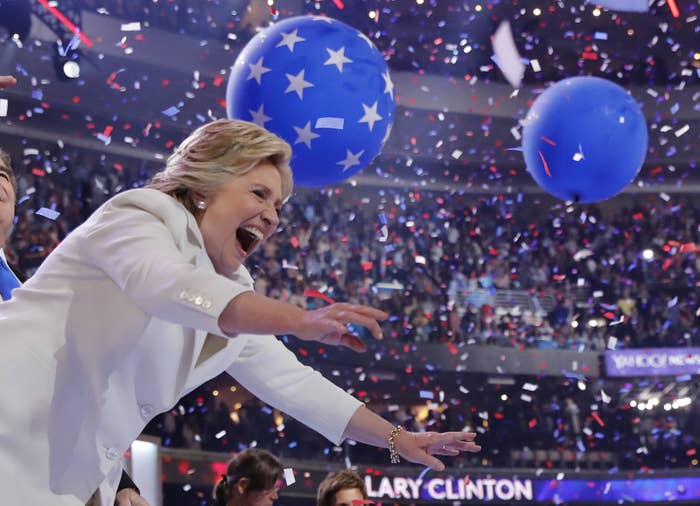 Hillary Clinton will address the largest gathering of black and Latino journalists since 2008, multiple sources confirm to BuzzFeed News.
This year, the National Association of Hispanic Journalists and the National Association of Black Journalists are holding a joint convention in Washington, D.C., and Clinton will make remarks Friday, sources said.
"It is notable that Democratic presidential nominee Hillary Clinton has recognized the 2016 NABJ-NAHJ Convention as a vital gathering to discuss her platform and the issues impacting black and Latino communities," NABJ President Sarah Glover said in a statement released early Monday. "Presidential nominees and U.S. presidents from both parties have attended NABJ annual conventions, including President Bill Clinton and President George W. Bush, and presidential nominees
Barack Obama
, Bob Dole and Al Gore. We're ecstatic to add the first woman nominee to our list."
Said NAHJ President Mekahlo Medina, "Throughout her campaign, Hillary Clinton has placed an emphasis on inclusion and has shown support for communities of color. Her decision to support this event further shows her commitment to diversity, and we welcome her just as we've welcomed President George W. Bush and Mexican President Vicente Fox to previous conventions."
The format is up in the air at the moment and it is unclear if Clinton will take questions, according to a source familiar with the discussions.
In 2008, then Sen. Barack Obama addressed Unity, a convention which brought together 7,000 black, Latino, Asian, and Native American journalists together.
This year, Clinton won her primary on the strength of her support from a coalition of black, Latino, and older voters. In her general election matchup with Trump, her campaign hopes to turn out that same coalition of black and Latino voters to carry her to victory. Clinton spoke to the League of United Latin American Citizens in July.
The groups extended an invitation to Trump to speak as well, as many other Latino and black organizations have done in the lead up to the general election, but his campaign has not yet responded, sources said.