Hillary Clinton Hires Former CBC Director To Head Black Outreach
LaDavia Drane will start on the Clinton campaign in June.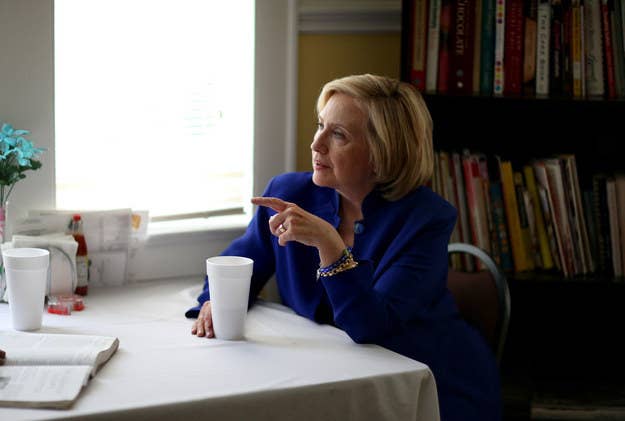 Hillary Clinton has hired LaDavia Drane, a respected and politically-connected former executive director of the Congressional Black Caucus to serve as the black outreach director of her campaign, acting as a liaison between Clinton and the black community on a broad range of issues, BuzzFeed News has learned.
Drane joins the Clinton's national political team that includes political director Amanda Renteria, deputy national political director Brynne Craig, and Marlon Marshall, director of state campaigns and political engagement. Drane will start by late June.
Drane previously served in her role with the CBC under the leadership of Rep. Marcia L. Fudge, but comes to the Clinton campaign from the office of Washington, D.C., Mayor Muriel Bowser.
A Clinton campaign official, speaking on the condition of anonymity, said Drane "will be the primary liaison between the campaign and the African-American community across the country, drawing from her extensive experience at various levels of government to help build coalitions to further Hillary Clinton's agenda that will help African-Americans get ahead, and stay ahead."
Whether Clinton can turn out the diverse and young coalition of voters that Obama did particularly in 2008, but also in his reelection bid in 2012, will be a driving question of 2016 — and the black coalitions role, and who would fill it, has been a source of speculation in Democratic circles in recent weeks. The secondary question, Democrats say, will be how well Clinton responds to the issues actually important in the black community. Her speech at Columbia University impressed some who were waiting for her to speak on the injustices. In her speech decrying an "out-of-balance" justice system, Clinton called for mandatory body cameras for police officers.
Michael Skolnik, an activist and political adviser to Russell Simmons, who has been outspoken about issues related to police violence against black people said that Clinton's campaign has been in touch with him about having an open discourse with Clinton. "For us, we want to make sure that whoever is running for president, whoever wants that job, whether it's Secretary Clinton or another candidate is to know that they have to discuss these issues. They will have no choice," he said. "The young people are demanding it."
Drane had a similar role with the CBC, perhaps the most powerful constituency groups in Congress and inside the House Democratic caucus in particular.
"LaDavia was instrumental to the work and successes of the CBC during her time with us, and her hire guarantees that Hillary Clinton's campaign is committed to working to earn every vote in our community. Whether it's criminal justice, education, or healthcare — LaDavia understands the issues and how they impact our community," Fudge said in a statement.