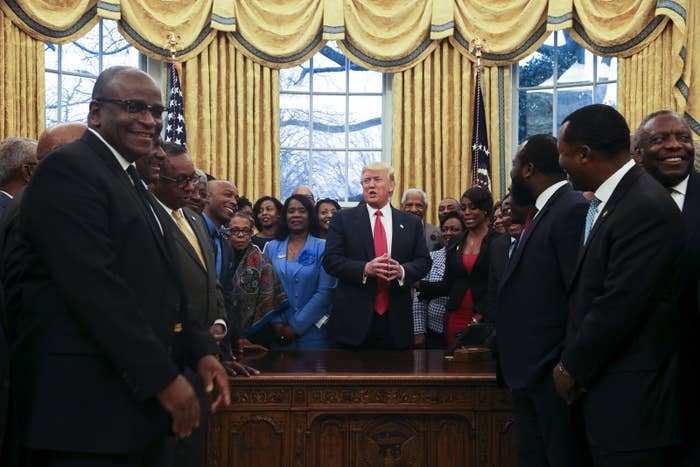 WASHINGTON — The moment may have been stolen by a controversy stirring photo featuring presidential aide Kellyanne Conway seated with her feet up on a couch in the Oval Office, but the presidents of dozens of HBCUs left a meeting with the vice president hopeful that their schools will make progress under the current administration.

"Today's meeting was an important first step toward building a working relationship between the administration, UNCF, and America's HBCUs," United Negro College Fund president and CEO Dr. Michael Lomax said in a statement, adding that the schools were looking forward to "meaningful actions" and "additional resources and investments."
But questions swirled late Monday into Tuesday regarding the execution of a photo-op with the president inside the Oval Office, and a statement by education secretary about school choice. Members of the UNCF attended a meeting with the education secretary and vice president, expecting to give remarks, Dillard president Walter M. Kimbrough wrote in a post on Medium. The agenda "blew up" when a photo op was proposed, Kimbrough said, adding, "needless to say that threw the day off and there was very little listening to HBCU presidents today."
Shortly after the photograph surfaced, DeVos caused an uproar on social media with a statement that called HBCUs "real pioneers on school choice." She was criticized for not acknowledging the necessity of HBCUs during segregation, when black students were systematically denied access to higher education.
South Carolina State University President James Clark said he was "very hopeful" that HBCUs would flourish under the Trump administration, saying the presidents spoke "as a unified group" at the listening session about the need for infrastructure investment, financial aid and host of other priorities.
A UNCF spokesperson said four presidents from its member schools spoke during the listening session with Vice President Pence, discussing a wide range of topics Monday. Dr. Roslyn Clark Artis, Florida Memorial University president, emphasized a need to do produce more STEM graduates. Dr. Henry N. Tisdale of Claflin University president said Title III programs need to be fully funded. Dr. Mary Schmidt Campbell of Spelman spoke about HBCUs' role in revitalizing communities.
Talladega College recently came under fire for performing at Trump's Inaugural parade, but its president, Dr. Billy C. Hawkins, spoke Monday of leveraging HBCUs ability to create professional development opportunities.
"Our agenda is about educating the youth of America and especially the ones that attend HBCUs," Clark told BuzzFeed News.
President Trump, who will sign an executive order on HBCUs this afternoon, has said he'll help the schools in his New Deal for Black America. The action is set to move the White House Initiative on HBCUs from the Department of Education into the White House.