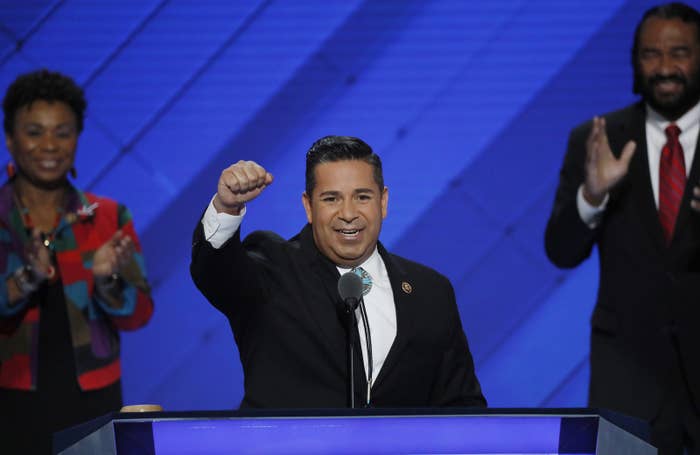 A group of black Democrats want to know why the Democratic Congressional Campaign Committee has not included any black candidates in its "Red to Blue" target program, and have requested a meeting with the chairman Rep. Ben Ray Luján.
In a letter, Collective PAC, which supports black American candidates, highlighted five black candidates, arguing that they're "all running viable, competitive races in some of the most opportune congressional districts in the nation for Democrats to win." (The DCCC has included two of the primaries in its "Red to Blue" program.)
The group writes in the letter that officials wants to both understand why black candidates weren't selected and figure out ways to turn black voters out in 2018.
In an email to BuzzFeed News, spokesperson Meredith Kelly said the DCCC looked forward to meeting with Collective PAC and values the importance of diversity. "The DCCC has put a premium on promoting diversity amongst our staff, consultants, and candidates this election cycle. We are proud to be working with a historic number of women and diverse candidates across our targeted battlefield, and we will continue to build on that important work as we fight to take back the House," said Kelly.

Groups like Collective PAC have sprung up in recent years, arguing that party institutions do not include or show enough respect toward black voters, who increasingly feel that the Democratic Party takes them for granted.
It's a fraught topic at a high-stakes time. Riding a wave of anti-Trump sentiment, Democrats believe they can take back the majority in the House of Representatives. The DCCC boasts that the "Red to Blue" program has "battle-tested" strategy that gives "top-tier candidates" support to run strong campaigns.
In FL-18, the DCCC "Red to Blue" program is backing Lauren Baer, a former corporate litigator and Obama administration official who served as a senior policy advisor to Hillary Clinton and John Kerry. In Florida, Baer is running against Pam Keith, a former Navy JAG officer, who is black and was highlighted by Collective PAC.
For NJ-11, the DCCC program backed Mikie Sherrill, a pilot and former prosecutor. A graduate of the Naval Academy, Sherrill is also endorsed by Rep. Seth Moulton, through his political action committee Serve America, which recruits veterans to run for Congress. In New Jersey, businesswoman Tamara Harris is also running in a crowded Democratic field and is supported by Collective PAC.
Collective PAC highlighted three other black candidates: Colin Allred, Lauren Underwood, and Antonio Delgado.
The Cook Political Report categorizes TX-32, where Allred, a young black candidate, is running, as leaning Republican; Cook categorizes IL-14, where Underwood, young candidate, and former Obama administration official is running in a primary field of white men, as a likely Republican district. Delgado's campaign — which has raised an impressive $1.5 million since his entry into the NY-19 race (seen generally as a toss-up race) — declined comment. The Underwood and Allred campaigns did not return email messages seeking comment.
A source with knowledge of the situation said although no black candidates were selected this year, "a large number" take part of the DCCC's Majority Maker and True Blue programs.
In an interview with BuzzFeed News, Quentin James, the co-founder of Collective PAC, said it's a wasted opportunity in a political climate racially-divided by Trump to turn out the Democratic Party's base: black Americans. "We were hoping to see a number of the [black] candidates we identified elevated to the DCCC's Red to Blue program and and confused as to why there aren't," said James. "For us, it doesn't make a lot of sense."