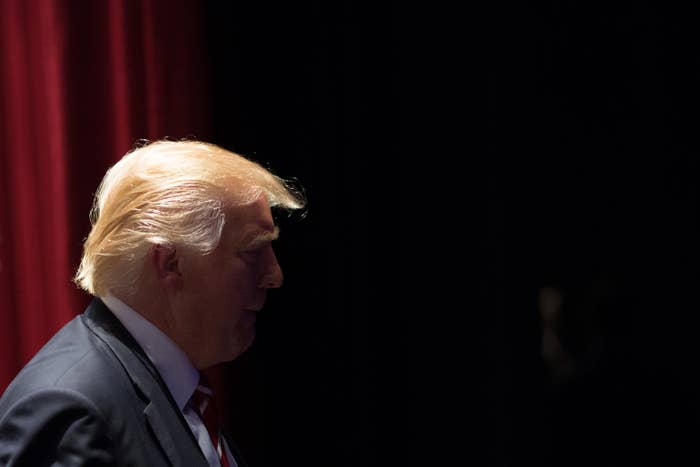 WASHINGTON — A Georgia Republican Party official was thrown out of a Donald Trump event last week, according to two sources.
Michael McNeely, the first vice chair of the Georgia Republicans, was escorted out of Atlanta's Fox Theatre by Secret Service after being told there was "no more room for you" by Trump campaign state director Brandon Phillips, according to a party official briefed on the incident. The official requested anonymity said they were not authorized to speak on behalf of the party.
McNeely was stopped while trying to enter an area where Trump had been greeting supporters, the sources said. Neither Phillips, the Trump campaign, nor the Georgia Republican Party returned messages seeking comment.
McNeely is considered a rising star of the Georgia Republicans. Earlier this month he was named as an at-large delegate to the Republican National Convention and is a past chair of the Georgia Black Republican Council.
Reached by phone regarding the incident, McNeely told BuzzFeed News, "I'll have to get back to you" before hanging up.
On Wednesday, McNeely provided a statement to the Atlanta Journal-Constitution, offering a different account of what happened.
"Last week, an event staffer and I had a discussion about room access. Security surrounding a Presidential candidate being what it is, he couldn't relent from protocol and I left the building. There were no ill feelings. We're looking forward to defeating Hillary Clinton and working together to elect Donald Trump as the next president of the United States. Efforts made by the media to question our unity is nonsense and has no basis in fact."
It's not clear why McNeely wasn't allowed to mingle in the area. Bruce LeVell, the executive director of the National Diversity Coalition For Trump who did greet Trump that day, said he was only vaguely aware of the incident that resulted in McNeely's ouster from the event.
"Anyone that goes to a Trump rally, I don't give a damn who you are, if anyone even if looks at you and [the campaign] points their finger, you're out of there," he said. "They're real strict about [acting] if something doesn't look right. They just make a judgment call."