Former Top White House Adviser Still Involved In Obama's Library
Despite Alyssa Mastromonaco's departure from the White House earlier this year, she's taken meetings for the presidential library.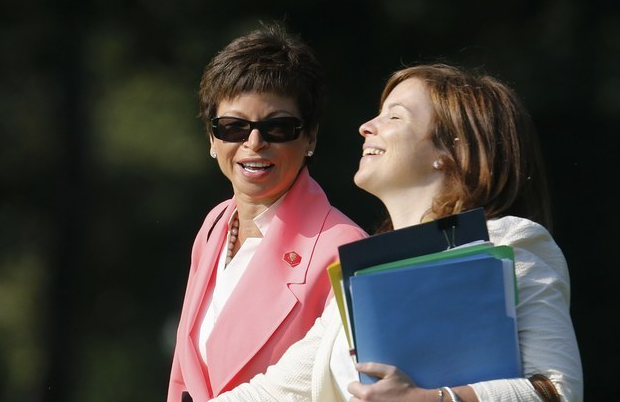 WASHINGTON – President Obama and First Lady Michelle Obama have been periodically updated on developments in the process of site selection for the president's library over the past few months as the foundation gears up for the site selection process, which will ramp up shortly after the proposals are due on Dec. 11.
Also involved in that process, foundation officials say, is former White House Deputy Chief of Staff Alyssa Mastromonaco.
Mastromonaco has been active in the process by serving as a facilitator and listening ear to committees seeking to shape ideas and thought processes around the president's legacy, according to a foundation official familiar with her involvement with the project.
Mastromonaco officially resigned from her post in the White House in May of 2014. Late last year, the New York Times reported that Valerie Jarrett would take the lead in the post-presidential library project, despite Mastromonaco's willingness to do so.
"She remains an integral part of the operation," the official said, adding that she is a presence on the board's weekly call. Jarrett does not regularly participate in the call.
Leaving the White House allowed Mastromonaco to take a more active role with the foundation, the official said. The level of her engagement — insiders say she is indispensable — is expected to decrease, however, with her new role as chief operations officer of Vice Media.
She has taken at least one meeting since her White House departure, with one of the groups applying for consideration.
A student delegation from the University of Illinois at Chicago traveled to Washington last June to meet with Congressional leaders on behalf of their proposal. The students — led by a student trustee, Danielle Leibowitz — met with staffers for Congressional Reps. Danny Davis, Luis Gutierrez, Mike Quigley, and Sen. Dick Durbin.
But they also met with Mastromonaco, who arrived at University of Illinois at Chicago's office of federal relations on Capitol Hill with an intern named Charles Olivier, an alumnus of the University of Illinois system, in tow.
"She didn't do much of the talking," said Leibowitz, who said that she corresponded with Mastromonaco after the meeting. "She handed it over to us and kind of led the dialogue and after we were done she gave us feedback saying how she was very impressed and enjoyed how we portrayed our vision of what we think the president's legacy will be."
The school is one of four potential sites — the University of Chicago, Columbia University, and the University of Hawaii are the others — that are expected to file formal proposals by Dec. 11.
"She seemed really awed by their poise and presentations and had commented on how impressed she was and how articulate they were in understanding and representing what the president was really trying to achieve," said Mary Anne Case, who is co-chairing the University of Illinois at Chicago's campaign. "She seemed quite taken with it."
Mastromonaco, who declined an interview for this story, serves as an adviser, according to the foundation. She has never been on the four-person board — made up of Martin Nesbitt, David Plouffe, J. Kevin Poorman, and Obama's half-sister Maya Soetoro-Ng — which will make a formal presentation and recommendation to the Obamas. But officials say that Mastromonaco has served as a resource to the board, even as she's pursued her post-White House career.
The board has prepared for the presentation with trips to each location in the final four and met with various officials to offer feedback and guidance. A fundraising effort is expected to be ramped up in the early part of 2015, when the committee will present to the Obamas.
Case said the delegation has not interacted with Jarrett, who has strong Chicago ties.
Last week, Mastromonaco's husband, David Krone, who is the chief of staff to Sen. Harry Reid, told the Times that he did not believe his wife's role to be of consequence. "I don't think she's doing too much for the library," Krone said.
Library and foundation officials say she remains a key player, though members of the board have declined to speak on the record and said the foundation was not ready to characterize the president's involvement with the process. Nesbitt, chair of the foundation and a close personal friend of the president and first lady, declined an interview request through a spokesperson.
That does not mean necessarily, however, that the subject is far from his mind. Touting the nation's innovation economy remarks to honor new recipients of the National Medal of Science and the National Medal of Technology and Innovation recently, Obama alluded to the library in comments that drew laughter.
"I got a little gift here," Obama said, touting how far technology that can store large amounts of information and data had come. "Apparently this was for my library. I was told I could store all my documents on this thing. So I'm keeping it in my pocket."
Library officials say that the president has given guidance to the board, but said the foundation was not ready to go into detail about Obama's input. A foundation representative said they were prepared to share more details about the project's next phase in February.