Each of the top Democratic contenders for governor in Florida is employing a different strategy in how to approach President Donald Trump.
The race's top candidates — former Rep. Gwen Graham, former Miami Beach mayor Philip Levine, and Tallahassee Mayor Andrew Gillum — all are campaigning hard for the Democratic mantle in a state the president won in 2016. Graham's early campaigning has been heavy on anti-Trump rhetoric, Levine's has been very light, and Gillum's balancing somewhere in between. A fourth candidate, businessman Chris King, has like Graham, been critical of Trump.
Since the primary isn't until Aug. 28 — and polling shows voters aren't especially familiar with any of the candidates — Florida may offer a great look at what Democratic voters really want from their candidates when it comes to a central question hanging over the party's national politics: how best to run against the president.
"We don't yet know what works as it relates to Trump," said Ashley Walker, a top Democratic strategist who was Barack Obama's Florida state director in 2012. "He is a brand unto himself and has been fairly successful at rising above political party and establishment, so it's hard to say what will work against him." In Florida, the Democratic candidates' decisions on Trump speak more to their personalities than they do to party doctrine, she said. "I don't think there's a right way or a wrong way to do it."
The race promises to be expensive and closely watched, as well, especially by those with a potential stake in running against Trump next time. Already, former HUD secretary Julian Castro has endorsed Gillum — calling him the Democrat with "the courage of conviction, even when it's not politically convenient" — and New York Democratic Sen. Kirsten Gillibrand has thrown her support behind Graham. In a statement, a Democratic Governors Association spokesperson, Jared Leopold, noted that the general election would be highly watched, and that "Voters across the country, especially in Florida, are looking for governors who will stand up to bad policies coming out of Washington."
In practice, Gillum is campaigning for governor as a progressive populist. (He likes to say on the trail that he understands the lived experience of ordinary, working-class Floridians and contends he is the only nonmillionaire in the race.) One of Hillary Clinton's more effective messengers in 2016, Gillum said in a phone interview with BuzzFeed News that Democrats already ran against Trump and his message in 2016. He thinks turning out voters is the most important thing he can do to win, and while he won't take hitting Trump "off the table completely," he said liberals, and voters of color in particular, don't need to be reminded that Trump's policies are bad for Florida.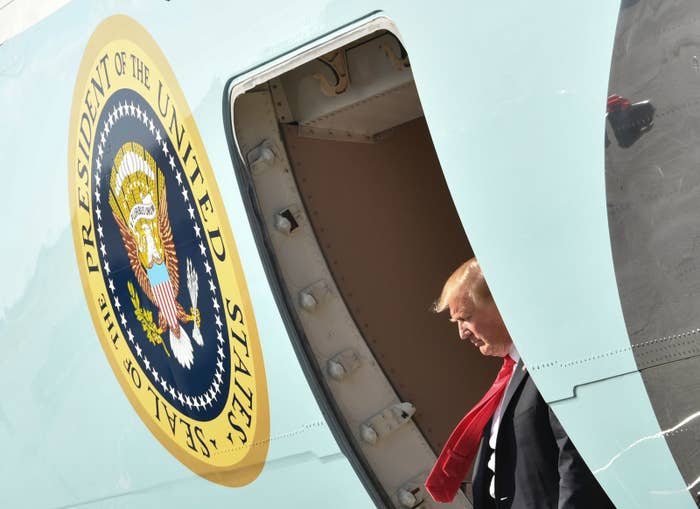 "Frankly, running against Trump is going to be insufficient to win," said Gillum. "We have to give voters a reason to turn out, and I trust my chances at being able to move the part of our electorate that is more difficult to turn out in [a] midterm election over anybody in this race on either side."
Gillum is critical of Graham's approach on Trump, the most overt anti-Trump strategy in the race. Graham went up this month with a digital ad in which she made six direct mentions of Trump. "Donald Trump is not gonna to be able to stand in my way of doing what's right for the people of Florida," she said at the end of the ad. Said Gillum: "[It's like], who are you running against?"
Graham's campaign even first placed the ad in the same media market as Mar-a-Lago. But it could be a smart strategy for Graham, who is the daughter of a Florida political legend and is a more known entity in Florida who's been elected to Congress before. Strategists observing the race told BuzzFeed News that because she won't need to work as hard to increase her name ID — and is the only woman candidate in a field of men — coming off the top rope against Trump in her first ad wasn't a bad idea.
"Of course I'm standing up to Trump," said Graham in an email to BuzzFeed News. "Not only is Trump deliberately dividing our country at a time we need to be pulling together, but Trump's policies on everything from health care to protecting our environment are also a direct threat to Florida and our families. Other candidates for governor may choose to avoid Trump, or go soft on Trump, or whatever — but I most certainly will not."
Graham told BuzzFeed News that since Trump's election that there has been a shift in Florida. She said the Trump administration has threatened immigrant communities, undermined environmental protections, and shown "cruelty" toward Puerto Rico after Hurricane Maria.
"Others may look at how to deal with Trump through a political lens, calculating the votes or the politics," said Graham, who added that she views her approach as a duty of vying for the governor's mansion. "I'm leveling with the people of Florida about the challenges we face with this president in the White House."
Graham is also seeking to draw a sharp contrast with Philip Levine, a pro-business moderate who her campaign says is soft on Trump.
They're not alone in that observation. "He almost never fires off press releases or tweets criticizing President Donald Trump or Gov. Rick Scott," the political editor of the Tampa Bay Times recently wrote. Levine has argued that criticizing Trump is "not a vision," but he has even avoided direct questions about Trump. Once, he was asked by a local television station about Trump's disparaging remarks about Haiti and African countries as "shithole countries" and what he made of the president, and responded, "Well, I can tell you this: I don't run around the state of Florida talking about President Trump."
King, the central Florida businessman, meanwhile, campaigned in Little Haiti the day that Trump's remarks were reported, calling them "cruel" and "un-American."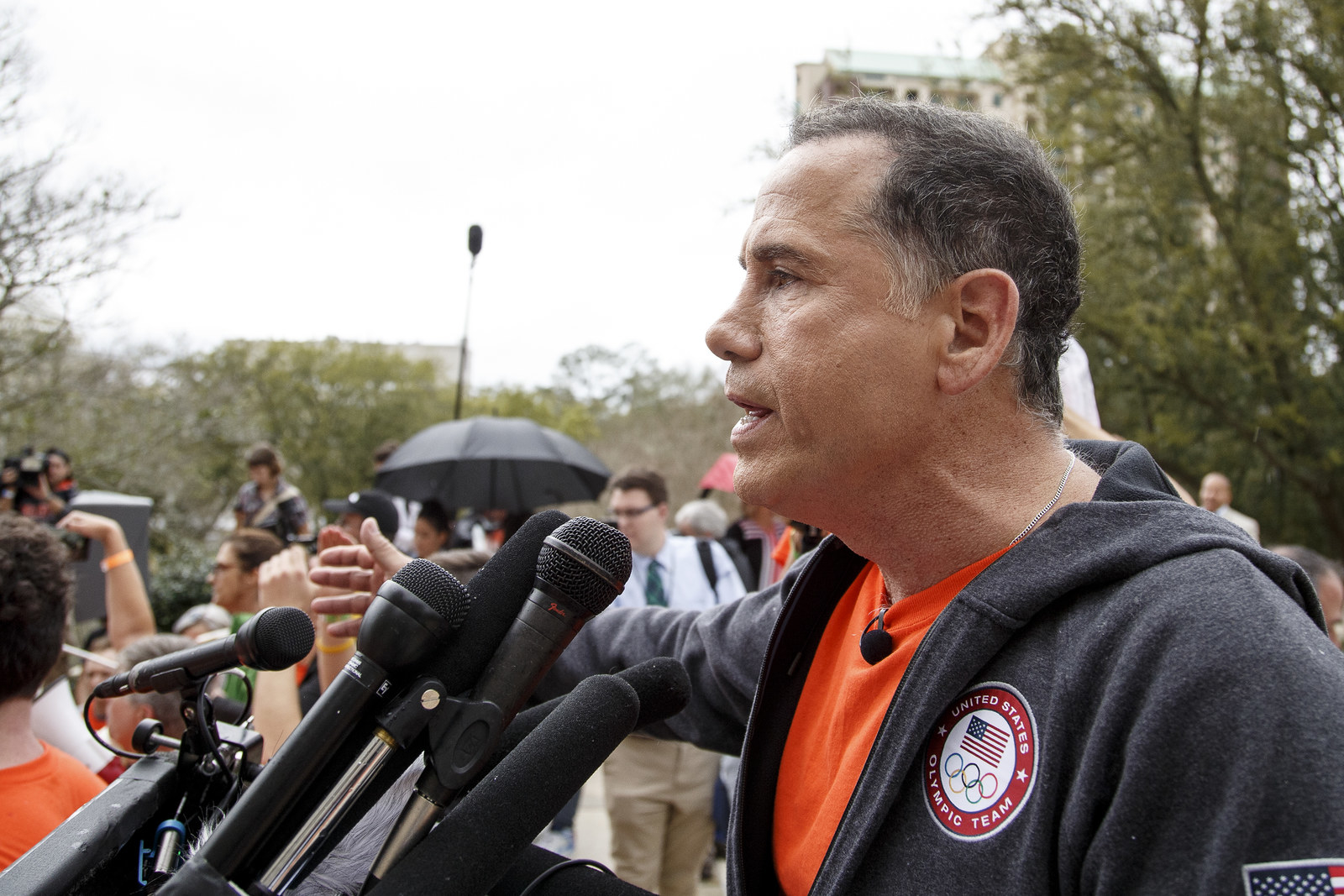 To the question of whether he would appeal to Florida voters by running against Trump, Levine answered, "You know, it's interesting…I don't run against anybody. I run with my own message. I'm not right, and I'm not left — I'm forward. I'm running as a Democrat but before I'm a Democrat, I'm an American."
Levine spokesperson Christian Ulvert told BuzzFeed News that Levine, in fact, spent a year campaigning against the president, rejecting the idea that Levine has somehow been soft on Trump; he even talked up a pithy line he said Levine has delivered, making an analogy likening Trump voters to students who were duped into enrolling in Trump University. Ulvert said he instead has campaigned with a message on the economy. Levine went up on TV with an ad on guns, calling Parkland "a wake-up call we can't ignore," and on immigration. ("In Washington these days, they're taking shots at immigrants who devoted their lives to this country.")
"We're not running against Donald Trump; we're running against the policies that are causing Floridians problems and leaving them out of opportunity," said Ulvert, highlighting Levine's economic vision and his intent to inject it into the political landscape. "Mayor Levine is prepared to take on the White House on these policy fights."
If there's any indicator about how Democrats nationwide who are running for governor may wrestle with Trump this year, it may lie with Washington Gov. Jay Inslee, who chairs the DGA. Inslee firmly believes that Republican gubernatorial candidates will have to own Trump this cycle and has in interviews expressed dismay that more of them haven't stood up to Trump.
Inslee himself confronted Trump inside the White House while in Washington, DC, for a meeting of the National Governors Association, telling the president that on the subject of arming educators, "We need to do a little less tweeting and a little more listening." It was a startling scene, but perhaps one that Inslee — whose actions that day intensified rumors that he is mulling a presidential run in 2020 — believes is an approach that resonates with voters.