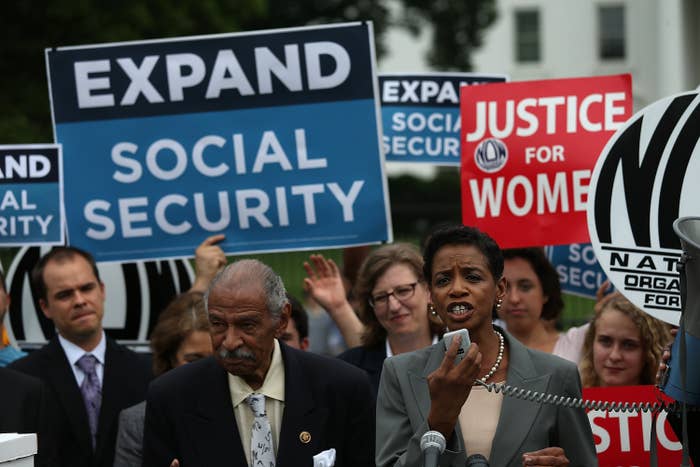 WASHINGTON — If you ask Rep. Donna Edwards, the polls and the newspapers — and even, on some level, people in the Democratic Party — have it wrong.

Days before the Maryland Democratic primary, in which the congresswoman hopes to defeat her colleague in the de facto race to replace retiring Sen. Barbara Mikulski, Edwards told BuzzFeed News that it's misleading to poll this close to election day, sharply critiqued recent Politico and Washington Post pieces about her candidacy — and said that the suggestion within her own party that she is unqualified is racially coded.
Edwards' race against Rep. Chris Van Hollen was always considered a challenge, but she has proved far more competitive than expected, keeping even with him in many polls. On Thursday, however, a Monmouth poll in the state put Edwards down double digits to Van Hollen.
She's not worried about the poll, she said, casting it as misleading.
"A poll at this stage with a pretty volatile electorate is very unpredictable," Edwards said in an interview with BuzzFeed News. "That poll came in the middle of early voting, and it seems odd to [conduct] a poll while people are actually casting their votes."
The poll landed the same day as Politico reported that Edwards has pressed Congressional Black Caucus members about why more haven't endorsed her candidacy over Van Hollen's. Only several members have endorsed Edwards, who would be only the second black Democrat in the Senate currently, and the only black woman. She disputes the premise that she's been pushing the issue of why there haven't been more endorsements: "No it was not [accurate], actually," she said, though she did confirm that she had met with some members at a "private breakfast." She said she's been meeting with members for a long time, noting that members have donated to her campaign and helped connect her with their donors.
A running line in both the Politico story and the Washington Post's endorsement of Van Hollen is the charge that Edwards is difficult to work with on Capitol Hill — a charge that she and her campaign have argued vehemently against.
"I don't talk to reporters off the record," she said of the sources who spoke to Politico, and were quoted anonymously. "If I have something to say I say it on the record because I'm not ashamed for my name to be attached to it."
Recently, some Democrats have been making their frustrations with her known publicly.

"The choice in this election is very clear," Democratic Rep. Gerry Connolly told the Associated Press, for instance. "It is whether the people of Maryland want somebody who can be effective, or somebody who's going to bask in her own feelings of moral superiority because of various and sundry factors, and effectiveness has nothing to do with it."
On Friday, her campaign organized a press call in which leaders described narratives that Edwards is 'difficult' or 'ineffective' as racially coded. Edwards is offended by the suggestions that she is unqualified for the Senate, though she did not specify who had called her unqualified for the job.
"I thought the Republican Party was full of dog whistles but the Democratic Party has a foghorn," Edwards said. "As a sitting member of the House as the Ranking Democrat on one of our committees in the House, as the co-chair of our steering and policy committee sitting at the leadership table with Leader Pelosi, as former chair of the bipartisan women's caucus, a lawyer: How dare they describe me as unqualified?"
Edwards has a reputation for her strong progressivism and fluency with activist elements not often seen in Senate campaigns — her candidacy is essentially infused with intersectional feminism.
Some have critiqued her emphasis on her race and gender on the trail — a suggestion amplified, though not necessarily started, by the Van Hollen campaign. Linda Plummer, June White Dillard, and Tessa Hill-Aston, all present or former presidents of NAACP chapters in Maryland, issued a joint statement through Van Hollen's campaign in April.
"Chris forges deep and lasting relations with a diverse range of people and organizations, represents their interests, and secures the critical resources that move Maryland forward," the statement read. "It is not about race, gender, creed, or color — it is about a person. And that person is Chris Van Hollen."
Edwards' campaign maintains she's not talking about her race and gender so much to garner votes, so much as it helps her lead in to her life experiences as a single mother — and informs voters about the issues she'd fight for in the upper chamber.
Edwards defended her campaigning style as symbolic of the diversity of the Democratic Party. "I'm dumbfounded by Democrats who don't see the value of race and gender as part of a mix of who we are on public and private lives," she said. "It's sad to have Democrats using terms like 'identity politics' — those are not our words. Those are the words of the right."
"When I began this race I decided that I was going to run as who I am: I am a black woman. There is no hiding that, nor would I want to. And one of the reasons I am a Democrat is because I believe in the idea of a big tent and that each one of us has something to contribute."
Edwards maintains she's run on her record and a discussion about the issues, calling the tone of some of the personal attacks as "sad and shocking." She is also focused on a goal: winning a race she thinks is much closer than recent polls show.
The Post endorsed Van Hollen last month, calling him a "gifted legislator," and the better candidate who "could contribute meaningfully to breaking Washington's legislative logjam." The endorsement, which praised Edwards in parts, also offered a critique of her office's constituent services.
Edwards said the critique is "bogus," and had sharp words for the Post, the local paper for Maryland's D.C. suburbs.
"If you look at what's been said, even on the editorial pages of the Washington Post, which purports to be a newspaper, that they identified people I've provided poor constituent services to, for example," she said. "I look at the people that we have served, thousands of people who have contacted our office for things as random as disability claims to veterans claims to Social Security."
"I don't understand that, and I think it's pretty shameful," she continued. "And to think about people who have come to our offices who were on the verge of losing their homes because banks and predatory lenders had their way with Prince George's County. We tried to save their homes. We couldn't save every home, but we sure tried in the face of banking and mortgage institutions that were behaving very badly toward my constituents."
Edwards noted she'd been re-elected three times in her district, "with some of the highest percentages of any member of our delegation in Maryland. I don't think that would have happened if I had been providing poor services to the constituents of Prince George's County."
Her main contention, though, is that she's been discounted by Democrats within the party and the media. "This notion that there is somebody out there who is born for the job or who is a natural fit or the chosen one in my view is just not acceptable in a Democratic society," she said, "and in a party where people should have to earn the respect of voters in Maryland."