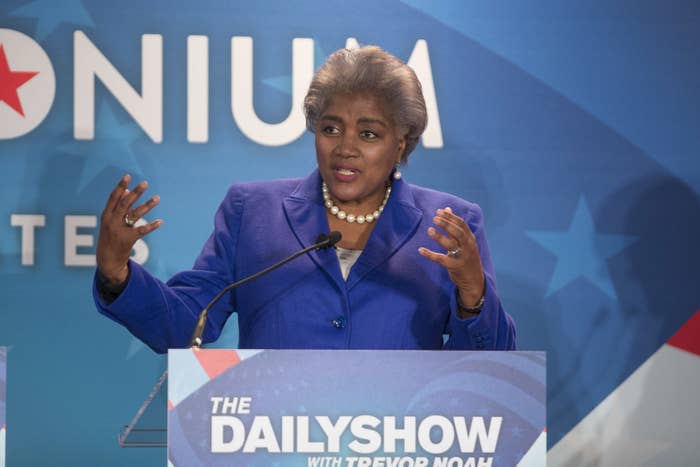 PHILADELPHIA — At the black and Hispanic caucus meetings late Monday morning, Acting DNC Chair Donna Brazile apologized for the content of leaked emails by party staffers that disparaged the Sanders campaign.

Appearing first at the black caucus meeting, Brazile was introduced by caucus chair Virgie Rollins. She received a standing ovation before launching into an impassioned testimony about her history with the party going back from her time as a convention floor whip, to the campaign manager for Al Gore ("I want to let you know that you won that election"), to the election of Barack Obama as president.
But then she shifted gears.
"I sincerely apologize my friends for those of you who took offense and were offended — feel betrayed and were betrayed —by the ridiculous, insensitive, and inappropriate emails from the staff of the Democratic Party," Brazile said to cheers, and shouts of "thank you!"
"Those words to not reflect the spirit of this party," she continued.
Debbie Wasserman Schultz resigned Sunday as result of the email leak on the eve of the convention in Philadelphia. On Monday, Brazile worked the mostly-black audience into a frenzy when she said that she was putting a statement of apology out in her name "because I represent you, too!"
"We're not conducting business like this anymore," she said. "If I'm allowed to be your interim chair, my door is open. I'm leaving CNN and ABC to go back to who I really am. I'm an organizer! We're going to win this damn thing!"
"Because under Donna Brazile's leadership—" then she paused for effect, eliciting cheers.
Next, Brazile made the short walk next door to where the Hispanic caucus event was being held to do the exact same thing.
She apologized for the contents of some of the emails that were leaked and was cheered by the room for sounding serious about making changes at the DNC.
"If I have to clear out some desks to open up opportunity for some of you in this room to fill them I will," she said to applause.
Speaking to reporters afterwards, Brazile said the cause of the hack must be learned and she wants to focus on combating misinformation from the leak.
Brazile said that Wasserman Schultz made a personal decision after spending five years building the party to step down and focus on her responsibilities as a member of Congress "and I as a colleague and a friend of Debbie am going to make sure I continue to build this party."
Afterwards, Chuy Garcia, a high-profile Latino surrogate for the Bernie Sanders campaign, said Wasserman-Schultz was right to resign.
"I think it's about time," he said, adding that he was troubled by the tenor of the emails concerning Sanders campaign.
"I think it's outrageous conduct unbecoming of any political party. The dirty tricks remind me of the Richard Nixon era," Garcia said.
After speaking forcefully at the Hispanic caucus meeting against Trump, Rep. Luis Gutierrez, a prominent Clinton surrogate, spoke about the importance of Latinos voting outside. He ignored a question by BuzzFeed News about Wasserman Schultz.

Rev. Jesse Jackson, who attended both meetings, said Brazile's apology was "very important" and that while it was a less than ideal situation, he said his focus was on Trump.
"Donna showed, I think, that you can make mistakes, that you can be contrite and you can move on," he said.