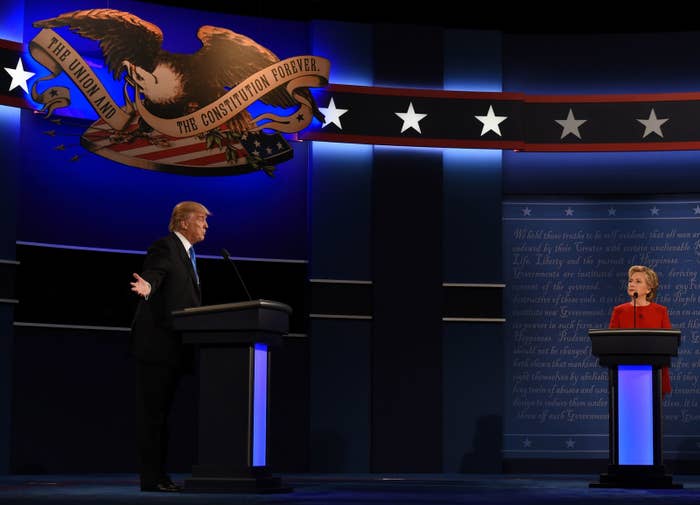 HEMPSTEAD, New York — "We move into our next segment talking about America's direction," Lester Holt told viewers during the first presidential debate.
"And let's start by talking about race."
The momentary pause that followed the transition sent people on social media into a defensive crouch. Since the summer shakeup of his campaign, Trump has gestured in the direction of black and Latino voters, mostly in front of white audiences, lamenting in harsh language his dismal view of America's cities.
And on Monday night, Trump offered up to the biggest audience possible his greatest hits on the topic, a long set list of bumps, gaffes — and one new surprise. Again, Trump presented stop-and-frisk as a solution to stemming violence. He described black people as "living in hell" because of gun violence, presenting "law and order" as a remedy, and established himself anew as the chief birther conspiracist who triumphantly forced the president to release his birth certificate.
Activists pushing for changes to policing and criminal justice system, as well as people inside the Clinton campaign, had hoped an exchange between Hillary Clinton and Donald Trump would elicit their contrasting visions for the country. Clinton was prepared on the topic — she proposed putting money behind ending implicit bias, ending mandatory minimums for nonviolent offenses, and adding second chance programs, and talked about correcting the "unintended consequences" of the past, an apparent reference to the 1994 crime bill.
"Too many young African-American and Latino men ended up in jail for nonviolent offenses," she said. "And it's just a fact that if you're a young African-American man and you do the same thing as a young white man, you are more likely to be arrested, charged, convicted, and incarcerated. So we've got to address the systemic racism in our criminal justice system. We cannot just say law and order."
And in turn, Trump delivered some of the intense rhetoric with which he is most associated. "We need law and order," said Trump. "If we don't have it, we don't have a country."
Perhaps most contentiously Monday night, Trump again put forth stop-and-frisk — the former New York City police practice of stopping pedestrians and searching them for weapons — as a policy solution. In recent weeks, the Republican nominee has suggested the practice could be used in cities, like Chicago, to reduce crime.
"I'm talking about taking guns away from gangs and people that use them," he said on Monday night. "And I don't think — I really don't think you disagree with me on this, if you want to know the truth. And when it comes to stop-and-frisk, you know, you're talking about taking guns away."
He added that during the stop-and-frisk era murders went down from 2,200 to 500. "It's hard to believe, 500 is like supposed to be good?"
"I really don't think you disagree with me on this," he said to Clinton, "if you want to know the truth. I think maybe there's a political reason why you can't say it."
After the two exchanged words about whether New York's murder rate is down, Clinton responded, "Look, one murder is too many," Clinton said, before saying that what has been "effective" should take priority over what "sounds good."
"Let's also add, no one should disagree about respecting the rights of young men who live in those neighborhoods," she continued. "But we do always have to make sure we keep people safe. There are the right ways of doing it, and then there are ways that are ineffective. Stop-and-frisk was found to be unconstitutional and, in part, because it was ineffective. It did not do what it needed to do."
A federal district judge in New York ruled the policy was unconstitutional; in general, the policy was found to have disproportionately affected black and Latino people. Lester Holt, in a rare push back on Trump, said a judge had ruled the tactic unconstitutional; Trump awkwardly called the judge, "a very against police" judge
And once the subject of the judge arose, Trump shifted his tone, framing himself as the candidate who has more support from police, touting his endorsement from the Fraternal Order of Police. The police groups, he said, "are on my side."
"Right now our police are afraid to do anything."
Trump has come under fire during some of his outreach campaigning to reach black communities — and he did little, if anything, to tamp down his "what the hell do you have to lose" rhetoric that has been received negatively by black voters. Trump stuck to a talking point about how Democrats have taken black voters for granted; "living in hell" are black voters who have been "abused and used in order to get votes by Democrat politicians" who are allowing the chaos to happen.
"Look, the African-American community has been let down by our politicians. They talk good around election time, like right now, and after the election, they said, see ya later, I'll see you in four years," said Trump.
"And I will tell you, you look at the inner cities — and I just left Detroit, and I just left Philadelphia, and I just — you know, you've seen me, I've been all over the place. You decided to stay home, and that's OK. But I will tell you, I've been all over. And I've met some of the greatest people I'll ever meet within these communities. And they are very, very upset with what their politicians have told them and what their politicians have done."
Clinton interjected, "You know, the vibrancy of the black church, the black businesses that employ so many people, the opportunities that so many families are working to provide for their kids. There's a lot that we should be proud of and we should be supporting and lifting up."
Trump finally admitted earlier this month that Barack Obama was born in the United States, but not before attempting to pin the origin of the rumor he was born outside of the United States on Clinton's 2008 campaign. On the trail this election, Clinton has described the birther movement as "insidious" and a lie that "cannot be erased" from history. "He refuses to apologize to President Obama, his family, and the American people. We have to stand up to this hate. We cannot let it go on," she said in a speech tailored to young people in Philadelphia a week ago.
But Trump stuck with his approach on this issue as a strongman, that's perhaps separate from a line Clinton likes to say about birtherism trying to delegitimize "our first black president."
"He tried to put the whole racist, birther lie to bed," said Clinton. "But it can't be dismissed that easily."
Said Trump, "When I got involved, I didn't fail, I got him to give the birth certificate."