What I Learned About Trump's '90s "Ghetto Pass" — And His Bigotry — While Chasing The Trump Tape
Two years ago, I spent days talking to people in the New York hip-hop circles he once moved in, chasing the Trump tape we're all looking for again.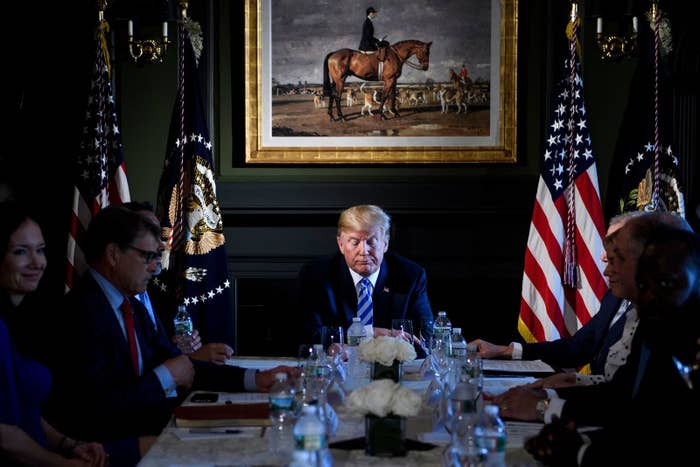 "No hit it hard. You want the tape. Massive scoop."
It was Oct. 14, 2016. The email was in my inbox from Ben Smith, the editor-in-chief of BuzzFeed News, after I'd gone to him saying that I was hearing rumors circulating in reporters' circles and in the broader culture: That there might be a video or audio recording of Trump saying some variation of "nigger." Ben was right; if it existed, I wanted to find it.
I just...didn't know what I was going after. Was the alleged video taken during the taping of The Apprentice? Or was it something else? I quickly learned that black Republican operatives who supported Trump were talking about this tape as A Problem. Have you heard it? Do you know someone who has? Have you spoken to Trump officials about its existence? Does Trump know this tape is out there? This went on for two days, but I just wasn't getting very far at all. I knew, but was unable to report, what we all know now: It was being discussed at the highest levels of the Trump campaign. We didn't — and don't — know if it existed.
I did get a tip, however. Someone told me they were told that a tape existed that featured Trump saying something; this alleged tape involved another celebrity and, whoever they were, the celebrity was in hip-hop. I had covered music for Ebony and the business of music for Black Enterprise. From all of those nights of Cîroc I spent trying to get scoops and invites to more parties, I built quite a rolodex of people who had worked in music in New York forever. And maybe one of them knew that Trump had thrown around a word like that. Was it his nature? Would it have been acceptable? For the next two days, I asked.
I decided to focus in particular on three figures in hip-hop who I knew had been around Trump: Andre Harrell, his protégé Diddy, and Russell Simmons. My recollection is that, through spokespeople, Diddy and Harrell immediately said no and did not want to be interviewed about it. Simmons was interesting to me — I just knew somehow that he had a penchant for saying "nigga"...a lot. Unlike Diddy and Harrell, Simmons talked to me on the phone for about 20 minutes, based on my notes of the call. (This was all before serious allegations of sexual assault arose, which he has denied.) According to my notes, he talked about the fact that he had been friendly with Trump in the past — but it wasn't like they were hanging out every night back then. In 2016, Simmons wanted to be clear, he unequivocally supported Hillary Clinton. Most of all, he said, it would not have been cool, not just for Trump but for anyone white, to use that around him or his peers at the time.
The reason I'd known Simmons and others knew Trump was a 1999 Vibe story about how Trump had been a popular figure in New York, venerated ostensibly in hip-hop for his significant wealth and record in business. He was down.
In the story, one observer of this particular phenomenon told Vibe that Trump had a "ghetto pass."
The writer, Nancy Jo Sales, wrote that Trump "couldn't feel more at home within the pantheon of hip-hop entrepreneurs" who had become his friends. Oh? Over email, I asked her if she had audio of Trump using those words people are now again looking for on tape.
"Absolutely do not have this. Don't know where you heard it but utterly untrue."
Had she heard him say it, though?
"No, I did not," she said, "and if you suggest in print or anywhere else that I said that I did you will have to deal with me."
Sometimes reporting goes beyond finding exactly what someone said when, and involves determining if a person could be capable of that kind of behavior. This is particularly tricky intellectual terrain when it comes to Trump, who somehow still manages to surprise. Some people have said to me, "Well, this line of inquiry is irrelevant because he wouldn't have said it around people like Russell Simmons anyway." This is a person so brash that while mic'd up he said the words "grab" and "pussy" in the same sentence — someone who, whether you like it or not, was at ease with a lot of rich black people in the '90s.
But from calling Omarosa a "dog" or Maxine Waters dumb in 2018, to demanding the return of the death penalty in the Central Park Five case decades ago and leading the birther conspiracy theory since, Trump has done so many things out in the open before our very eyes that the idea of spending time on the hunt for someone who heard him say "nigga" or call another person a "nigger" feels...irrational in a way. Entire political movements mobilized in reaction to Trump's explicit, public bigotry.
Does it matter if there is a tape? People who know his policies and rhetoric to be racist already know them to be so. Does it matter if he moved in hip-hop circles 20 years ago? You can hear the Trump fans now: Look, he has black friends! But having once had black friends does not change the reality of a president's policies or rhetoric. People such as myself have been hearing about and looking for this tape — or the kind of specific comment it is supposed to contain — for nearly two years, and trying to build out the complicated portrait of a person who once presided over a company that discriminated against black renters, and more recently openly thanked black people for not voting. Each one fact is just a small part of that portrait. Can Trump be both someone who was described as having a "ghetto pass" in the 1990s and one who called Haiti a "shithole" country as president? Like it or not, we are all dealing with the same person.