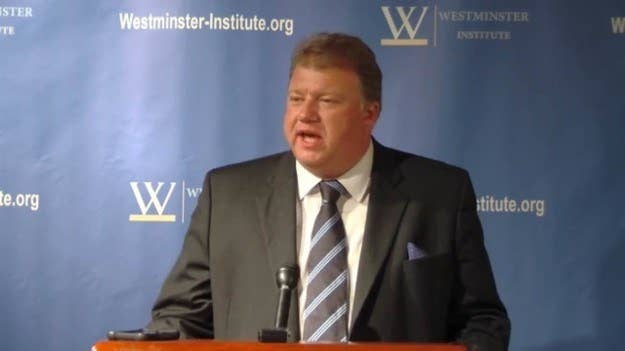 WASHINGTON — A memo shared with BuzzFeed News details a proposal by a conservative-leaning nonprofit offering to produce and publish anti-Clinton articles as news stories in the black press before the election in exchange for a cash donation.
BuzzFeed News reported Saturday that, according to sources familiar with the conversations, the American Media Institute had approached conservative donors to fund right-leaning stories presented as news on a newswire that supplies content to African-American newspapers.
American Media Institute founder Richard Miniter heatedly objected to the story broadly, and specifically objected to the claim of an anonymous source in the original BuzzFeed News article that the project amounted to "voter suppression."
In order to rebut that claim, Miniter shared a detailed memo addressed to John Catsimatidis, a supermarket magnate and former candidate for mayor of New York. Catsimatidis did not respond to a request by BuzzFeed News for comment.

Miniter shared the memo with BuzzFeed News in order to dispel what he described as "journalistic malpractice" and described it as "a straightforward request for a grant for a non-profit news operation."
And, in fact, the memo makes no reference to attempts to discourage voting.
But the memo does, as BuzzFeed News reported, appear closely tied to the November election: In particular, it promises distribution in five "swing states" — Florida, North Carolina, Virginia, Pennsylvania, and Ohio — and coverage of "the Clinton record on minority appointments." And it includes a pitch to launch on Monday, Oct. 24, as "many African-Americans are still seeking information about national politics and the economy."
Miniter argued that the memo shows no political agenda. "It doesn't even mention voting nor does it talk about voter suppression or rightwing propaganda," he said in an email. He said the reference to "swing states" appeared "because that's what the prospective donor asked us to concentrate our proposal on those five states. We saw no conflict because we believe that the black community in those states would be interested in news on black entrepreneurs, school reformers and so forth."
The memo also offers a window into the American Media Institute's broader pitch to conservative donors, which is that their money is best spent on producing material that can be consumed as "news."
"News is strategic because it starts conversation," Miniter wrote. "Op-eds and ads are defensive and responsive—and provide very little actual information."
Miniter said in the email that reporting on his nonprofit's desire to "start conversations" in the black press before the election ignored the Urban News Service's role in helping "the struggling African-American press."
Miniter also said that, in the end, the program never launched.
"Why malign us for something that has never even happened?"